| | | | | | |
| --- | --- | --- | --- | --- | --- |
| | Samsonite Termo Young Upright 82cm 2 Wheel Hardshell Suitcase | Two handles – 3 digit TSA combination lock – Interior divider pad – Limited 5-year global warranty – Extra large suitcase – Durable – Made from polypropylene – Produced in Europe – Enhanced scratch resistant design – Aluminium wheel handle tubes | High End | | |
| | IT Luggage World's Lightest 83cm Four Wheel Spinner Suitcase Blue | Strong two-tone fabric – Lightweight – 10-year manufacturer's warranty – Large zipped pockets – Packing straps – Four wheels – Two carry handles – Fully Lined interior – Mesh interior pockets | Mid-range | | |
| | Aerolite Large Super Lightweight Travel Hold Check In Luggage Suitcase with 2 Wheels, 29", Black | Retractable handle – Two wheelbase – Lightweight – Rip-resistant – 10-year manufacturer's guarantee - 3-digit combination barrel padlock – Two exterior pockets – Two carry handles | Affordable | | |
Top 3 Lightweight Luggage
A lightweight suitcase is a must have for any traveller as it enables you to freely travel around, gives you the option to pack more of your personal items without having to worry about additional luggage fees at the airport and allows you to easily store the case away when it's not in use. Here, we review some of the best lightweight luggage currently available.
Samsonite Termo Young Upright – Our Number 1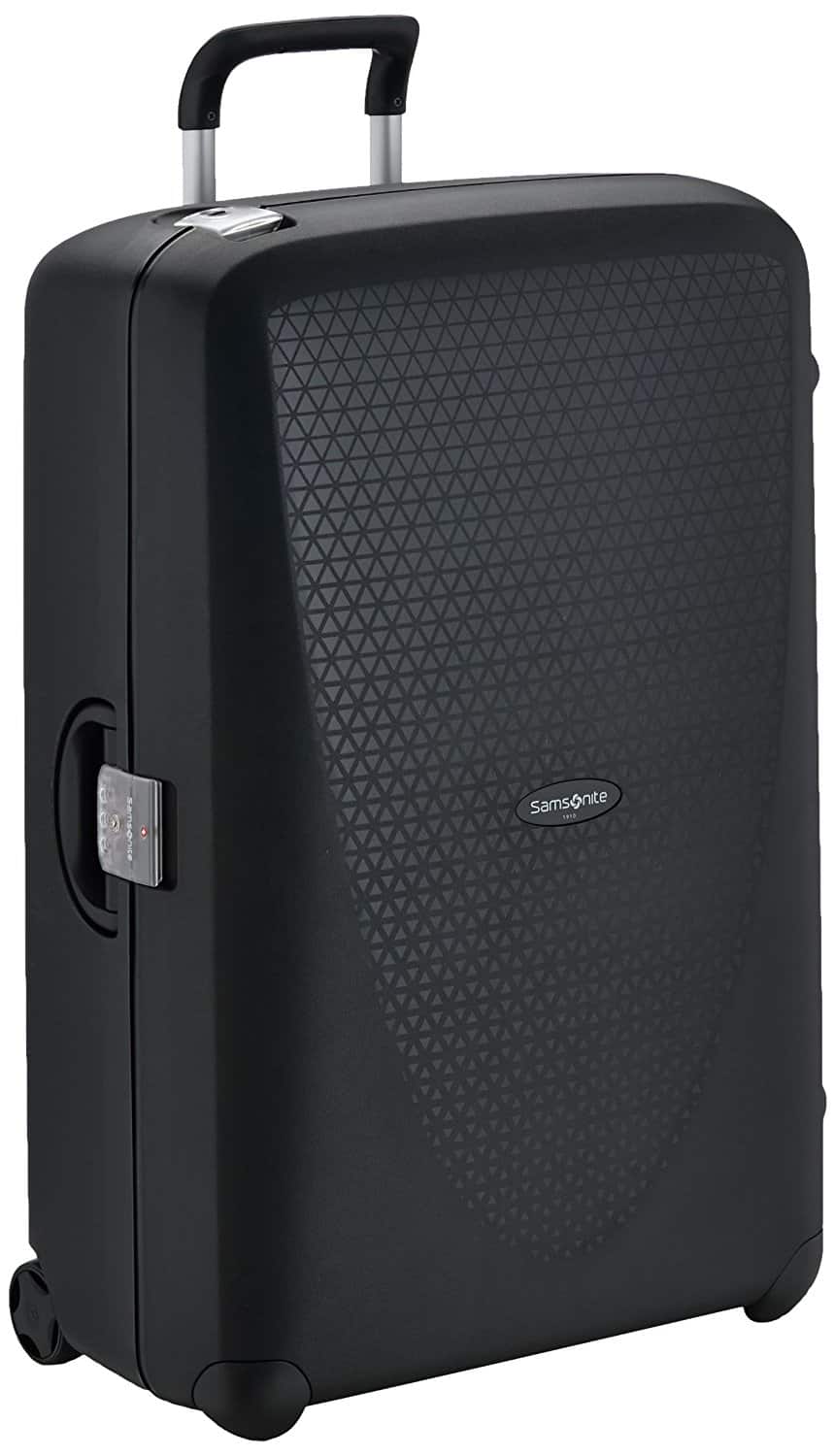 The Samsonite Termo Young Upright 2 Wheel Hardshell Suitcase (CHECK PRICE HERE!) is a great quality suitcase, which is a remake of the Samsonite Termo Collection of luggage. It comes with some great stand out features which include the following:
The suitcase has two handles: a trolley handle that is easily accessed via a push button and a carry handle on the side of the product to enable easy pick up and carrying of the case.
It comes with effective security as it has a 3 digit TSA combination lock. This ensures security when travelling to America.
The suitcase allows you to organise your belongings when packing as it has an interior divider pad, which allows you to keep items separate from one another.
Come with a limited 5 year global warranty, meaning if anything goes wrong with the suitcase during that period, you haven't got to worry about sourcing and purchasing another.
It's an extra large suitcase and has dimensions of 82 x 56 x 34 cm. It can hold 120 litres and has a weight of 5.50 kg.
The Samsonite brand is high quality and manufactures suitcases that are durable with high strength to ensure they are long-lasting.
The suitcase is made from polypropylene. Polypropylene is a good quality material which is strong, shock resistant and has a high density of colour pigment meaning the suitcase will remain its original colour.
It has an enhanced scratch-resistant design, therefore the suitcase will remain looking beautiful even after many uses.
The product is produced in Europe.
The suitcase has aluminium wheel handle tubes. This is to ensure the product is as light as possible.
The Samsonite Termo Young Upright 2 Wheel Hardshell Suitcase is a great extra large suitcase, which is perfect for travellers looking for a good quality case that will to pack a multitude of personal items.
The suitcase is reasonably light which is a brilliant feature as it means the weight of the case when empty doesn't eat too much into your personal baggage policy and allowance. It has a beautiful, well thought out, quality design which ensures wear and tear on the product is kept to a minimum.
The additional TSA combination lock is a great additional feature.
An ideal companion for international travel.
Summary
Features: Two handles – 3 digit TSA combination lock – Interior divider pad – Limited 5-year global warranty – Extra large suitcase – Durable – Made from polypropylene – Produced in Europe – Enhanced scratch resistant design – Aluminium wheel handle tubes
Pricing: High End

IT Luggage – Number 2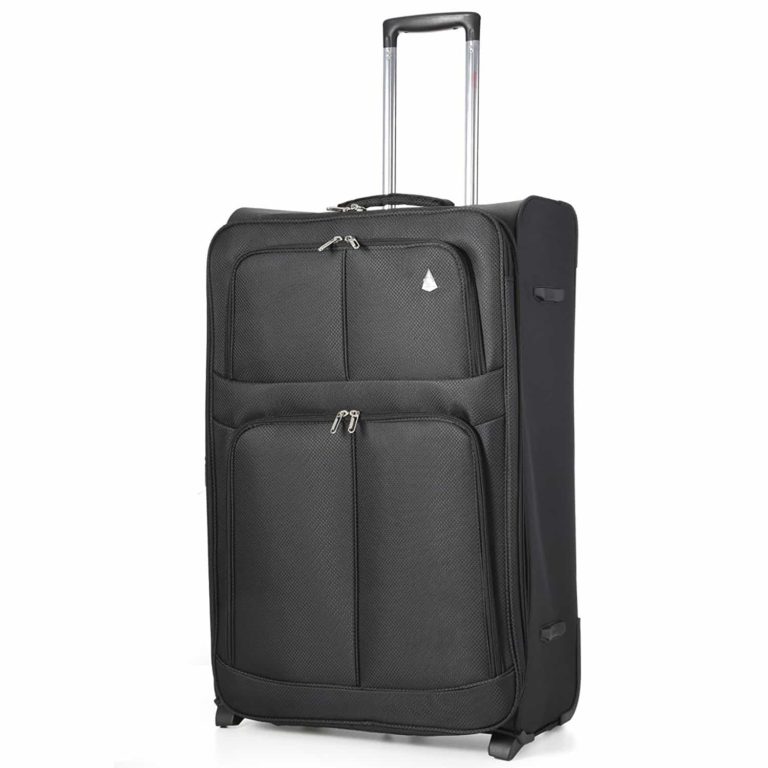 The IT Luggage World Lightest Four Wheel Spinner Suitcase is a great lightweight suitcase that has lots of features and benefits. This is what it has to offer.
The suitcase is manufactured by IT Luggage World and is part of their collection of lightest suitcases.
It's made from ultra strong two tone fabric. This makes the product durable and ensures that it is long lasting.
The manufacturer provides a 10 year warranty with the product, meaning if anything goes wrong with the case during that time, you'll receive another one at no cost t yourself.
It's an extremely lightweight case which is still remarkably strong due to its fibre-glass structure.
There are two large pockets on the front of the case with zips. This allows you to easily store and remove items that need to be in easy reach, such as plane tickets.
Packing straps are contained within the design, allowing you to secure your personal items once placed inside the case.
The four wheels ensure a smooth and silent ride when wheeling the case around.
The suitcase has a carry handle on the top of the case and on the side, therefore it is easy to transport and lift from one place to another.
The lightweight push button frame ensures the suitcase is a light as possible while maintaining a good quality design and protection for your items.
It has an impressive weight of just 2.6 kg, making it easy to store when not in use and giving you the option to pack more of your own personal items and still fall within your baggage allowance.
Its dimensions are 83 x 49.5 x 31 cm and it has a capacity of 105 litres.
The interior of the case is fully lined, providing extra protection for your items and includes mesh pockets on the inside front panel, which is great for storing smaller items such as toiletries.
The IT Luggage World Lightest Four Wheel Spinner Suitcase benefits from being such a lightweight case. The impressive 10 year manufacturer's warranty is also a great benefit that ensures peace of mind should anything unexpected go wrong with the case. The additional pockets on the both the exterior and interior and the packing straps help to make this case stand out from the rest.
Summary
Features: Strong two-tone fabric – Lightweight – 10-year manufacturer's warranty – Large zipped pockets – Packing straps – Four wheels – Two carry handles – Fully Lined interior – Mesh interior pockets
Pricing: Mid-range

Aerolite – Number 3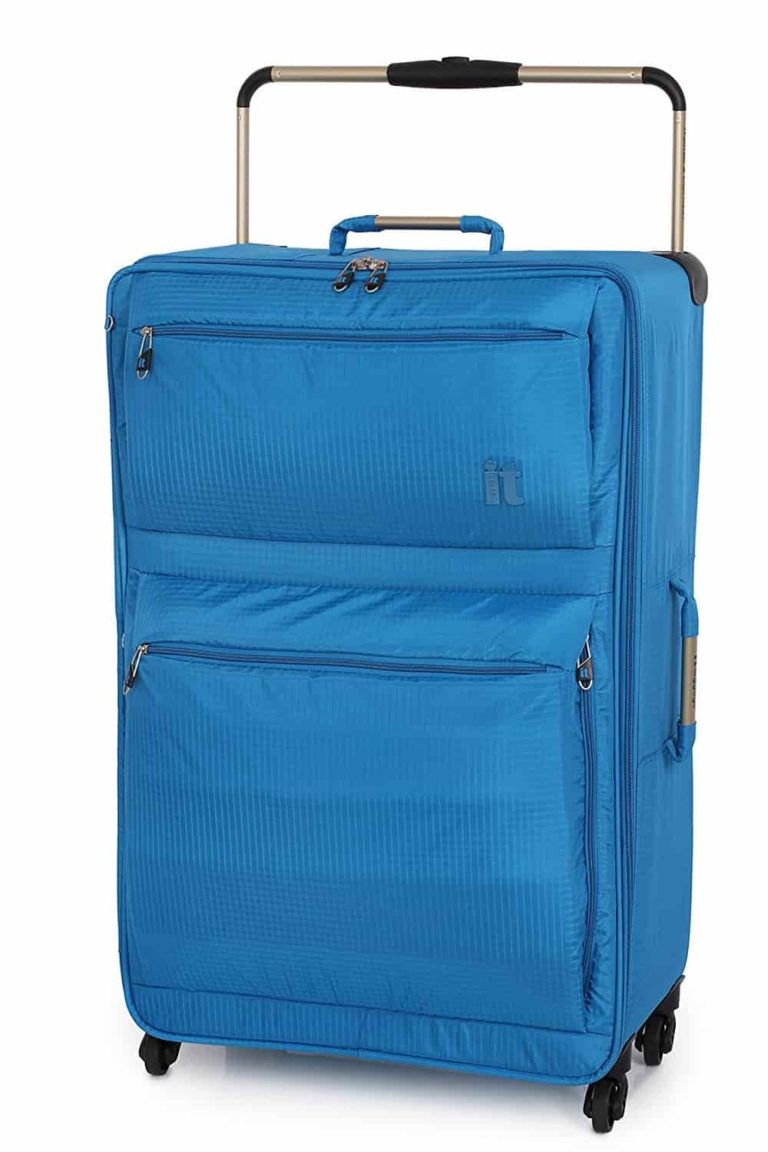 The Aerolite Large Super Lightweight Travel Hold Check In Luggage Suitcase with 2 Wheels is a great lightweight suitcase with some great features that we look at in more detail below.
The suitcase has a retractable handle which makes the case easy to use when wheeling around and can easily be put down when storing.
The stable two wheel base makes manoeuvring the case from place to place simple and easy.
It has a lightweight design, making it easy to carry around.
The product is made from 600 Jacquard Polyester Material which is rip-resistant. This is a great feature as it ensures the case is hard-wearing and long-lasting.
The manufacturer includes a 10 year guarantee with the case. This ensures you're not out of pocket should anything go wrong with the case and a new one is required.
A 3-digit combination barrel padlock is included with the case, allowing you to have all the security you need to protect your belongings.
There are two pockets on the front of the bag, allowing you to easily store and access essential items you may need to get to quickly.
The suitcase weighs in at just 2.75 kg which is great for ensuring you keep within your airline's allocated baggage allowance.
The dimensions of the case are 76.5x47x31cm and it has a capacity of 103 litres.
The product features two carry handles for ease of picking up and moving from place to place.
The Aerolite Large Super Lightweight Travel Hold Check In Luggage Suitcase benefits from its lightweight design and retractable handle, making it an attractive and user-friendly case. The rip-resistant design is a great finishing touch which ensures your suitcase will stay looking beautiful for longer. Including a 3-digit combination lock and a 10 year manufacturer's warranty are highly appealing benefits that many travellers will look for when purchasing luggage.
Summary
Features: Retractable handle – Two wheelbase – Lightweight – Rip-resistant – 10-year manufacturer's guarantee – 3-digit combination barrel padlock – Two exterior pockets – Two carry handles
Pricing: Affordable

Verdict
The top lightweight luggage goes to IT Luggage World's Lightest 83cm Four Wheel Spinner Suitcase. It is the lightest suitcase of them all and it really stands out from the rest. The four wheel design makes it an easy piece of luggage to travel around with and the standout design and additional features make this a top choice suitcase that will last for many trips away.

What Is The Best Lightweight Luggage To Buy?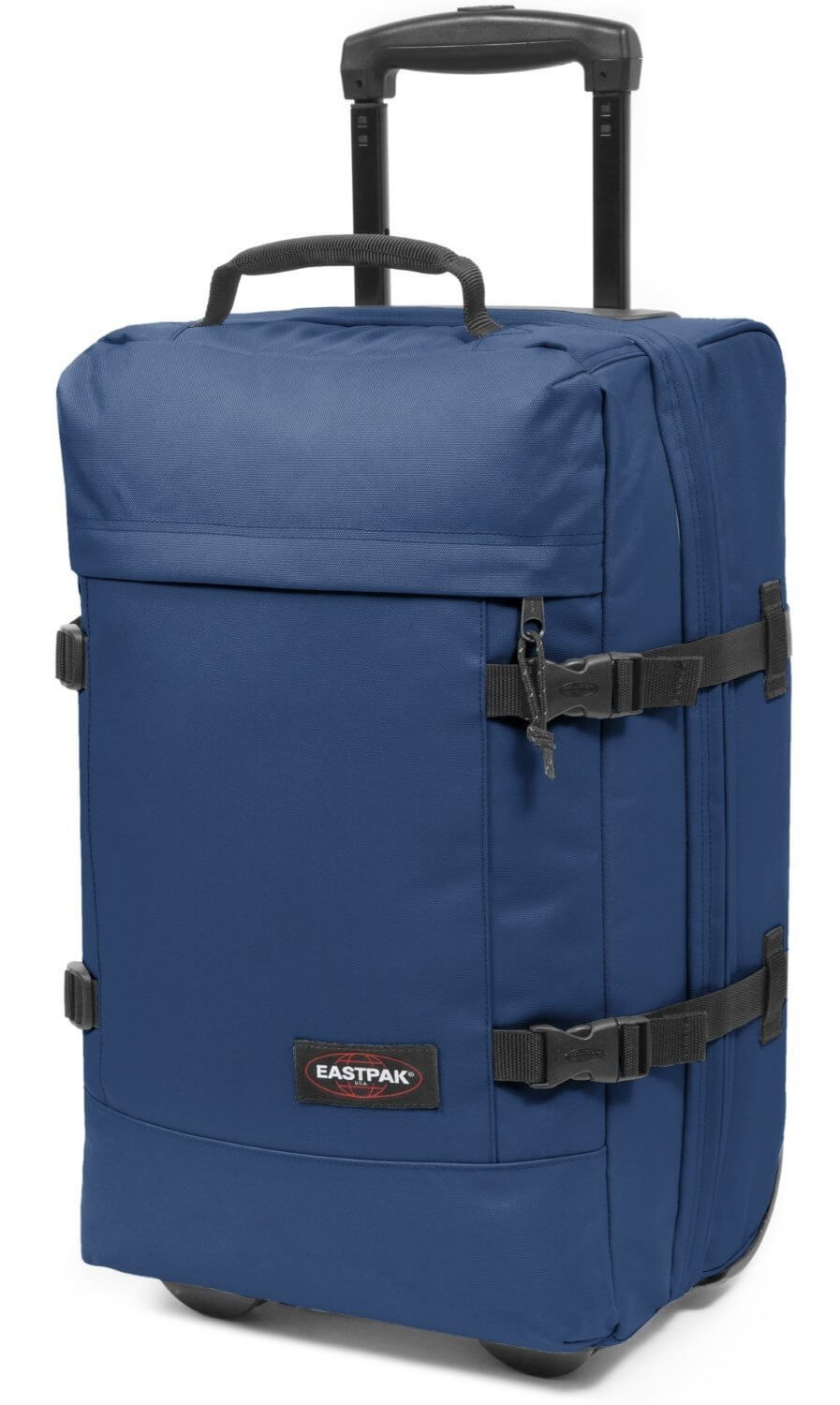 Is the question which has led you to this site. In this site I will review the best lightweight luggage available on the market today. Whether its cabin luggage or check in luggage, from suitcases to smaller toiletry bags; I will give you accurate reviews of each of them!
Bags used to be very heavy and quite awkward to move and carry around with you. You don't want something that is uncomfortably heavy to start with, after you put your items inside the bag, it will become even more heavy. Besides being difficult to then carry around, the weight of it will start to add up. You are only allowed to take a certain allocated weight depending on the airline you travel with, if it goes beyond this – they will either charge you a hefty premium or ask you to unload your bag until it meets the correct weight.
Now you can get luggage which is lightweight and very easy to move around. With high quality wheels and a light, yet very strong frame, the bag – regardless of whether it is cabin luggage or check in luggage will be easy to carry around and light to lift. Less weight of the bag means you can add more weight on the things that matter! Your things! Follow this link to find the best cabin luggage.
Price Range.
The first thing most people will look at when it comes to buying a suitcase is the cheapest. Let me tell you, and I speak from experience, if you buy cheap – you will buy twice. It's the sad truth that the cheaper bags will not last you more than a few trips. Buying a suitcase isn't as expensive as you would think, sure there are some models out there which are certainly at the higher end but the price for these is very justifiable. If you are on a budget, which I can well understand, I would recommend for you to opt for a mid-range, affordable bag. This will not cost you an arm and a leg and it will last a good distance longer than a cheap bag.
The more expensive bags will have a higher quality zip, be made of higher quality material and have very well made tyres and handles. Even some mid range bags will still give you high-end but you will have to shop for these bargains!
How Many Wheels To Go For?
No Wheels.
Bags without wheels will always be lighter than bags with wheels. A good quality bag with decent wheels will add some weight to the bag which, depending on your journey, may not be necessary. If you are just staying overnight or for a weekend, then a duffel bag or for the ladies, a tote bag may prove to be more than sufficient. It is small, light so you can carry and will fit tidily in the overhead compartment of a plane. If you are travelling by train or bus, then one of these bags is perfect as with suitcases (even the ones with wheels) can be difficult to move around and especially on uneven surfaces.
You can even get duffels and totes which have wheels on today, of course this would add a little more weight to the bag, but it would make for transporting through long distances between terminals and gates quite a bit easier if you were to wheel them around instead of carrying them. With addition to the wheels on these, they are also more expensive than the ones without wheels.
Two Wheels.
Two wheels are the most popular when it comes to suitcases, briefcases, laptop bags, totes and even duffels. Most bags with wheels will have two wheels – this is the more popular choice. These are great because they can also stand stationary in buses and trains without rolling around as they have the stops. When you are ready to go, simply tip it back and wheel it away and you're good. Even the heaviest loads in a suitcase can be moved around very easily on two wheels and you will feel like you aren't carrying a major load. Something else you should bear in mind for the two wheelers is when you pack; you should distribute your good evenly. If you end up with more weight on one side of the bag than the other, you will find it may tip on its own even stationary.
Four Wheels.
These four wheeled bags were around a long time back and are recently now starting to come back into fashion. Four wheeled bags, also known as spinners, are ideal for easily moving your luggage around – even easier to walk around with a four wheeled bag than it is a two wheeled bag. Really – they are extremely easy to move around, and will feel almost effortless! The downside to four wheeled bags are the fact that they will move around on trains and buses as there is nothing on the bag to stop it and keep it stationary. They are also not great for surfaces which are not smooth. In both cases the two wheelers have my vote.
Hard Or Soft Bags?
You will find there are good options for both alternatives. There are good and bad hard shells just like there are good and bad soft shells. Whatever your preference, hard or soft; you want to make sure the bag is light. With airline weight restrictions as they are, and they aren't getting any more lenient; you don't want to face the premium fees if your bag is over weight. You also don't want to end up losing some of your things just to lighten the load. Keeping this in mind, you want to go for a strong material which is also very light. When looking for both strong and light – it will be slightly more expensive than having one of these, but in the long run; you will benefit from it and it will be much less hassle!
Traditionally soft shell bags have been lighter than hard shell bags, but with today's technology and the materials available, you can have hard shell which is very strong at the same time as being quite light. With added locks, handles and wheels – its features like this that are necessary but also add weight to the bag! Good quality bags will of course have good quality locks and good quality wheels as well as retractable handles.
Durability.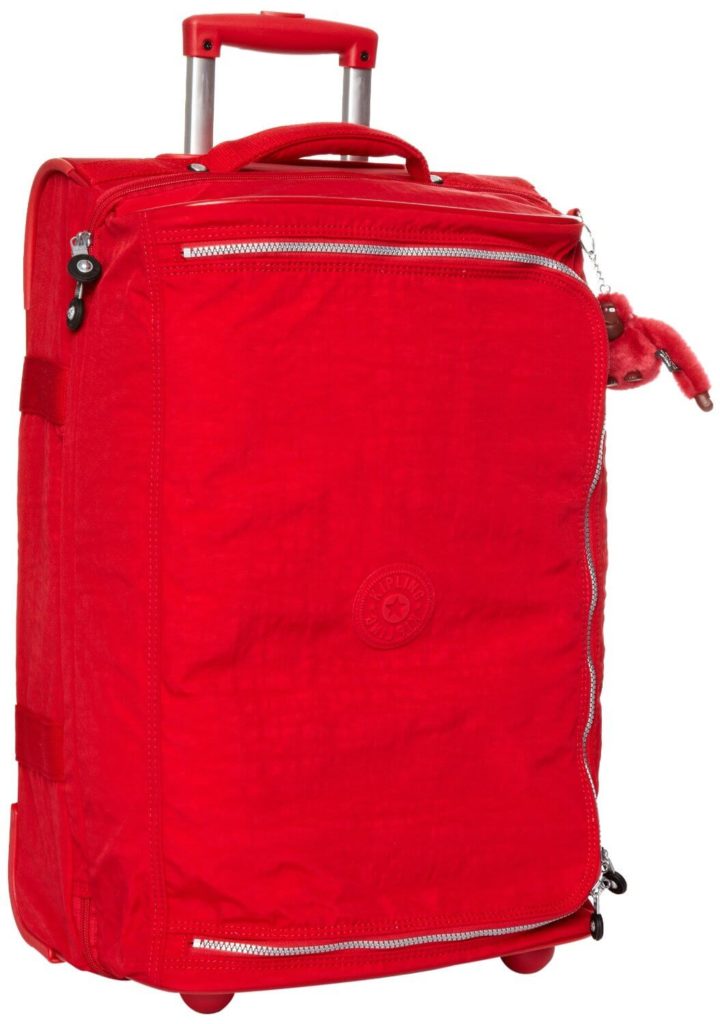 Whatever bag you decide to go for, you want it to last a fair few years. The durability of the bag is one of the most important aspects when you make the decision looking for a bag so you want to make sure it is one that you are 100% happy with.
For overnight bags, cotton or apparel bags are great and will withstand the test of time to an extent and they also look good. They do need a little more looking after and care than the other materials as they are prone to tear easily and any dirt will clearly show depending on the colour. If you go for a polyester-blended nylon or a canvas, this will be more durable and strong, it will withstand tearing to a higher degree and it is the general better option for overall ruggedness.
The the longer haul bags, the suitcases, the hard shells are almost always going to be more durable than the soft shells. A ballistic nylon or even something like the Cordura are both great when it comes to being a durable soft material, they are tough and sturdy. A polyester-blended nylon in this scenario will also be a good alternative to a hard shell.
When looking at hard shells, look at materials like the ABS or poly-carbonate. Both very strong materials and they are also very light. poly-carbonate is generally completely made from the base colour, since there isn't an underlying colour, any scratches to the suitcase will not be see clearly. Some say this is scratch resistant. Since ABS is painted; the base colour will differ from the outer colour, so any scratches etc. will stand out. On the whole, both very good materials!
Compartments Within The Bag.
Having an inner mesh pocket/compartment in a suitcase is quite important. This is where most people would keep photocopies of their travel documents, toiletries and things like that. For carry on luggage, it is more important to have small pockets and compartments as once you are in the plane or even when you are travelling, you want easy access to your things. You dont want to spend 3 minutes in the middle of an airplane isle looking for your iPod when there are people trying to walk past you (we've all seen these people!). Where if you had your iPod neatly seated in the side pocket, it would take less than 10 seconds to grab it! Having neat little zipped pockets on the side of your bag is also a good idea for easy access for things like your camera memory cards, batteries etc.
Handles.
For luggage with wheels, and particularly for the ones with two wheels; there will always be retractable handles. Sometimes these are situated inside of the bag, and sometimes outside. For the ones situated outside of the bag; you want to make sure that the mechanism is mounted properly and will not get damaged in transit.
The extending of the retractable handle should be smooth and fluid. It should lock at the top and there should be a button which you can easily press to unlock to lower the handle shut. This minimises unnecessary stress to the handle extenders.
Why Weight Matters When Looking At Luggage
We've all experienced that the overwhelming panic as you prop your case up onto the scales at airport check in, nervously waiting to see whether you're going to come in or under the airline's allowance. Coming in under is great! You can breathe a sigh of relief, check in and wonder around duty-free before you hop on the plane. However, if you go over, you've got two options – leave some of the items behind or pay the extortionate additional baggage charges to the airline. Lightweight suitcases are a brilliant way of maximising your baggage allowance. With some of them weighing in at just over 2kg, you can be sure you won't have to leave anything behind or dip into your spending money before you even arrive at your destination.
Baggage allowances
Each airline have their own rules on baggage, so it's vital that your check with our airline in advance to find out exactly what your weight limit is and the maximum number of bags you're permitted to take with you. Across UK airlines, there is however one baggage requirement which they all adhere to and this is that the maximum a single piece of luggage can weigh is 32 kg.
Suitcase Weight
On average, a medium sized empty suitcase weighs 5.4 kg. When you look at this in relation to the 20 kg maximum hold baggage allowance that EasyJet allows their customers to travel with, you can see that over a quarter of your allowance is taken up just from the weight of your suitcase. Therefore, it's clear to see why a lightweight suitcase is much more preferable when travelling.
Men can usually handle heavier luggage, but women do prefer their bags to be lighter.
Travelling
You expect to have to lug bags and suitcases around when travelling, but you want to make it as easy for yourself as possible. Wheeling luggage around, lifting it in and out of vehicles and off the airport carousel all put strain on your back muscles. Opting for a lightweight suitcase that weighs between 2.5 kg and 3 kg, automatically reduces your overall load by approximately 2.5 kg. Spread this out across a family of four's luggage and that's a total of 10 kg of back strain you've saved yourself.
Tip: To stay comfortable when travelling, ensure to get yourself an inflatable foot rest.
Storage
It's not just the travelling aspect you should consider when selecting the weight of your luggage. You should also think about how and where you're going to store it. An infrequent traveller, someone who holidays maybe once or twice a year, is unlikely to leave their luggage hanging around the house, preferring to store it away. Many people will store their luggage on the top of their wardrobe or in the loft.
Lifting a heavy suitcase above your head and into either of these locations can be dangerous and there is risk of injury. A heavy suitcase stored on top of a cupboard or wardrobe is a considerable weight that could cause damage to the piece of furniture too. Therefore, the lighter the luggage, the better.
Weight consideration when selecting your luggage really does matter. The benefits of lightweight luggage justify the expense of purchasing new luggage and in the long run your back and your finances will be grateful for it.