Product
Top Rated
Great Value
Most Affordable
Material
Highest quality, vegan leather
Warranty
TRAVELGENIXX Money-Back Guarantee
Top Rated
Product
Great Value
Product
Material
Highest quality, vegan leather
Most Affordable
Product
Warranty
TRAVELGENIXX Money-Back Guarantee
Top 3 Mens Hanging Toiletry Wash Bags For Travel
Toiletry bags are a must for frequent travellers because they make it much easier to keep all your grooming essentials in one easy location instead of just throwing them in your bag and hoping for the best. Whether you're hitting the road for six months or just a weekend away your toiletry bag will be there to make sure you look (and smell) your best.
You might think that toiletry bags are all plain draw bag models which, whilst they're perfectly functional, are really not much to look at, but you'd be surprised. There are tons of stylish, versatile and practical wash bags out there, so read on to discover three of our top picks.
Vetelli Men's Hanging Toiletry Bag Review – Our Number 1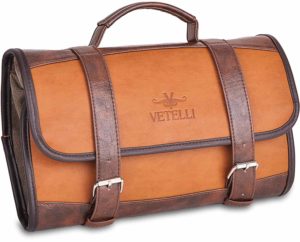 This Italian toiletry bag (view on Amazon) is a stylish choice for travels near and far. Read on to find out more.
This bag doesn't really look like a toiletry bag at all. In fact, it could easily pass for a stylish day bag!
The Vetelli toiletry bag was designed and patented by Vetelli's Italian designers, it has a gorgeously vintage brown exterior complete with the 'Vetelli' logo, a top carry holder for easy transportation and nice brown straps. This bag has an authentic retro Italian look without losing any of the practical features you need in a toiletry bag.
This bag is made out of high grade PU leather which is super easy to clean. All you need to do is wipe it down as needed.
This bag also has stainless steel zips and buckles. Stainless steel is known for its anti-rust and long-lasting abilities, so you know the zips and buckles on this bag won't turn a nasty colour and stop working after a few months. The buckles also add to this bags stylish look – it is nothing like the toiletry bags you've probably seen in the past!
The Vetelli travel bag comes with four internal pockets including two which are zipped so you can keep some of your products separate. There are also two snap fastened pocket and canvas lining.
This bag can be used as a hanging toiletry bag or it can be laid flat depending on how you need to use it. If you need to reach it easily from the wall simply hang it up and get what you need as you wash, or if you're looking for somewhere to store hair products/grooming essentials you can simply lay it out on a flat surface.
This bag measured at 20.9 x 12 inches when unfolded and 8 x 12 inches when closed.
The Vetelli toiletry bag comes with a lifelong guarantee so you will never have to buy another toiletry bag again!
Summary
Features: Stylish Italian Design –  PU Leather – Stainless Steel Zips & Buckles – Four Internal Pockets – Lifelong Guarantee.

Pricing: Mid Range/High End.
Höher Toiletry Wash Bag Review – Number 2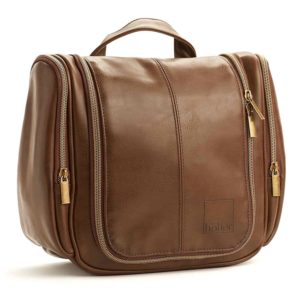 This simple and versatile black wash bag is a great choice for keeping your toiletries in one place so you don't lose anything during your trip. Read on to find out more!
·     The Hoher Toiletry bag is extra large at 32 centimetres in length and 22 centimetres tall. It should be big enough for all your toiletries and grooming essentials, even bigger items like hair spray and full-size shampoo!
·     This bag is made out of high quality PU leather and it contains a high density interior lining which is designed to last. It also includes mesh pockets which will help keep your items in one place so they don't fall around your bag and accidentally leak.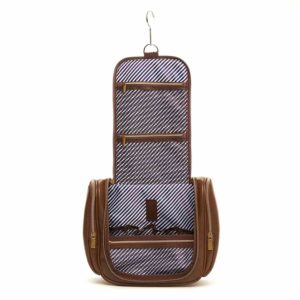 ·     The Hoher toiletry bag comes with a large stainless steel swivel hook,, so you can hang it up in a hotel room or bathroom and easily access everything via the mesh pockets.
·     This bag also comes with a carry handle so you can easily carry it around, and it has straps which you can use to keep things like your tooth brush and razor upright so you can just pull them out of the bag without having to search for them.
·     This bag is designed in the UK and it comes with a refund guarantee if you are not totally satisfied with the product.
Summary
Features: Extra Large – PU Leather – Mesh Pockets – Stainless Steel Swivel Hook – Carry Handle – Designed in the UK.
Pricing: Mid-Range
Travel Toiletry Bag TSA Compliant Review – Number 3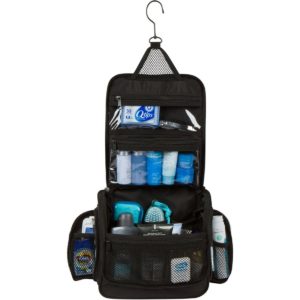 This versatile hanging bag has multiple compartments which you can use to keep track of all your grooming essentials. Read on to find out more.
This versatile bag comes with multiple compartments including side pouches, a mesh section at the bottom, and numerous pockets so you can keep the bag well organised and never worry about misplacing those small items again!
The Travel Toiletry Bag includes a removable clear TSA compliant bag so you can save the stress of airport security and avoid searching the airport for one of those clear airline approved toiletry bags.
This bag is compact enough not to be a pain to carry around, but it's also yet it's large enough to fit all of your travel toiletry essentials.
The Travel toiletry bag has a sturdy bottom which will ensure the bag stays upright when put on the floor so you don't have to worry about it falling over the second you leave it on its own.
The Travel Toiletry bag comes with a 360-degree swivel hook which you can use to hang the bag from a hook, hanger, door or even a tree branch for easy access wherever you are.
This bag also has a water-resistant shoe bag which has a drawstring for easy closure which will help keep your shoes clean and dust free.
The Travel Toiletry bag comes with a money back guarantee so if you are not totally satisfied with your product you can get your money back.
This bag comes in a variety of colours including black, Tiffany Blue, and Port Purple so you can pick something which matches your style and personality.
Summary

Features:  Multiple Compartments – Removable TSA Approved Bag –  Compact – Sturdy Bottom – 360 Degree Swivel Hook – Water Resistant Shoe Bag – Money Back Guarantee – Variety Of Colours.

Pricing: Mid-Range/Affordable.
Verdict
These are all excellent toiletry bags which will help you keep track of your essentials when travelling. We are sure you would be happy with any one of the bags on this list, but if we had to pick one it would be the Vetelli Men's Hanging Toiletry Bag because it has a gorgeous Italian-style exterior which doesn't look anything like the toiletry bags you're used to, it is made out of strong and sturdy material including rust resistant stainless steel, it's easy to hang by its hook if you want easy access in the shower, and it comes with a lifelong guarantee so you'll never have to worry about buying another bag again!