Can You Bring A Weighted Blanket On A Plane?
You can usually bring a weighted blanket on a plane with you, provided that it fits within the weight limit and dimension restrictions. However, if you purchase a cheap ticket that doesn't allow for a carry-on bag, you may not be able to bring your weighted blanket on the plane.
Most airlines let you board the flight with one carry-on luggage and one personal item, like a backpack or a purse, but there are exceptions. Some airlines require you to check your carry-on luggage at the airport, so you'll need to plan accordingly.
Check with your airline before your next trip to find out whether you can bring a weighted blanket on the plane with you.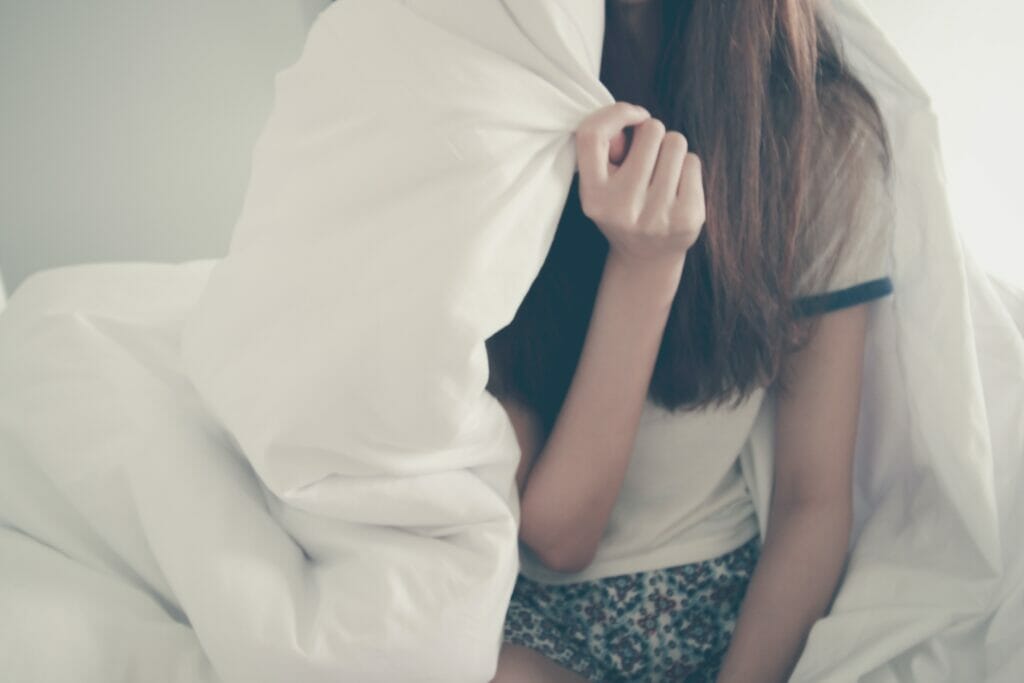 What The TSA Has To Say About Flying With Weighted Blankets
Ever since airlines stopped providing a blanket to passengers on domestic flights due to weight restrictions, the Transportation Security Administration has seen countless blankets pass through its security checkpoints.
The TSA says on its website that weighted blankets can be checked in as part of your luggage or packed in a small carry-on bag provided you have enough room.
Note that the TSA is in control of ensuring the safety of air travel within the US only. If you're traveling internationally, you'll need to double-check if your destination allows you to bring weighted blankets onto the plane.
How To Travel With A Weighted Blanket
Traveling with a weighted blanket isn't practical, but there are ways to travel with one without being weighed down. Here are some ideas:
Utilize A Weighted Lap Pad
Weighted lap pads are great for traveling. You can easily pack them in your suitcase, and they're small enough to fit in most overhead compartments. Plus, they provide comfort and support for your legs and arms, helping you stay relaxed during long flights.
You can use a weighted lap pad for yourself or your child. Either way, it's a great travel accessory that helps keep you comfortable and relaxed.
Use A Heavy Toy
Weighted blankets are great for children who suffer from insomnia. These airline blankets provide comfort and support during sleep, helping to reduce tossing and turning. However, if you're traveling with a young child, you may not want to bring along a heavy clean blanket. Instead, consider using a weighted toy instead.
These toys are similar to weighted blankets, but they are much lighter and easier to travel with. Kids tend to enjoy playing with them and they are a lot less expensive than weighted blankets. You can find weighted toys online or in stores near you.
A Weighted Blanket Of A Smaller Size
Weighted blankets of a smaller size are great for traveling. You can use them in cars, planes, hotels, and anywhere else where you feel like you need extra support. They're soft and cuddly, making them a good choice if you're feeling stressed out or anxious.
Along those lines, you can also buy a regular weighted blanket in smaller sizes. It would work the exact same as the travel blanket mentioned above. Toddler-size weighted blankets would be a great place to start.
Use Different Sleeping Products
Traveling with a weighted blanket is a great idea if you're trying to get some extra shut-eye during your flight. You'll find that using a weighted blanket and other sleeping products like an eye mask helps you fall asleep faster and stay asleep longer. Plus, it makes traveling easier since you won't have to worry about getting tangled up in your bedding.
Utilize A Hand-held Carry Bag
Traveling with a weighted blanket isn't difficult, but it does require a little planning. You'll want to pack your weighted blanket in a carry bag with handles so that it's easier to transport.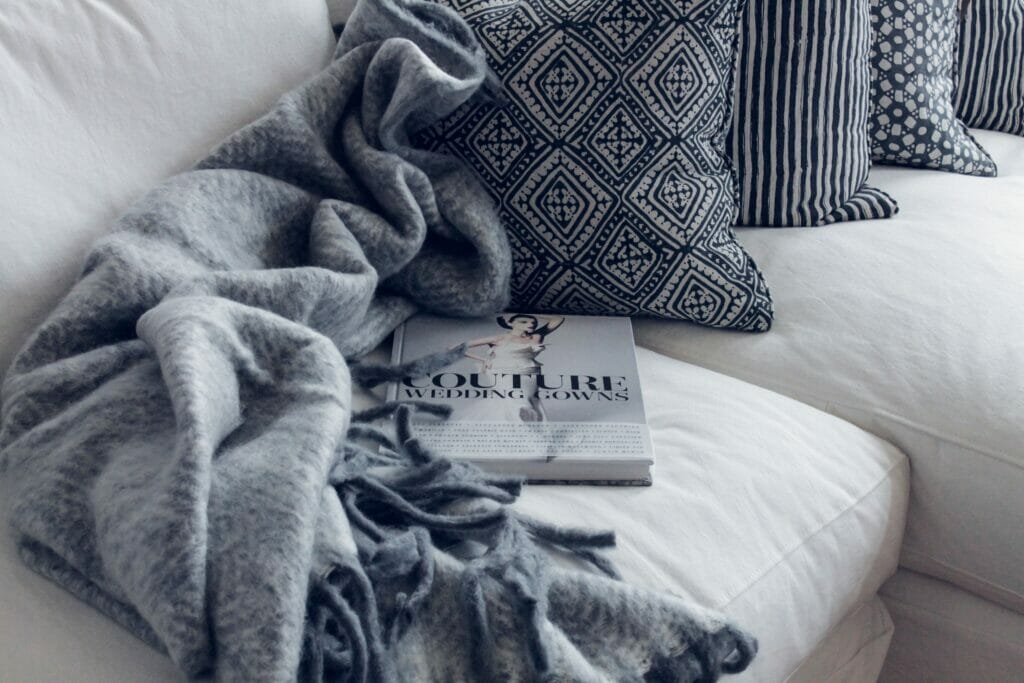 Are Blankets Considered Personal Items?
Blankets are not considered personal items. However, if you purchase a low-fare ticket without being able to bring a full-sized carry-on item, you may find yourself stuck at the airport trying to figure out where to store your personal blanket.
You can still bring a weighted blanket for travel on board, but it won't count as part of your carry-on luggage. Instead, it'll count against your checked bags. So, if you've already paid for a seat on the plane, you might want to consider checking your perfect blanket instead of paying extra for another checked bag.
Are Loose Blankets Allowed On Planes?
If you want to bring along a large loose blanket, you should consider packing it in a soft case or rolling it up tightly. You'll have to leave behind your bulky blankets, pillows, and stuffed animals.
Airlines usually allow passengers to bring personal items and carry-ons in addition to their luggage. So, if you want to bring a comfortable blanket, you'll have to find somewhere else to store it.
You could try storing it in your personal item or carry-on, but keep in mind that anything stored in those spaces will count against your total carry-on weight limits.
How Heavy Can A Carry-On Blanket Be?
You'll probably never have to worry about carrying a weighted blanket on a plane. Most airlines only weigh carry-ons that exceed certain weights. The lowest most people need to lose weight is usually just under 11 pounds.
If you're planning on flying domestically you might want to consider checking out the weight limit for your specific carrier. If you're flying internationally, you might want to check out the weight limit for the country where you're traveling.
Recommended Weighted Blankets That Can Be Used By Travelers
Go2 Weighted Blanket
This weighted blanket is a must-have item for travelers. It helps you relax after a long day of travel, and it makes you feel like you are getting hugged. You don't even realize how much you need it until you try it out.
YnM Kids Weighted Blanket
This travel weighted blanket is great for travelers because it helps keep your kid comfortable during long flights. It's made out of soft cotton and linen blend fabric, which makes it breathable and keeps your little traveler cool. Plus, it comes with eight loops to secure the duvet cover to prevent slipping.
Cooling Weighted Blanket For Adults By BABO
BABO makes several types of weighted blankets that can be used by adults. Each of these weighted blankets offers a unique experience that helps travelers feel comfortable and relaxed.
A weighted blanket is a great choice for travelers who want to stay warm without feeling weighed down. Choose a weighted blanket that fits your needs and preferences. You'll enjoy using it every day!
MAXTID Weighted Lap Blanket
This weighted lap blanket is great for travelers. It's portable, lightweight, and comes in multiple travel blanket sizes. You can use it in the car, at work, at home, or wherever else you might find yourself needing a little extra comfort.
These weighted lap blankets come in various sizes, including small, medium, and large. Choose the perfect size for your needs.
Why Travel With A Weighted Blanket?
Traveling with a weighted blanket can be a great way to relax during a long flight. Not only does it provide a comfortable place to lie down, but it can also help you fall asleep faster and stay asleep longer.
A weighted travel blanket provides a firm surface to lie on, making it easier to fall asleep. It also helps keep you warm by increasing blood flow to your extremities.