Wagner Unisex AdultSuitcase 75cm
Spinner 76 (Large Suitcase: Two Week Travel): 51 x 31 x 76 cm - 102 L - 4 kg
Lightweight Polypropylene luggage
Matt texture to protect against scratches
Double wheels for smooth rolling comfort
Fixed 3-digit combination lock. The item is set to 0-0-0 at the factory, lock instructions are inside the suitcase
I don't know if you already know this, but I absolutely love to travel, and I love sharing my travel tips with anyone else. I was looking for something that can accompany me on many trips over the years, while staying intact and being trendy too.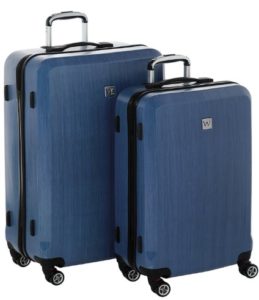 Recently I've been having some trouble with hardshell suitcases, the last one I had weighed more than 5kg, so I didn't have much weight free to pack and often went over the limit. Also on my last one the plastic cracked under a wheel, which left me in a bit of trouble for the rest of my trip. This time round I was determined to find something that was going to last, without getting damaged on the journey. Its such a nightmare when any little thing goes wrong on a trip, so I was going to make sure it doesn't happen again!
I found this Wagner (learn more here!) suitcase at a pretty good price, and felt assured in the brand. Wagner is a reputable luggage brand that I had used before so trusted fairly well. I travel in so many different ways, on the road, flights, cruises, etc, so I wanted something that would suit all my needs! I'm looking for decent quality and good value for money.
I was looking for a medium/large suitcase that would do me well for at least a 2 week trip. I'm not a very light packer but this size of case is perfect for anything between a two week winter trip, or anything up to a long three week holiday away! I loved the colour and feel of the case, so decided to go for it! The dusty blue colour is really lovely, and will stand out when you're looking for your case on the baggage conveyor!
It had all the features I was looking for. Really I needed something with a hard, durable shell, for my long-haul flights, as I knew first hand how the baggage handlers can really throw your luggage around, and they're not gentle! The outer casing is made from ABS so its really lightweight, weighing in at 4.8kg which is quite impressive for something of this size and although this is the standard material used in most light weight suitcases these days, it is the ultimate in light weight technology. Its ultra durable, scratch proof and has no melting point, so its really indestructible!
Also a key feature I look for is four spinning wheels, I always find myself running for flights and trains, so something that glides easily is really important. I was really impressed at how well these wheels ran. They were really smooth with barely any bumps or rattling. The wheels spin 360 degrees which provides ultimate ease in transport and the telescopic handle was the perfect height for me to wheel the case along the terminal with ease.
The inside is fully lined with each side of the case being separated, so I was easily able to sort and store my luggage and keep valuables separate and for easy access. I love the built in 3 digit code lock which is great for me because I'm prone to losing tiny keys, and this one is easy to use and is nicely hidden on the side. It is also TSA approved so you're guaranteed safety there.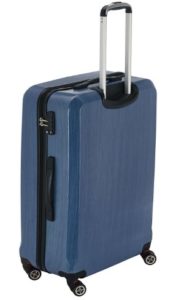 Overall this was really an excellent suitcase, it lasted really well and performed excellently from door to door, on all terrains. It did not receive a scratch from the stressful journey  and I was so pleased!
Lightweight and durable - to assure you're not carrying any extra weight around with you, and that your case can withstand the journey.

Lock included - so you can trade with peace of mind that your belongings are secure

4 spinning wheels - for excellent manoeuvrability and handling

Height - 75cm

Weight - 4.8kg

Telescopic handle - for adjustable comfort when you travel
Overall I really loved this suitcase. It was really brilliant, it looks and feels amazing, and although I am usually reluctant to spend over £80 I feel that this was worth the money. The colour was really special for me, it had kind of a denim like print and it stood out in the airport so I felt very trendy, without being too out there! This particular case comes in a range of colours so you can choose the style that is right for you. As I travel a lot I find that cases don't often last me as long as I would like, but this case has travelled quite a few trips, whether it be air, sea, or land, and so far there have been no problems at all.
Summary:
Features: Lightweight - Lock included - Height 75cm - Weight 4.8kg - Telescopic handle - 4 Spinning wheels
Price: Mid range
Similar Brands To Consider;
Spinner 76 (Large Suitcase: Two Week Travel): 51 x 31 x 76 cm - 102 L - 4 kg
Lightweight Polypropylene luggage
Matt texture to protect against scratches
Double wheels for smooth rolling comfort
Fixed 3-digit combination lock. The item is set to 0-0-0 at the factory, lock instructions are inside the suitcase