Lulu Guinness Lip Print Hardshell Cabin Case
Last Updated on
I'm looking for the latest in trendy and practical luggage solutions. I'm tired of lugging around a heavy suitcase with rattling old wheels. When am I going to find something thats up to date with the latest trends, yet functions excellently?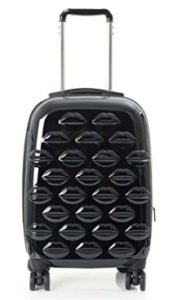 Look no further than this adorable Lulu Guinness Lip Print Hardshell Cabin Case (learn more here!). When I saw this, I had to have it. The funky signature Lulu Guinness print paired with the sleek design caught my eye in an instant! I was looking for a carry on sized suitcase for my up coming girls holiday and I knew I had to have this one!
Absolutely perfect for a weekend away in Paris with my girlfriends, I managed to pack everything I needed with space for souvenirs and a bit of shopping! The case is super lightweight at a staggering 2.8kg, so I was able to transport it with ease.
With airlines being pretty strict with carry on sizes, this cute case will put your mind at ease. Adorably compact, it fits perfectly in the size regulations, with a depth of 24 cm, height of 56cm and width of 35cm, and comes with a TSA approved padlock so your belongings will be safe and secure, so you can travel in peace!
In terms of design I absolutely adore the bold and bright embossed print. It comes in a variety of beautiful bold colours, red being my second choice! The black case is just so sleek and smart, paired with the fun design its just right! Lulu Guinness is renown for her wacky prints and bright colours, and this case features her signature branded lip print. You can see the attention to detail with this product, down to the signature silver lip zippers. I love the cute little details on this case.

The lining is a classic black and white stripe print that zips to separate the two compartments, with additional  zip pockets for tidy and organised travelling, so all the while while looking trendy and cute the suitcase functions excellently. They've really put the effort in to make this case all round super nice.
This case can also be purchased along side the travel set, so if you, like me, like to travel co-ordinated and in style, then a vanity size (35cm) and large hold sized suitcase (69cm) can be purchased! Why not treat yourself and complete the set! It can also be purchased in a cute pink or daring red, but the black for me was the winner for timeless style.
So, lets get down to the nitty gritty. Its all well and good travelling in style, but how does this gorgeous suitcase actually perform in action?
Honestly I was incredibly impressed by all the features and functions of the suitcase. Lets break it down a bit here.
The outer casing is made from 100% Makrolon Polycarbonate. This is the latest in lightweight luggage technology, which makes it super light weight and extremely durable. It weighs in at only 2.8kg which is definitely one of the lighter cases I've used. Despite how light it is this case will withstand even the most heavy handed of luggage handlers, ensuring your belongings stay safe and secure inside. This material ensures resistance with the highest of impacts.
The straps inside make for easy packing, I packed a weeks worth into this carry on! To top it off, it comes with a travel case cover to keep your suitcase in tip-top condition.

The lightweight and high shine handle on the top and either side of the case make for easy and comfortable transporting. And with 4 ultra lightweight wheels with 360 degree manoeuvrability, going anywhere with this little case is going to be a walk in the park!

I am still to this day incredibly impressed with the functionality of this nifty little suitcase, having already been on several trips, nothing has yet let me down. The wheels still run perfectly smoothly as they did the day I wheeled it into my house, the case is still shiny and smart, with little signs of damage, despite having flown, sailed and driven thousands of miles.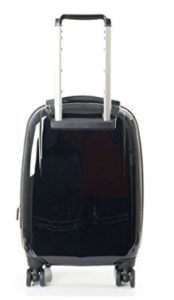 Bold and beautiful design – up to date fashion, and you you will never miss your suitcase on the baggage reclaim belt!

100% Makrolon polycarbonate – Super lightweight and fantastically durable

4 lightweight wheels – easy to transport an 360 degree spin for easy manoeuvrability

TSA regulated carry on size – avoid additional fees in the knowledge you're within the size restrictions

Height – 65cm Depth – 24cm Width – 35cm

Lulu Guinness signature branded zips – in silver

Padlock included – keep your valuables and belongings safe with the TSA approved padlock
Overall I would say that this is the perfect little suitcase for the traveller, fashionista, trendy mum, or… anyone really! Finding a perfect carry on can be extremely difficult. With the market constantly growing and churning out so many new products, its hard to know what to go for. There are so many new materials and technologies, but this case is perfect. The ultimate balance of perfectly practical, durable and fashionable. Everything I like was tending to be too big, too small, too heavy, not strong enough, but this lovely case, which is at the slightly pricier end of the market, I would say is worth the money. There is no compromise on the quality, and this suitcase is really light, slick and easy to use. I've been using it all season and I don't plan to stop, it looks like this case is going to last me a good few years and I know you will not regret choosing this case as your new travel companion!
Summary
Features: Beautiful signature design – Lightweight and Durable (makrolon polycarbonate) – four 360 degree lightweight wheels – Padlock included – TSA regulated
Price – Mid-high range