Orla Kiely Travel Cabin Case
CABIN APPROVED - Designed to fit in most airlines overhead compartments. Dimensions: 52 cm x 34 cm x 18 cm, Weight (Approx.) 1.70 kg
STRONG WHEELS - Allows rolling in multiple directions with ease
LIGHTWEIGHT - Made from durable nylon & polyester material which maintains a good balance between lightweight and firmness
QUALITY DESIGN - Fully lined tear resistant material designed for comfort
PULL UP HANDLE - Making it easy to move and making your journey pleasant, comfortable and safe
If you haven't already heard about Orla Kiely, firstly, where have you been? And secondly, listen up.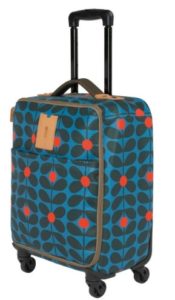 Orla Kiely (learn more here!) is an Irish fashion designer who started out designing hats, and then moved onto handbags and kitchenware and now here we are, with this beautiful little suitcase, admiring its beautiful and simple design! The pretty retro print is timeless, and the design on this gorgeous suitcase is not going to get boring any time soon!
I absolutely adore everything about this practically perfect little suitcase. I was getting bored of having a boring black old carry on, so set out to get myself something a bit more fun and colourful and as I was scrolling through all the options, some were too boring, some a bit too crazy, and then I found this! Perfectly pretty and simple, with a quirky and standout design, but lovely and subdued, autumnal colours. I had to have it!
I was a little worried about only taking a carry on for a 10 day holiday, but found that with this case, I had plenty of space to pack everything I needed and left room for shopping and souvenirs!
Also available in the range are accessories that can complete the travelling fashionista look! For example the cute passport cover or lovely handbag. This particular size of cabin carry on case is available in a variety of different prints but for me the sixties style of this blue one was my absolute favourite.
The quality of this suitcase is amazing, The textured fabric is waterproof and  wipe clean, and feels fantastic. It has a deep front pocket, perfect for keeping hold of your important documents or things you need easy access to while you're travelling. It also features a small leather card-holder on the front, for identification, or personal information in case your luggage might get misplaced, and a side zip compartment for all the extras - they've really thought of everything. And the soft brown leather is a perfect compliment to the autumnal colours and gives a lovely little accent to the print. The silver hardware accent is perfectly delicate and compliments the general look of the case.
CABIN APPROVED - Designed to fit in most airlines overhead compartments. Dimensions: 52 cm x 34 cm x 18 cm, Weight (Approx.) 1.70 kg
STRONG WHEELS - Allows rolling in multiple directions with ease
LIGHTWEIGHT - Made from durable nylon & polyester material which maintains a good balance between lightweight and firmness
QUALITY DESIGN - Fully lined tear resistant material designed for comfort
PULL UP HANDLE - Making it easy to move and making your journey pleasant, comfortable and safe
Contract coloured handles add another quirky element to the lovely design of the suitcase, but most importantly padded for extra comfort when carrying the case. The main handle (20cm) is extendable but can also be concealed in a clever little zip closure, for the ultimate polished look. The lining also features the classic pretty Orla Kiely signature stem flower printed lining. So attention to detail has not gone amiss here.
This case is super light weight and compact. With the outer made from 100% textured vinyl and the inner made from 100% Polyester twill fabric, the quality of the materials really shows.  Weighing in at an impressively light 3kg, you won't be lugging around any extra unnecessary weight. It is really the perfect carry on size, so you know it will fit into the strict regulations of airlines these days and avoid any additional fees! I managed to cram enough for a ten day holiday in here, thanks to the additional zips and compartments too! All the zips are lockable so you need not worry about anything happening to your luggage, with the secure zips!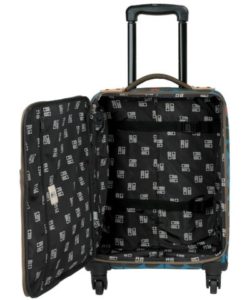 The handy little case has four 360 degree rotating wheels, which glide so smoothly. They're extremely lightweight and run so nicely, it really feels nice in your hand. It makes it so easy to transport, along with a super comfy extendable handle, you won't have any troubles going anywhere with this case.
Lovely design - stand out in the crowd with the pretty and simple design

TSA regulation carry on size - avoid extra fees if you're case is too big

Additional zip up pockets - sort and store all your belongings and valuables

Lightweight - at 3kg you won't be carrying any extra weight around with a heavy case

Dimensions - Height: 54cm - Width: 35cm - Depth: 20 cm

Lockable zips - for extra security so you can travel in peace
Overall I would say this fantastic little suitcase is an amazing buy! My friends have been raving about Orla Kiely for years, and now I know why! It has perfectly catered for all my travelling needs. Being a little busy and dis-organised myself, the compartments are perfect for organising and keeping things in order. Its so lightweight and easy to carry, the fabric is perfect for all weather conditions and the wheels move really nicely (which is so important when you're in a rush or trying to get around!) The beautiful, standout print separates my suitcase from the crowd, which minimises the risk of losing or confusing your luggage with someone else's. It is in the slightly higher price range but I would say that this is a must-have for the trendy woman on the go! I absolutely adore the design, its so simple yet quirky, with a beautifully simple colour palette. I know you won't regret purchasing this gorgeous suitcase, and hope you enjoy using it as much as I have done!
Summary:
Features: Beautiful design - TSA regulation carry on size - Extra zip-up pockets - Lightweight and durable - Lockable zips
Price range: mid to high range
CABIN APPROVED - Designed to fit in most airlines overhead compartments. Dimensions: 52 cm x 34 cm x 18 cm, Weight (Approx.) 1.70 kg
STRONG WHEELS - Allows rolling in multiple directions with ease
LIGHTWEIGHT - Made from durable nylon & polyester material which maintains a good balance between lightweight and firmness
QUALITY DESIGN - Fully lined tear resistant material designed for comfort
PULL UP HANDLE - Making it easy to move and making your journey pleasant, comfortable and safe
Similar Brands To Consider;