[amazon table="1310"]
Top 3 Travel Bags For Women
[lmt-page-modified-info]
To make their lives easier, women prefer to have their luggage to be that little bit lighter (and a whole lot more fashionable) than men's. While being light, the bag should also be strong enough to hold the essentials while being spacious to store them. For this very reason there are suitcases aimed at women.
The Kipling Teagan S (Small) Review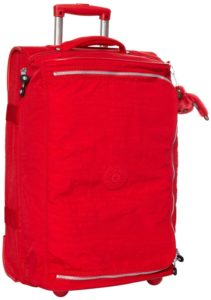 Kipling are known to make very good quality, durable and light weight suitcases and the Teagan S is no exception!
Here are the notable points for the Kipling Teagan Suitcases;
The S-size is small enough to take as carry on cabin luggage - large enough to fit the essential things and small enough to take as a check-in bag and fits nicely in the overhead compartment
Good material for a suitcase which also acts as a duffle bag on wheels - practical as well as being light and easy to manoeuvre
Two compartment inner split to keep your luggage separate
Comes in many different colours to choose from (listed below) - choosing a nice eye-catching colour will make your bag standout amongst others on the conveyor belt if you were to check it in
Ideal for short trips or weekends away - large enough to keep your things in, small enough to make it practical and strong enough to last the test of time
41 litre volume capacity - spacious enough to keep your things while you travel
2.3kg in weight making it very light
35 x 26 x 55 cm
Verdict
A very nice bag overall. Kipling give us a great choice of colours in the range, so while you can have a very cool and good looking bag - it will also be durable and lightweight.

The Kipling Roller Case Darcy Review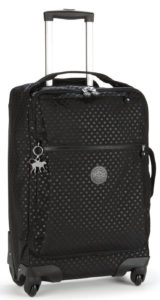 Another very good suitcase for ladies is the Roller Case Darcy. Some of the features worth mentioning below;
The main compartment is secured shut with a double zipped mechanism as well as adjustable packing straps
Front zipped pocket for those essential items you will need frequently and would like easy access to
The four flexible spinning wheels on this bag make it a very mobile bag so walking around with it is very easy and effortless
Retractable handle to pull out with multi-stage locking mechanism to help extend and retract the handle as and when needed
Padded top and side carry handle to assist in picking up and putting down the bag
A range of colours to make it stand out in a luggage carrousel, as you would expect from Kipling - but keeping the quality of the bag high
30 litre volume capacity - gives you enough space to put your goods
2.1kg in weight - a light and practical suitcase
35 x 20 x 55 cm - small enough for the carry-on size restriction
Verdict
As with any Kipling bag you go for, you are always sure to get a good quality product. The Darcy is no less, you get a good choice of colours, a very strong durable bag with enough space and four wheels to make moving it around very easy.

Eastpak Suitcase - EK66184I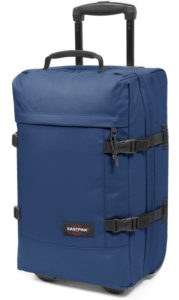 Eastpak are also know for their high quality luggage and more so the practical uses for them. With Eastpak suitcases, your luggage can be packed away neatly and in individual sections. As with all of their products, the material used to construct the bags are always of high standard as well as being waterproof. Below are some of the reasons you should consider the Eastpak EK66184I;
Made from a hybrid shell using a polyester material which is strong as well as being waterproof
A front zipped pocket for easy access
Double deck storage to get the most out of the space available
A Lock loop on the bag to keep it snug and secure
Telescopic handle on the wheel system
Compression straps on the bag to keep it as compact as possible
Long handle which is perfect for both tall and shorter people
Good quality wheels on it so it will run smoothly when you walk with it
Choice of colours and sizes available (please note: the size reviewed here is for the cabin, other sizes may not meet cabin size restrictions)
40 litre volume capacity - small yet spacious
31.5 x 23 x 49cm - small and compact
2.4kg in weight
Verdict.
A very good cabin suitcase with separate compartments which give you extra flexibility when it comes to splitting your things. While being small, you can still fit a fair about of things in there. Front zipped pocket for easy access. Good quality wheels. Overall, a very good buy.

More info on luggage here.