Product
Top Rated
Great Value
Largest Volume Capacity
Title
American Tourister Bon Air Spinner
Kipling Roller Case Darcey 30
Dimensions
55x40x20cm (All Parts), 50x40x20cm
Material
100% polypropylene zipped suitcase
Lock
3 digit TSA combination lock
Warranty
Limited 2 year global warranty
Top Rated
Product
Title
American Tourister Bon Air Spinner
Material
100% polypropylene zipped suitcase
Warranty
Limited 2 year global warranty
Great Value
Product
Title
Kipling Roller Case Darcey 30
Lock
3 digit TSA combination lock
Largest Volume Capacity
Product
Dimensions
55x40x20cm (All Parts), 50x40x20cm
Top 3 Best Carry On Luggage For Men 2017 – 2018
When it comes to lightweight luggage, even men need something practical. Keeping the weight light will help when packing. You don't want the weight of your case to add much to the weight of your things. As well as being light weight, if you are to take the luggage on-board, it also needs to be small. Here is a list of the best carry on luggage for men.
Small enough to fit inside that box they have at the airports, especially Ryanair & Easyjet! If the case doesn't fit in there, you will not be taking it on the plane! Simple. What you don't want to end up doing at this point is buy one of those overpriced cases you will get at the airport due to having little choice! If you go home to find another case (if you have another one!) that will take some time, long enough to possibly miss your flight. This is why it is always good to do your homework before hand, to save you expense either way.
Finding the right case for this scenario needn't be difficult or even time consuming. We have listed the best lightweight carry on cases for men here. For travel bags for women click here.
American Tourister Bon Air Spinner
Highlight: Affordable price. Very light and strong.
Another well known brand, American Tourister is known to make some of the best quality in lightweight suitcases.
Made with 100% polypropylene, the Bon Air Spinner is one of the lightest suitcases available today which still has a very strong protective outer shell.
With an inside compartment closed off with fastening straps which are snap-lock shut and then a zipped closure, you can be sure your clothes will be kept tidily to one side. With the four wheels giving this suitcase a "trolley" feel, the maneuverability is great and easy. There is also a small size pocket, zipped close to keep other smaller valuables.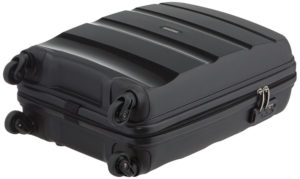 The Bon Air Spinner is a good looking case which is also a very high quality build. It has a hard shell cover which is waterproof and a zip closure which can be locked using the case lock. It comes in a choice of 10 colours to cater for all tastes.
Verdict.
What I like most about the Bon Air Spinner is the fact that it does look very good, it is very functional, in that it is very light, very strong and very spacious. A very good buy and a bargain for the price.
Kipling Roller Case Darcey 30

Highlight: Good looking case which is also very light. Choice of some of the grooviest colours in the industry!
A small and light case that can hold a good amount of luggage! The Darcey made by Kipling is another very light, and a functional case. While the Darcey may not look big at a first glance, it truly is quite spacious inside with a 30 litre capacity.
Made with nylon and with a double zipped main compartment, The Darcey looks snazzy and it will not tire you out!
The Darcey has a multi-stage locked retractable wheel handle. The "trolley" feature with the four wheels makes taking this case around very easy and effortless.
The Darcey comes in a range of very bright and bold colours, from the bright orange they call "blossom" to a very funky disco colour they call "party dot". In my personal opinion, I am partial to black or at the lightest, blue or dark grey cases so these bright colours do not tempt me, but they are great for picking out your case amongst 100 others. It is not unusual for someone else to walk away with your case thinking it is theirs. With one of these bright colours, the chances of that happening are slim.
Verdict.
A Great and functional little case, with the choice of some great colours and designs. The suitcase is small, light, easy to maneuver and it looks good!