How To Pack Your Necklaces When Traveling?
There are several ways to protect your jewelry while traveling. One of the easiest ways to do this is to wrap your jewelry in tissue paper. Tissue paper is inexpensive, lightweight, and easily disposable. Plus, it keeps your jewelry clean and free from dust and dirt.
Traveling with jewelry isn't just about packing your favorite pieces, it's about protecting them as well. You don't want to arrive at your destination only to realize that your necklace was damaged during transport.
Another option is to place your jewelry inside a ziplock bag. Ziplocks are durable and waterproof, making them ideal for storing jewelry.
You can also store your jewelry in a plastic zip-lock bag. Plastic bags are great for organizing jewelry, especially if you plan on bringing along multiple items.
Finally, you can simply hang your valuable jewelry using clothespins. Clothespins are cheap and versatile, allowing you to organize and secure your jewelry in numerous places. Here are some other methods:
Use A Jewelry Box
Traveling with multiple pieces of expensive jewelry isn't always practical. However, if you really want to pack those pieces of jewelry, a travel jewelry organizer could be a great idea.
These boxes have compartments designed specifically for holding certain types of jewelry. Plus they usually come with a lock, making it easier to keep your jewelry safe during transit.
There are many jewelry organizers available, including small jewelry boxes for storing only a couple of pairs of earrings and a few rings, to larger jewelry organizers offering larger compartments for necklace storage.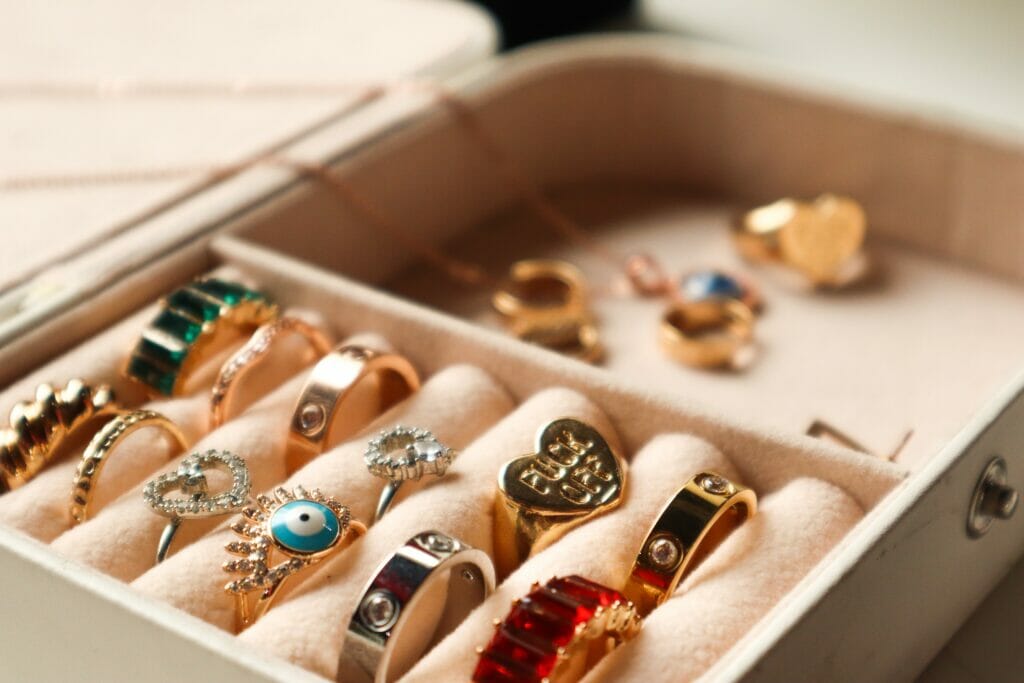 Use A Travel Jewelry Roll
Traveling can be stressful enough without worrying about tangled necklaces. Soft jewelry rolls are perfect for organizing your small and delicate necklaces when traveling.
Most rolls come with a protective cover that will help protect your precious jewelry from scratches. These covers are usually made out of soft fabric, making them comfortable to wear.
Jewelry rolls will also take up less room in your suitcase than bulky jewelry boxes. You'll save precious packing space, which means you won't have to worry about leaving behind any items at the airport.
Pill Case
One option is using plastic pill cases. These small containers come in various shapes and sizes, making them ideal for storing tiny pieces of jewelry.
You can find these plastic cases at your local pharmacy or online. They will protect your jewelry from getting tangled and keep them safe and secure while traveling.
Plus, you can use a plastic pill case organizer to segment jewelry for different days or outfit combinations.
Straws
Straws are an inexpensive and simple way to pack expensive necklaces when traveling without tangling them. Simply loop one end of the chain through the straw and fasten the clasp at the other end. You'll never have to worry about your necklaces getting tangled again!
This packing technique works great for travel, especially if you're flying somewhere. Just remember to bring along extra straws in case yours break during transit.
Plastic Wrap
This method works great if you travel frequently. You can easily reuse the plastic wrap, so there's no waste involved. Plus, it keeps your chain necklaces safe from getting tangled in your suitcase.
Use plastic wrap to keep your necklaces from tangling in your bag. Once you've worn the jewelry, simply reseal it back inside the plastic wrap until the next trip.
You can reuse the plastic wrap, which means there's no waste involved!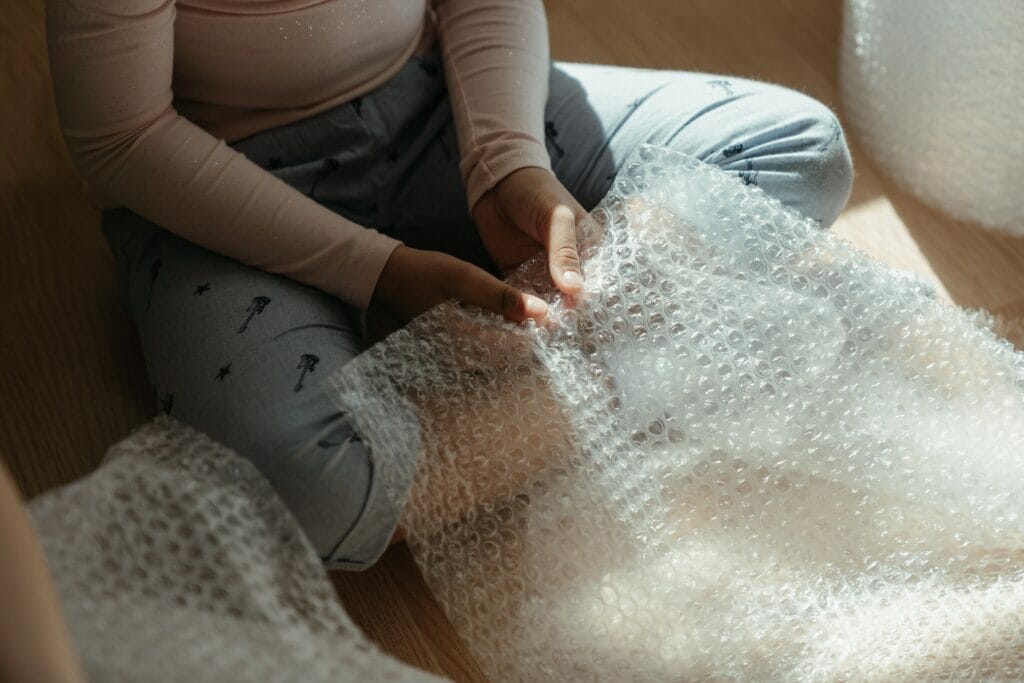 Hangers
Traveling with necklaces isn't ideal, but if you really want to travel light, there is a solution. You can use a foldable hanger to keep your necklaces untangled without using bulky jewelry boxes or rolling compartments. Simply wrap each necklace around a hanger and place them in any compartment.
This is an effective and inexpensive method to keep your necklaces untangled while traveling.
Washcloth
This is a great idea if you travel frequently and want to avoid buying expensive jewelry rolls. You can easily pack your jewelry without worrying about it getting tangled up. Plus, you'll save money since you won't have to pay for a jewelry roll every single trip.
All you have to do is place your jewelry items on a spare washcloth and wrap it up. Then, simply tie the ends of the cloth together with rubber bands. Now, you've got a handy way to pack your jewelry without worrying it will get tangled up.
You can find washcloths at most stores, including Walmart, Target, Bed Bath & Beyond, Kohls and Amazon. These days, you can even find them online.
Use this method to pack your jewelry whenever you travel. It's a great way to save money and prevent your jewelry from getting tangled up.
Ziploc
If you travel frequently, then you'll want to invest in a couple of Ziploc bags. These handy little plastic containers keep your necklaces organized and prevent them from getting tangled.
Simply place each necklace in a Ziploc bag. Then, once it's secured inside, zip up the bag and throw it in your suitcase.
You can also use these convenient Ziploc bags to organize rings and earrings together if you travel frequently. Just place them in a single bag and close them securely.
This method prevents your jewelry from tangling during travel and keeps it safe from damage.
Toilet Paper
You'll find that there are a lot of great ideas for packing necklaces when traveling without tangling them. One idea is to pack them inside a toilet paper tube. It works well because it keeps the necklace safe and secure, and it doesn't require any special equipment.
Another option is to use a box cutter to cut off the end of a toilet paper roll. Then, you can either pin the jewelry onto the roll or clip it onto the roll. Either way, it's a great way to keep your jewelry organized and out of sight until you're ready to wear it.
Remember to wipe down the cardboard toilet rolls first before using them.
Bubble Wrap
You'll find out how to pack your necklaces securely using bubble wrap. You can either buy bubble wrap at any store or order it online. Either way, it's a great way to protect your valuables during travel.
To pack, lay each piece of jewelry flat on a sheet of bubbles. Then carefully fold in the edges, taping the length of the edges together with sticky tape.
Once secured, you can roll your jewelry in the extra bubble wrap. Bubble wrap takes up a little bit more room in your suitcase, but the peace of knowing your jewelry is safe is definitely worth the sacrifice of a tiny bit less space.
Shelf Liner
If you travel frequently, then you'll want to pack your necklaces in a way that keeps them organized and prevents them from getting tangled. A shelf liner is a great option if you don't have time to buy a jewelry roll. You simply lay out the shelf liner, place your necklaces inside and wrap it up using packing tape or scotch tape.
This method works well because the shelf liner is made of fabric material that has a sticky side. So once you've rolled your necklaces up inside the shelf liner, there won't be any slipping issues. Plus, the shelf liner is reusable, so you can keep rolling up new necklaces until you run out.
Final Thoughts
Traveling is stressful enough without worrying about necklaces getting tangled. Luckily, there are a number of tips and tricks that you can use to avoid tangles. Here are five simple steps to keep your necklaces organized and safe when traveling.
1. Keep your jewelry separate from your clothing. Don't wear your necklace under your shirt, blouse, or dress. You'll never remember where you left it if you leave it tucked away inside your clothes. Instead, carry your jewelry separately.
2. Separate your jewelry into two categories: travel jewelry and everyday jewelry. Put your everyday jewelry in a small pouch or box. Then, store your travel jewelry in a larger bag or container.
3. Store your jewelry in a zippered compartment in your suitcase. This keeps your jewelry safe and secure during transit.
4. Avoid wearing multiple necklaces at once. Wear only one necklace at a time. Otherwise, you risk tangling your necklaces.
5. Finally, don't forget to bring along extra clips or clasps. These come in handy when you're packing and unpacking your bags. Plus, they prevent your necklaces from becoming tangled.