Last Updated on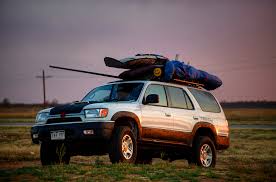 There's nothing worse than being in the car on a long journey, with knees bent up and everyone crammed in with all the luggage piled up in any crevice it will fit in. Whether you're taking the family on a camping trip or across borders to save on plane costs, long haul car journeys can be a real nightmare. The kids are screaming and kicking the seats, your wife is car sick, and the dog is going mad. On top of all this, your seat is jammed forward with the amount of bags and suitcases you've had to cram into your city friendly car.
Whether you can picture this happening or whether its actually happened to you before. This doesn't need to be the case! Have you ever thought about eradicating this problem, and putting your luggage on the roof?
Of course the safest way of doing this is to get a roof rack, however a roof rack is not a legal requirement. However, bear in mind that it's down to how well you can secure your load. If it's well secured, and capable of being carried at the speeds you intend to drive at, you should be fine. If it's not well enough secured, you face 3 points and sixty pound fine. If it comes off and causes damage or injury to another party or their property expect much worse.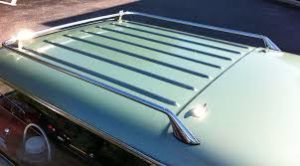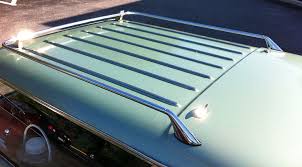 Carrying your luggage on top of your car is great way to save space, and avoid the hassle of traveling on long journeys with loads of bags and cases at your feet. More leg room, more space, just all round a much more pleasant journey.
Roof racks are actually pretty amazing in that they can be used for anything. Not only do they protect the roof of your car, but provide you with a secure base, that you can tie everything to, so that you don't lose it in transit. A roof rack will basically give you a second boot, that extra space inside of the car can make so much difference to your journey. Or maybe you're heavy packers, and the inside storage of the car just isn't enough! Also any items that are a bit bulky or awkwardly shaped, you can just pop them on the roof, for example, skis or golf clubs. Just be sure to strap them down extra tight.

You may be thinking about how your luggage will withstand the weather, as we all know it can be pretty miserable out there at times. So while you're in the warm dry interior of the car, whats going to happen to our suitcases and their contents? Well the first point would be that a lot of suitcases these days are waterproof, but failing that things can be wrapped in plastic bags, or a large tarpaulin can be wrapped around the whole thing!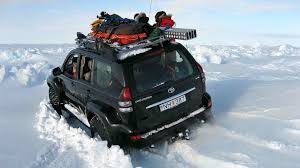 Remember when fitting a roof rack that the main goal here is to protect you, your car, and your luggage. So when you fit the roof rack be sure to read the instructions before you start unpacking bolts and parts! Reading the instructions will help you get the job done more quickly, easily and safely in the long run. Remember, you've bought the roof racks also to protect your vehicle, so don't damage it by not reading the instructions!




You also need to make sure you use proper tie-down cords rather than bungee cords, which are actually entirely unsafe to use when tying down your luggage. You can follow these simple steps to make sure your luggage is tied down safely and securely!
With the luggage on your roof, lay the safety strap across the width of your luggage.
Take an end of the safety strap and loop it down, under a roof bar that runs perpendicular to your vehicle, and then back up to the top of the luggage.
Bring that strap end around to the other side of the luggage.
Just as before, wrap that end of the safety strap under the other side of the same roof bar.
Secure each end together, and tie any slack to the rack.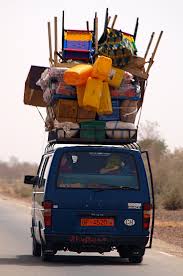 Another great invention that could help you here is a roof bag. It is of course the same idea, but it's actually a bag! This is a bit more nifty than the roof rack as it can be easily detached and folded away in the garage after every use. Where the roof rack has the advantage here is that you aren't restricted on size and capacity. However most roof bags will be completely waterproof and withstand against the elements, which is handy, especially when travelling or camping. You can pretty much just stuff it with whatever you want and go! What more could you ask for!
So, the answer to the question of whether you can carry your luggage on the roof of your car, it yes! It is way simpler to do as you might think, and roof racks are inexpensive, and I guarantee you will find another great use for it in the future. You're going to be so much more relaxed when you have a long drive ahead of you, so you can leave the stress at home!