[amazon table="1296"]
4 Wheel Cabin Luggages - Lightweight & Practical
[lmt-page-modified-info]
Travellers today have the opportunity to take advantage of low –price plane tickets with budget airlines. The cost of putting luggage in the baggage hold of the plane can be more than the ticket itself. This has motivated passengers to try to take hand luggage only and luggage manufactures to provide cabin luggage that is acceptable to airlines. Cabin luggage is luggage which can be carried on board with the passenger at no extra cost. Some airlines allow hand luggage that goes under your seat and this is different from the cabin luggage that must fit in the overhead locker.
Airlines will specify what size cabin luggage can be and Skyscanner.net has a list of the current dimensions that different airlines specify as being cabin luggage. Easyjet and Delta currently have no weight restrictions on their luggage but many other airlines do. Most airlines have a maximum dimension of around 55cm x 40cm x 20cm, you should check with the airline website if you know who you intend to travel with. Etihad say on their website, 'each item must not exceed dimensions of 115 cm (40x50x25)'. British Airway say that their main piece of cabin luggage should be 56x45x25cm.
Cabin Max Valletta Review - Our Number 1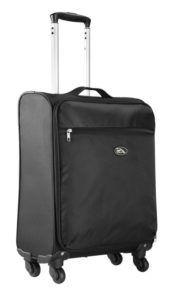 The Cabin Max Valletta 55x40x20cm is a lightweight 4 wheel Trolley with multi-direction wheels. It is perfect for budget airlines
Measuring just 55x40x20cm (height includes wheels) this carry-on bag is perfect for budget airlines with strict hand luggage dimensions
The Valletta features extendable handle and 4 multi-directional wheels that turn 360 degrees, ensuring your manoeuvrability in the airport and to your destination is as easy as possible
The deep cavity will hold all of the items you need with you and just in case you pack too much, the packing straps will help trim the bag down to size
External zip pocket will keep important documents to hand and an internal zip pocket with mesh panel will allow you to divide particular items away from the bulk of your things.
A light and easy to manoeuvre trolley with packing straps that help to keep the bag size in the dimensions required by the airlines.
Summary:
Features: Lightweight - Durable - 4 Wheel Trolley - Cabin Approved
Pricing: Budget
Travelhouse Cabin Approved Hard Suitcase Review - Number 2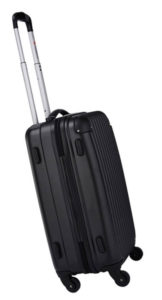 The 18.5 size Travelhouse hard-shelled suitcase is a sturdy option for your cabin luggage. It offers more protection for the items that you take on board whilst still offering the convenience of a lightweight bag.
The 18.5'' cabin-size luggage meets the IATA recommendations for taking on board an aircraft. "L55.5cm x W37cm x D22.5cm: approx. 2.77KG, including wheels, handrail, etc.
Includes a TSA lock which is one that is approved by the security authorities.
Come in 6 colours: Black, Grey, Purple, Rose & pink, Blue & rose, Lavender& Green.
These lightweight hard suitcases are made from tough ABS hard plastic shells that give a unique combination of strength, flexibility and lightness.
Four strong wheels with 360 degree smooth spinning
Lightweight aluminium frame with telescopic push button handle.
This is a sturdy, yet lightweight trolley with smooth wheels and a telescopic push button handle that together make this cabin case strong and easy to use.
Summary:
Features:  Hard shell - Lightweight - Durable - 4 Wheel Trolley - 18.5 size model is Cabin Approved
Pricing: Budget
Aerolite Lightweight Suitcase Review - Number 3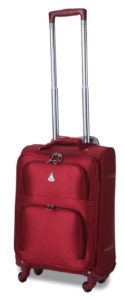 This is a hard-wearing lightweight suitcase. At 21 inches, or 53 cm, it is suitable to be used as cabin luggage. Its overall dimensions are 55X35.5X20cm. With an internal retractable trolley system it can be stored with convenience and with a press of a button it has a handle height of 1 metre, making it comfortable to push.
Dimensions: 47X35X20CM(Body)/55X35.5X20CM(All Parts) 33L Capacity, Weighing just 1.88KG
Durable Hard-wearing 600 Denier Polyester rip stop material. 10 Year Guarantee - buy with confidence!
Internal retractable trolley system for convenience, Handle Height: 1M.
50% lighter than the standard upright suitcase & free combination Lock inside!
This luggage offers a long term guarantee of usability. It has the advantage of being lightweight but with the strength of a hard material.
Summary
Features:  Lightweight, 1.88kg -hard wearing material – retractable 1m handle -  33l capacity.
Pricing: Mid-range
Verdict:
All 3 bags are reasonably priced functional bags. The external pocket on the Cabin Max Valletta could be invaluable for those who do want to get easy access to documents. The Travelhouse suitcase could be important if any fragile items are being carried. The Aerolite bag offers a guarantee which could be important to the person who wants that long term assurance.