Table setup not completed.
Best Suitcase & Luggage Brands
[lmt-page-modified-info]
When you go on a family holiday, one of the big problems is trying to fit all of the things you will need into your suitcases. There are many ways that people try to work out how they can get the most out of the available space, but sometimes you just need more cases.
Modern suitcases are designed to be more manageable and easier to manoeuvre than previous types. This has led to a number of standard features you will most likely see on a lot of products today. This list features the top three suitcases on the market today. Let us take a look at them in more detail.
Hauptstadtkoffer Alex Review - Our Number 1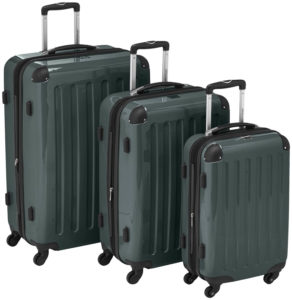 This set of three suitcases by Hauptstadtkoffer has a very nice design that makes it look smart and tough. It is a well-made suitcase that has many top features you will need if flying to certain destinations. Here are some of the suitcases other features.
The set of three cases are specially selected to give you everything you will need to travel easily. The smallest is designed to be the correct size for cabin luggage – 55cm high, 35cm wide and 20cm deep. The other two are bigger at 74 litre and 119 litre respectively.
Each case is fitted with four wheels, one in each corner. They are multidirectional and make moving them very easy. They are also more stable than cases with the wheels in the middle of the case.
All the cases are fitted with special TSA locks. They use a combination as opposed to a key and they are vital when travelling to countries like the US. It also ensures that the cases are totally safe and secure during your trip.
They are made from a strong ABS and Polycarbonate material that can withstand all the knocks and bumps that a journey can make. They have a secure strap on the inside to ensure all your belongings stay in place during transit.
The Hauptstadtkoffer Alex set of suitcases are a well-made set that will escort you on many travels. They have lots of space, top security features and they are waterproof. You can even stack them inside each other when you get home to save space.

Ferge Trolley set Cannes Review - Number 2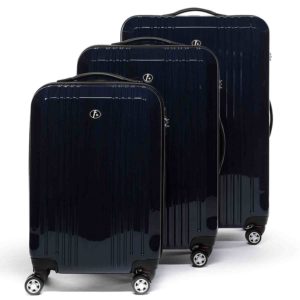 These elegantly designed set of three suitcases from Ferge are just the thing you need for the next holiday. They are tough yet light and can hold all your holiday clothes and even have room for souvenirs on the way home. Let us see some of the cases other features.
You get all the different sizes of luggage you need for your trip. There is a specially designed 45 litre, cabin sized case that can travel with you on board. There is also a larger 85 litre size and the largest is a 130 litre case. There should be enough room in these cases to fit all the families' things without having to sit on the lid to close it.
Each case has four multidirectional wheels in each corner. This gives them great manoeuvrability and also makes them more stable than the two wheel types.
You have a telescopic handle fitted at the top so you can pull the cases easily. They retract safely into the case to prevent them from getting damaged during the trip.
The combination locks are a nice feature and will give you the peace of mind that they will be safe and secure at all times. This also makes them compliant with some countries baggage laws.
These beautiful looking cases from Ferge not only look good, but they are also very practical and secure. They offer a strong design with stable wheels and built-in security. Overall, they are well deserving of the second spot.

Vojagor TRSE05 4 Piece Suitcase Set Review - Number 3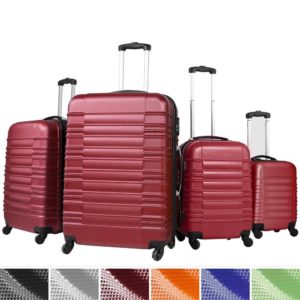 The Vojagor TRSE05 is a set of four suitcases that come in varying sizes. They are made from a tough plastic and can hold a lot of clothes because of their lightweight design. Now let us see some of the other features these cases have to offer.
You will be surprised at just how much these cases can hold. Because they are made from a strong yet very light ABS material, they can hold more clothing before reaching the maximum weight. They also have a zip that lets you expand the bag if needed. Ideal when you bring home all those presents.
The cases come in four sizes; the smallest is 41cm high, 33cm wide and 24cm deep. This is a very small case that can be used for overnight or business travel. The others comprise of a 54 litre, 87 litre and a large 124 litre. This is more than enough to accommodate most families clothes and other belongings.
Each case has four wheels, one in each corner. This gives you improved stability as well as being easy to move around. Just what you need when trying to reach the airport or the hotel.
The integrated, three digit combination locks provide you with better security than a padlock and key system. This is why it is recommended in many countries, with some making it a requirement.
When you get home from your travels, you won't need to worry about where to store your cases. They can all be stacked inside each other to save space. It also means that you will know where they all are the next time you need them.
If you love to travel, then this set of four suitcases from Vojagor might be just what you are looking for. Not only are they strong and well designed, they are also very light. The four different sizes gives you a complete set of suitcases for any occasion.

Verdict
The top spot on this list goes to the elegant looking Hauptstadtkoffer Alex set of three suitcases. They come in a wide range of colours and are waterproof and hard wearing. You get good security courtesy of the TSA combination locks and the stability that the four multi-directional wheels offer.