Product
Top Rated
Great Value
Most Affordable
Title
Jhua Handlebar Detachable Bike Bag
Slyzone Touchscreen Bike Frame Bags
Style
Touch Screen Bike Frame Bag
Dimensions
56 cm length, 15 cm diameter
4.0-4.8'' - 16.5 * 8.5 * 7.5 cm, 4.8-5.7'' - 18 * 9.5 * 8.5 cm
Material
Waterproof double layer nylon TPU(Thermoplastic Urethane)
PVC Touch Screen Material
Top Rated
Product
Great Value
Product
Title
Jhua Handlebar Detachable Bike Bag
Dimensions
56 cm length, 15 cm diameter
Material
Waterproof double layer nylon TPU(Thermoplastic Urethane)
Most Affordable
Product
Title
Slyzone Touchscreen Bike Frame Bags
Style
Touch Screen Bike Frame Bag
Dimensions
4.0-4.8'' - 16.5 * 8.5 * 7.5 cm, 4.8-5.7'' - 18 * 9.5 * 8.5 cm
Material
PVC Touch Screen Material
3 Best Types of Bag for your Bike Packing
[lmt-page-modified-info]
Are you an avid cyclist? Are you looking for a new challenge and thinking of trying bike packing? Maybe you are already a bike packer and looking for a new bag to store all your essentials. If so – then this is the place for you.
In case you don't know, the term bike packing is coined from the terms 'bike-touring' and 'back-packing.' It is an increasingly popular activity, whereby riders carry only their essential items and enjoy cycling off road, on dirt roads or tracks for example.
When bike packing, it's essential to make sure you travel light and carry your necessities in a suitable, effective bag. As this pastime becomes more popular, a wider range of bags are becoming available.
This article will compare three different types of bike packing bags and enable you to decide which is the best style for you.
Lomo 4.5L Dry Bag Bike Frame Bag Review - Number 1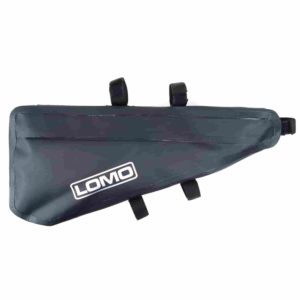 The Lomo 4.5L Dry Bag Bike Frame Bag (CHECK PRICE!) is perfect for those who want to carry their storage in the centre of their bike. This style of bag can help to ensure that balance and stability is maintained.
Some key features of this bag include:
Adjustable attachment loops so you can choose where to position the bag and minimise movement or interference when pedalling.
Easy and versatile to fit, so you can attach it to your bike securely and with ease.
Welded seams are a stand-out feature of this bag.
It is made from a waterproof material so bad weather does not have to stop you from going for a ride.
This style of bag is suitable for most bikes and the adjustable attachment loops allow flexibility and maximum results. It is a practical size and measures at 40cm long, 18cm tall (at the tallest point) and 8cm wide.
If you're looking for a bag that will not interfere with your pedals and allow you to maintain steadiness and balance, then the Lomo 4.5L Dry Bag Bike Frame Bag could be the one for you.
Summary
Style: Bike frame bag.
Features: Adjustable attachment loops – welded seams – waterproof material.
Pricing: High-end.
Jhua Handlebar Detachable Bike Bag 3-7L Blue Review - Number 2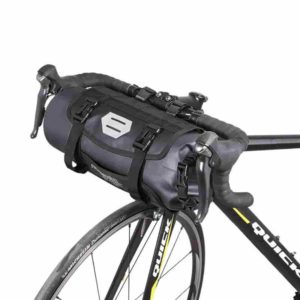 Do you want to store your bike packing essentials away from your pedals altogether? The Jhua Handlebar Bike Bag enables you to do just that.
This style of bag securely attaches to your handlebars, ensuring that your belongings are stored safely and securely.
Incredibly, this bag has a capacity of up to 7 litres so there is no need to make cuts and leave necessities at home. It measures 38.1 x 15 x 1.3 cm so is the perfect size for your bike packing needs.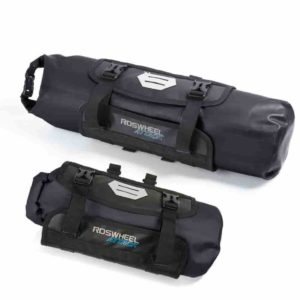 Other useful features include:
Waterproof and reliable material to ensure that items are safe from water damage, even in the wettest and muddiest conditions.
Attaches securely with magic stickers and buckles.
Reflective brand logo and light belt so that the dark does not stop your fun.
Easy installation so that maximum time can be spent cycling.
Although boasting a large capacity, this bag is lightweight and will not interfere with your cycling. It is sturdy and waterproof and will keep your belongings safe whatever the weather.
Summary
Style: Handlebar bag.
Features: Waterproof material – Magic sticks for secure attachment – Reflective logo and light belt for safety in the dark – Easy to install.
Pricing: High-end.
Touchscreen Bike Frame/ Bicycle Handlebars Panniers Phone Bag Review - Number 3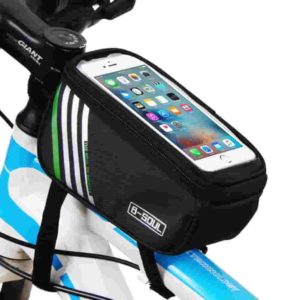 When bike packing, do you struggle to store your items as well as your phone? Do you need your phone for navigation but simply not have the room? Look no further.
This product can be attached to either your bike frame or handlebars, dependent on your personal preference. It allows you to safely store your phone as well as other items such as your keys, wallet and small tools.
It is functional and practical and boasts a range of exciting features including: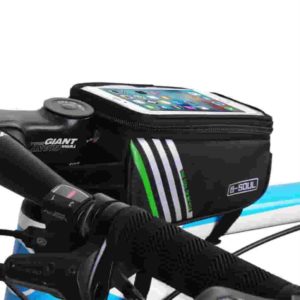 Clear PVC Touch Screen Material so you can multi-task on the go – navigation, music and phone calls will become much easier to handle!
Made from a high quality waterproof fabric, so that your phone and essentials are safe from the elements.
Large storage space so that you can carry everything you need.
Double zipper design means that items are safer and you can open and close with ease.
This style of bag comes in a variety of sizes so whatever the bike, you should be able to find the perfect fit.
It's the most modern and up to date solution for bike packers and combines all your needs in one handy purchase.
What are you waiting for? Buy the touchscreen phone bag today and enjoy the ride like you never have before.
Summary
Style: Touch screen phone bag.
Features: Clear PVC Touch Screen cover – Waterproof fabric – Large storage space – Double zipper.
Pricing: Affordable.
Verdict
Before bike packing, buying the right bike bag is as important as buying the right bike. If you cannot safely and securely store your essential items, then you will not have an enjoyable biking experience.
Therefore, it's essential to think about what will work best for you. Out of the three bike bag styles, the Touch Screen Phone Bag is not only the most affordable, but the most multi-functional. It's modern and up to date and eliminates the need for multiple storage accessories. You will be able to navigate with ease, and with the knowledge and confidence that the rest of your belongings are safe and secure.