Last Updated on
Busy Bee Taking Flight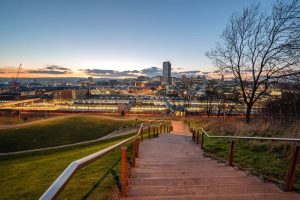 When a busy world means we are often cooped up inside four walls with the outside taunting us through blind laden office windows we rejoice in being able to see and do something new.
And On your Bucket List is……
If your choice maybe to do something new and fantastical is a trip to Sheffield what activities should be first on your to do list?
A Breath of Sheffield Air
Sticking with the outdoor theme and getting fresh air into your lungs and to be able to enjoy wildlife and nature then the first place you should go is Ecclesfield Park which is four miles out from Sheffield town centre.
Spooks You
You can view its events on the web page such as seasonal activities such as the Carol singing at Christmas and spooky no good somethings for Halloween.
Going Alone
However doing your own thing is acceptable too as the park has such a vast amount of space which allows activities such as walking, jogging and dog walking as well as a child's play area and opportunities for al fresco dining. So have a pic-nic and celebrate a little.
Be a Sport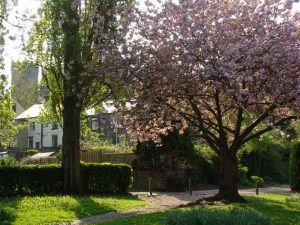 If feeling particularly active there is also spaces for lawn / outdoor games as well as some playing fields to go and enjoy a kick about. See www.ecclesfieldpark.co.uk for further details.
Park at the Botanical Gardens
Alternative is to search out the Botanical gardens where not only is there a natural beauty about it there is a good chance to see wondrous architecture with its listed buildings. The gardens are listed and protected by English heritage.
Go Large at Sheffield Arena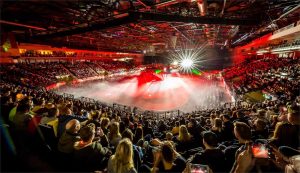 From the sports fields and ball games mentioned at Ecclesfield Park to arena tours and professional games. Google Sheffield arena to see what match is on, if dancing is your thing this is one of the stops where you could see the strictly come dancing tour. Or simply take a tour of the arena yourself.
Footie fan
Whilst talking big arenas and events check out if there is a match being played by Sheffield United or Sheffield Wednesday at Bramall lane or elsewhere. For those not into the football maybe an alternative is to see a play or show.
It's behind you!
If culture is your thing then why not research the theatre and have a look at what's on at www.sheffieldtheatres.co.uk.  Take time out to see a show before or after a dinner out.
Creative licence
If you want even more culture whilst visiting Sheffield then you can visit the Helix art gallery and see local talented artists from A (Andrew Kinsman) to nearly Z (Victoria Horkan).
Don't Forget
There is also the Cathedral, a hot spot for tourists from far away to those more local but this is for those who have come to respect the religion and what St Paul and St Peters Cathedral represents.
Culture Hotspot
If you have already added what you thought was everything cultural and historical to your road trip you can't leave out the cathedral which has it all. Art, music, history and architecture is represented in one of Sheffield's oldest monuments.
Through the Stained Glass Window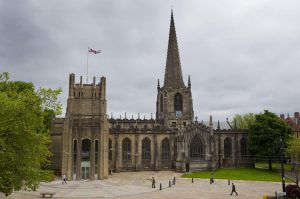 The stories to be told about the history of the cathedral and the city itself are told through the glorious stain glass windows, chapters in the sociological, anthropological and historical life of Sheffield.
History Repeating
Furthering your cultural and educational travel you could check out Kelham Island museum and investigate Sheffield's industrial heritage. You can live out the processes of a shift when working in an old fashioned metal works.
Rest With your Lot
When it gets too much you can rest at the coffee shop and be thankful of your lot over a latte or flat white as you relive what you learnt about the famous people of Sheffield and also the real life horrors of work houses.
Food for thought
Don't forget we all have a trust in the high street brands when you know what you get but sometimes being brave open new culinary experiences. See TripAdvisor for possible go to special foodie places.
Good Eating
If all this activity has left you with a hefty appetite then you will need refuelling. There are many options for whatever food choice or favourite region of food but if you want contemporary then check out Juke and Loe with their modern (but not too modern) food.
Check out the site https://jukeandloe.com . If there's room for dessert and keeping it local try the Yorkshire forced rhubarb baked Alaska.
Lastly
And most importantly enjoy your trip to this amazing part of Yorkshire.