Ted Baker Carry On Bag – Combining Style and Functionality
Last Updated on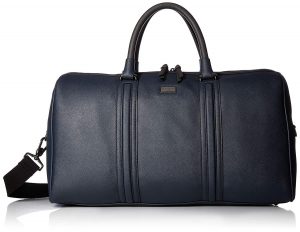 Founded in Glasgow way back in 1987, Ted Baker has been at the height of fashion for decades now. With hundreds of different product lines, the one that we were really interested in finding out more about is their range of carry-on bags. Given that we specialise in luggage, we were particularly eager to test out their Ted Baker Grankan Weekend Bag. Please read on below for our thorough review of this Ted Baker weekend bag.
Features: Synthetic Material – Cotton Lined – 29L Capacity – 3 Pockets – Protective Metal Feet – Two Way Zipper – Detachable Padded Shoulder Strap – Two Handles – Metal Logo Plate – Dimensions: 48 x 26 x 25 cm – 2 Year Warranty
Pros:
Very stylish, professional design.
Protective metal feet prevent any damage from the bag being placed on the floor.
Very large capacity making it the perfect Ted Baker weekend bag.
Nice protective lining.
Detachable padded shoulder strap makes carrying it very easy indeed.
Cons:
It is definitely on the expensive side.

Our Review
Given that Ted Baker is one of the most well-k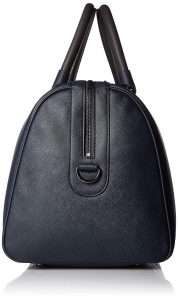 nown fashion brands in the world; we were really excited about trying out this particular Ted Baker weekend bag. We expected really good things from the Grankan weekend bag, and we were not disappointed. Starting off, let's take a look at the overall design. The first thing that we will say is that if style is important to you, then this weekend bag is definitely going to be a good contender.
Made from a synthetic material, it feels incredibly high quality as you would expect with a brand like this. The material itself feels soft and durable and looks fantastic. It has a very professional appearance making it perfect for business trips. The inside of the bag is cotton lined and has three different compartments. We were actually really surprised with how much we could fit into this Ted Baker weekend bag when it was packed to capacity.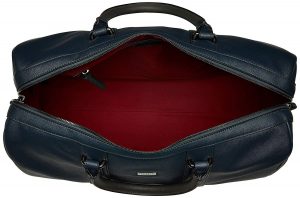 The two way zipper is fairly standard for this sort of luggage, but it certainly makes securely closing the bag up a lot easier than one. There are two handles with this bag which make it very comfortable to hold in the hand, but if you would prefer to carry it over your shoulder then this is possible with the detachable shoulder strap. What we really liked is how lightweight this bag is, even when it is fully packed and it's really comfortable to wear.
Another feature that we really liked about this bag is the protective metal feet. This means that when you place the bag down onto the floor, there is no risk of anything on the floor damaging the material of the bag itself. It can also prevent those extra germs from finding their way onto your bag too. A really nice touch in terms of style is the metal Ted Baker logo which looks great and really adds to the expensive feel. The only possible complaint that we could think of is that it is a little expensive, but you definitely get what you pay for style wise. Overall, this is a great weekend bag and one that we would definitely recommend whether you are traveling for business or pleasure.