Mia Toro Luggage Spazzolato Metallo Hardside Spinner 3 Piece Set
Last Updated on
You may not yet have heard of Mia Toro, but their luggage designs are taking Italy by storm, and by the looks of things soon to be the world. For me, if the Italians love it, it must be good!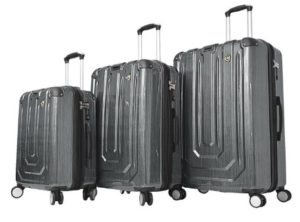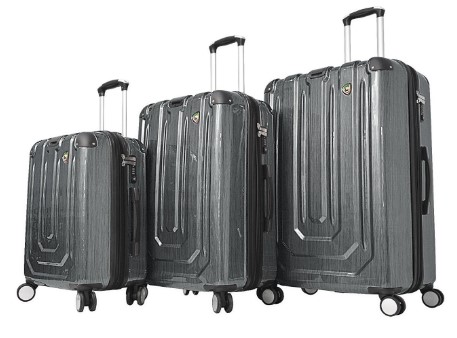 The signature of a Mia Toro (learn more here!)suitcase is that you will stand out from the crowd, Its very refreshing to see a designer taking risks with designs, that really pay off!
I was looking for something that would be enough for me and my husband on a 3 week trip to Italy. Naturally I went with the novelty of an Italian designer, of course! Got to get yourself in the spirit! I found this lovely set online and thought, well, its a little pricey, but the gorgeous glossy finish and smart set really caught my eye.
Lets start with the gorgeous design of this set of cases. I went with the classic black, but the range of colours and patterns was incredible. This Spazzolato collection features a high gloss, high shine finish, which also provides a rich and vibrant colour. So you will be able to spot your case coming down the conveyor! It's sleek, sexy and sophisticated. It features an embossed ridged contemporary design, with armoured corners for additional protection on your suitcase.
The material is an ultra light weight Armor-flex composite. Which is the latest in light weight luggage technology. With the medium case weighing in at 4kg, you're not going to be carrying around any extra weight when you travel, which can be a nightmare!
The ergonomic gel grip handle has been designed to provide you with the utmost comfort when you travel. Suitcases can start to weigh a lot once you've packed them full! This handle is designed to be super comfortable and ensure you travel with ease.
It is also fitted with  TSA approved durable lock, to ensure you belongings and valuables are extremely secure, to give you that piece of mind you need when you are travelling. Which can be stressful enough as it is!
The Flex Pack Design means each case can expand by 2 inches. Which means you will have 25% more packing space. Which was exactly what I was looking for, I would definitely be able to use each of the different sizes for different occasions, but all together served the perfect purpose for me and my husband for 3 weeks. Including the carry on which was perfect for taking on board with us, and holding all of our travel essentials. This set is really fit for every need.
The Glide-Tech dual wheel provides ultra smooth and stable motion. With a 360 degree multidirectional spin, these cases really do move with you. No matter how fast you might be running for that plane this case glides with you. No matter what conditions you might find yourself when you check in at the mountain top lodge, this case climbs with you. I was really impressed at how well the wheels function.
I was so pleased to find that each case has a fully zippered panel that divides the compartments to keep my belongings organised, or in this case separated mine and my husbands belongings separated! It also features compression straps and clasps, for ease with packing and securing your belongings down.
What I love about these cases is you can really see that this collection was created with one goal in mind. To provide effortless style without compromising on functionality and practicality.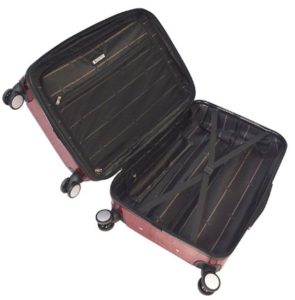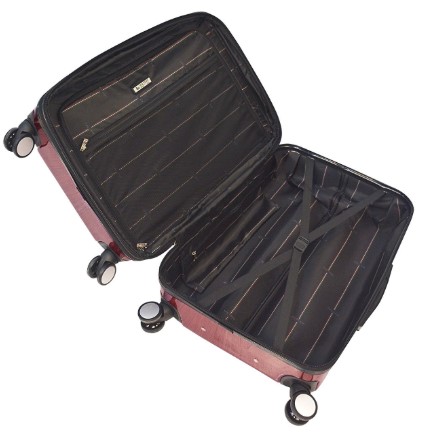 Embossed design – sleek and sophisticated design, with vivid and bright colour.

Lightweight and Durable – Made with Armor Flex Composite

Ergonomic gel grip handle – for ease and comfort when travelling

Dura Lock – TSA approved lock for the ultimate safety and security

Flex Pack – expands 2 inches for 25% more packing space

Glide Tech 360 degree multidirectional wheels  – for smooth, fast and stable transportation

Zipper divider and pockets – Various dividers and pockets to organise all of your belongings

Compression straps – for ease of packing and securing your items

3 piece set – a case for every occasion

Small: Height – 56cm Width – 35cm Depth – 22cm, Weight – 3.15kg

Medium: Height – 70cm Width – 46cm Depth – 27cm, Weight – 4.1kg

Large: Height – 80cm Width – 55cm Depth – 34cm, Weight – 4.5kg
Overall, the Mia Toro cases are simple, elegant and robust. I was really pleasantly surprised at how durable this product is. Again, it really suited my every need, and made my holiday much easier! They are so easily put away nested inside each other to save space as well. Its nice to know that you don't need to worry about anything when it comes to your luggage and this super smart and sophisticated set ensure that. I am so happy with my decision, and although admittedly this set is at the pricer end of the range, I feel that it was worth every penny. Also compared with the price of an individual suitcase it is actually pretty economic to purchase this set together. So, if you're considering this luggage set for whatever reason, I say go for it! You wont regret it, you can take my word for it!
Summary:
Features: Embossed design with armoured corners – Light weight Armor-Flex composite – Scratch resistant micro-diamond finish – Ergonomic gel grip handle
Price: High range