[amazon table="1280"]
Top 3 Leather Hanging Toiletry Wash Bags For Men
[lmt-page-modified-info]
Are you sick of losing track of your toiletries? Having to spend money on new products when you have perfectly good ones lurking in the depth of your bag can be really annoying, but luckily all you need to keep track of your essentials is a good toiletry bag. Toiletry bags aren't really known for their attractive exteriors, but if you like to travel in style you may find that the toiletry bag of your dreams is right here in this buyers guide. You'll find no ugly draw strings, offensive colours or gym-style polyester here. All the bags on this list are leather, attractive and great for all occasions.
Whether you're a frequent traveller, looking for a bag for a quick weekend away, or you're looking for a gift for the man who has everything, there may well be something for you on this list. Read on for the top 3 leather hanging toiletry wash bags for men!
Beschan Extra Large PU Leather Toiletry Wash Bag Review - Our Number 1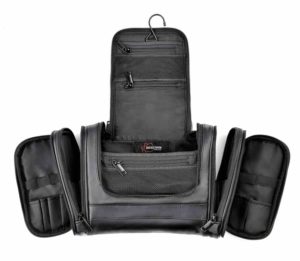 This extra-large toiletry bag (CHECK PRICE!) can hold everything you could possibly need to bring and then some. Read on to find out more!!
The Beschan travel bag has a large holding capacity with lots of separate compartments so you can fit all your toiletries in the bag and still have space left over.
It's really easy to access everything in this bag if you simply unzip it, you'll be able to see everything straight away so you won't have to waste time ruffling around, and you can either place the bag on the sink or hang it from its hook for easier access in the shower.
This bag is made out of PU leather which features anti-bacterial inner lining, a waterproof design and an easy to clean exterior – simply wipe the material clean after use.
The Beschan Toiletry Bag features a handy carry handle on its side which makes it really easy to carry the bag around.
This bag features a large range of zipped pockets, mesh compartments  and independent zippered compartments so you can keep the bag well organised and separate all your items to ensure nothing gets squashed or spilled.
The Beschan Toiletry Bag comes with a low noise zipper which is designed to be wear resistant.
Summary
Features: Large Capacity – Multiple Compartments -  PU Leather – Anti-Bacterial Inner Lining -  Carry Strap – Low Noise Zipper.
Pricing: Mid-Range.
Ashwood Hanging Wash Bag Review - Number 2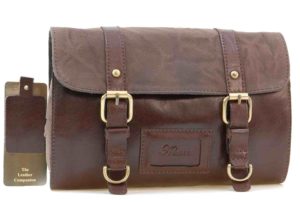 This stylish leather tan bag is a great choice for the traveling man. Read on to find out more.
This bag features multiple compartments including one long pocket which is perfect for holding your toothbrush and smaller accessories, one flap-over pocket which is great for larger items, and a large zippable main compartment where you can store your shampoo and soap.
This bag has a gorgeous leather tan design complete with a designer style logo, two buckled straps and suede lining. The distressed oiled leather exterior has a smooth finish which compliments the bags retro look. You could easily get away with using the Ashwood as your day bag.
The bag has waterproof fabric so you can carry the bag around regardless of the elements.
The Ashwood hanging wash bag can be easily folded when if needs be so you can pack it away easily and quickly.
This bag comes with an attractive and functional hanger which will come in handy when you need to hang it up. Everything is easy to access from a hanging position so showering will be a piece of cake.
This bag has a removable main compartment so you can wash it easily.
Summary
Features: Multiple Compartments – Stylish Oil Leather Exterior – Waterproof Fabric – Easy To Store – Hanger – Removable Main Compartment.
Pricing: Mid-Range.
Prime Hide Outback Range Luxury Brown Leather Wash Bag Review - Number 3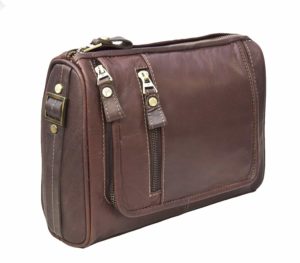 This attractive and fully functional leather wash bag will help you keep all your toiletries in order. Read on to find out more.
The Prime Hide Outback Wash Bag is made out of authentic soft oiled leather and features an attractive rich brown design which looks more like a day bag than a wash bag. No ugly drawstrings in sight!
This bag has two pouch pockets and a large mesh pouch pocket which are perfect for separating your essentials in one easy to find location.
The Prime Hide luxury wash bag comes with a metal hook which you can use to easily access the contents whilst in the shower (or if you just don't want to bend down).
This bag has a front zip around the section, a top zip and an internal zipped pocket to keep everything safe and secure.
Summary
Features:  Soft Oiled Leather – Attractive Design – Multiple Pocket Pouches – Metal Hook – Zip Sections.
Pricing: Mid-Range/High End.
Verdict
These are all excellent leather hanging wash bags which are a great choice for men who like to travel but don't want to be forced to lug around an unattractive drawstring wash bag. We are sure you would be happy with any of the bags on this list, but if we had to recommend one above the rest it would be the Beschan Extra Large PU Leather Toiletry Wash Bag due to its large capacity, PU leather design and anti-bacterial lining, range of zipped pockets and mesh compartments which are perfect for keeping everything organised, and the anti-wear low noise zipper.