Samsonite Flylite DLX 2 Piece Hardside Luggage Set Review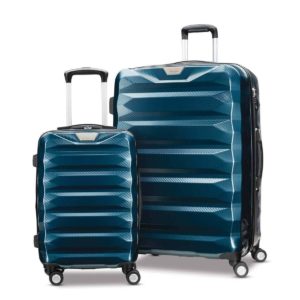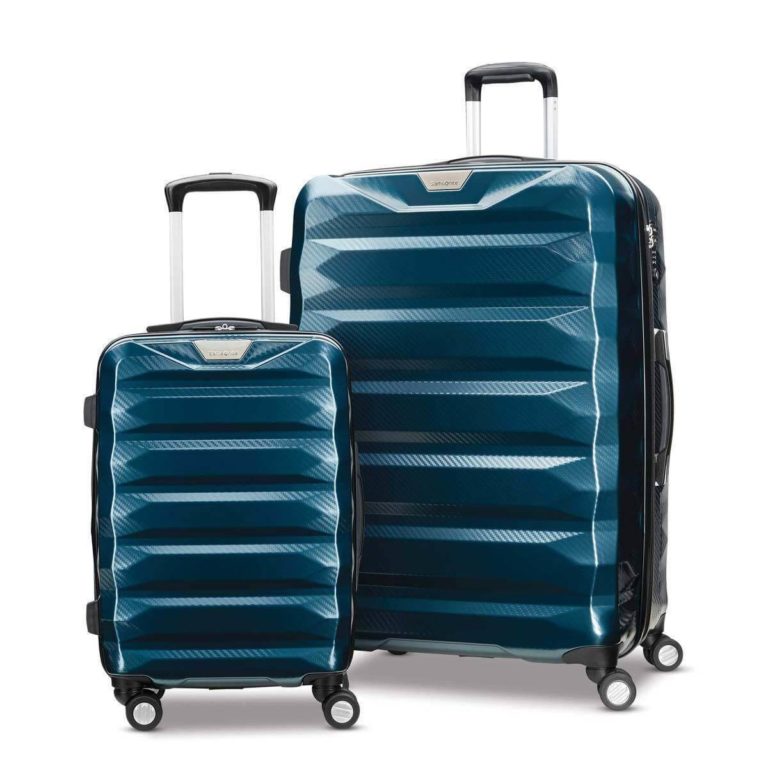 Choosing the perfect luggage set can be hard. It can often be an expensive choice, and making sure you make the right decision can be crucial when it comes to travelling. The last thing anyone needs, in an already stressful holiday, is a luggage malfunction. Make sure you travel in style and in the knowledge you can rely on this suitcase.
Samsonite (CHECK PRICE NOW!) are undeniably one of the leading brands when it comes to luggage. They have been manufacturing suitcases since 1910. So they definitely know what they're doing.
I was looking for a luggage set that would see me through a 12 hour flight and 2 week trip. I needed a practical carry on, and spacious checked case. I found this gorgeous teal blue set at a pretty good price. Samsonite is a brand I have used and trust, but have previously opted for a cheaper alternative.
This hardside set includes a carry-on and large checked case. The carry on was surprisingly spacious, so anything extra i didn't have space for in the large case I was able to take in the carry on.
On first impressions, these cases were super light weight. Made from 100% polycarbonate, these cases are extremely durable, and really light! Having a light suitcase is important for so many reasons. To ensure you're not lugging around any extra weight, and it means you can pack more and stay within the baggage allowance! As well as being lightweight, durability is key. They can go through so much physical turmoil on a long haul flight, from being sat on by my kids in the airport, to no doubt being chucked onto a trolley, and rolled down a chute onto the plane, our suitcases need to be tough!
I really love the attention to detail with Samsonsite, the inner lining is lined beautifully with a silky soft material, and I love all of the little details. I also really enjoy the simple print on the outer colour of the case. Its slightly metallic and the material and embossed pattern means that marks and scratches are less likely to show.
The rubber dual spinning wheels are perfect for gliding easily from destination to destination. They run really smoothly without a bump, and were really good on all surfaces. They appear to be really strong and durable, which is good to know, as often the first thing to break on a case is the wheels! I also love the three stage pull handle, which has the comfiest rubber grip, so you don't get sore hands when carrying the suitcase for a long time.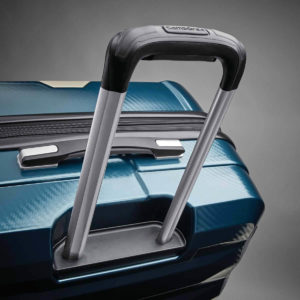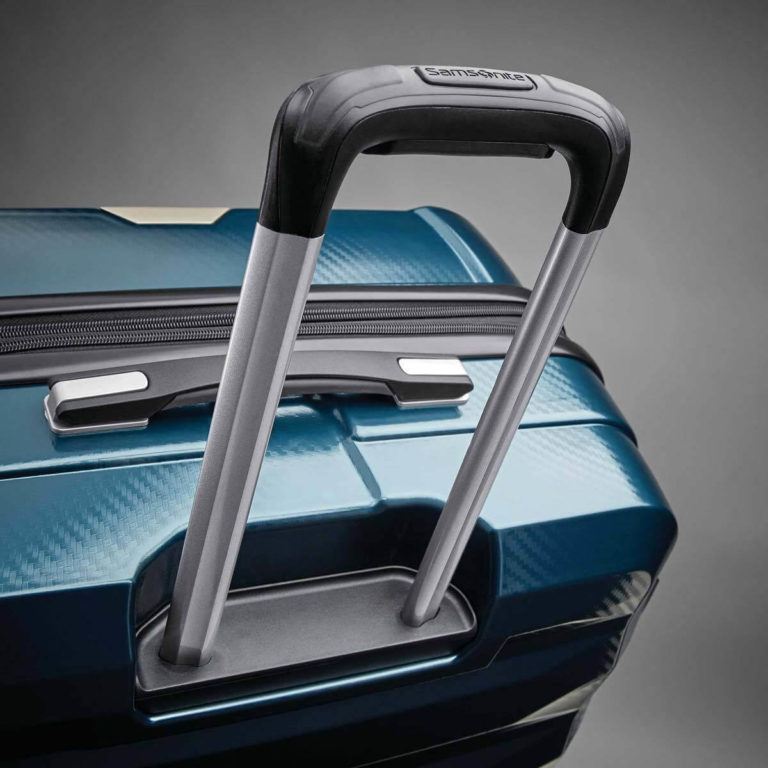 The hard shell cases allow for a really convenient 50/50 packing design. So you can keep all of your belongings zipped up and secure when you're travelling. This feature is also perfect for when you're sharing one large suitcase between two people, which I often do with my husband.  Its has various mesh and Wetpak pockets  as well to keep everything super duper organised. It is also expandable so you don't have to worry about saving room for shopping and souvenirs! With packing straps also inside so you can secure everything down nicely.
The TSA approved lock on the larger case is great, so you can fly knowing your luggage is untouched in the hold. Its also available in a gorgeous range of colours, that really catch the eye. I went for the teal as the colour was so rich and just stood out so nicely, but it is also available in green and black.
Durable and lightweight – made from 100% polycarbonate so your case is sturdy and light
4 dual spinning wheels – for ease in transportation
Dimensions: Carry-on, Height – 57cm, Width – 40cm, Depth – 25cm
Checked bag, Height – 74cm, Width – 51cm, Depth – 30cm
Expandable – for added capacity when packing
TSA lock included – for safety and peace of mind when travelling
Stylish colour and style – so you can travel not just practically but fashionably too!
Overall I really loved this luggage set. Both the cases were perfect for what I needed. I felt so comfortable and happy knowing that my belongings were being held by a reliable brand like Samsonite. I would 100% recommend and I will be using these cases again and again! I absolute adore the colour! We went for the teal kind of colour, and it just shines so brilliantly its gorgeous. Plus I can always quickly spot my luggage when its on the conveyor! The perfect balance between effortless style, and clever practicality, I really can't fault this beautiful set of cases, and I'm so glad I went for it! I would definitely recommend if you were thinking about getting these sets or something similar, they are really worth the extra money you might be spending compared to a cheaper case.
Summary:
Features: Durable and Lightweight – Dual spinner wheels – Polycarbonate shell – Telescopic handle – TSA lock included
Price: Mid range