Is It Okay To Lock My Luggage With A Zip Tie? - Our Guide!
If you are travelling soon and you've lost all your TSA approved locks or maybe you travel regularly and you are tired of spending your money on expensive locks, you might be wondering if there's an alternative? 
You can indeed put a zip tie on your luggage if you want and it can be a great extra way to deter thieves and keep your luggage secure in conjunction with or without a lock.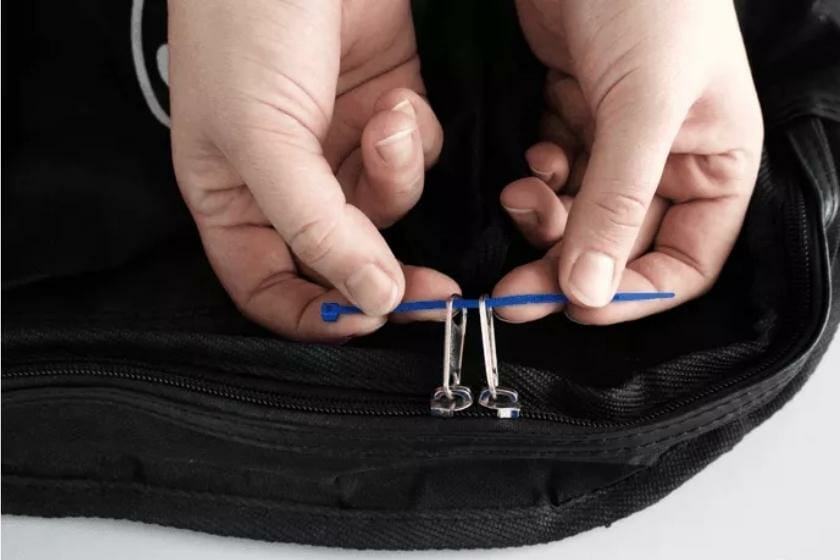 Down below in our guide, we've discussed in further detail why you should lock your checked luggage, which type of lock you should use for your luggage if items can get stolen out of your checked luggage and some dos/don'ts for packing a checked bag. 
Why Should You Lock Your Luggage When Flying?
Using a TSA lock or even a zip tie when travelling is a great way to lock your checked bag for the period of time you are in the air.
We recommend locking your luggage when flying since it protects the bag from opportunistic thieves and makes it harder for security officers to steal items from your bag. It is also a handy way to make sure that your bag stays together by clasping the zips. 
Having a lock or zip tie for your luggage is also important if you're keeping bags in luggage storage to keep them safe while you're away. The only downfall of locking your luggage is that even fancy luggage locks can be opened, especially combination locks for example.
Which Type Of Lock Should I Use For My Luggage?
When picking a type of lock for your luggage you should make sure it is TSA approved so that agents can be able to open your luggage with a master key if they need to undertake a second manual inspection on your bag. 
However, if you can't afford these fancy locks, there are plenty of other alternatives which we will list below.
Zip locks - Although not as secure as proper lock, zip locks can still make your bag look less attractive to thieves and helps to keep the bag closed when flying.
Plastic wraps - Some people decide to plastic wrap their bag to secure it, this has two advantages, one is that it keeps the bag closed no matter the bumps, and the second is that it makes it harder for thieves to get inside of the bag. All the plastic wrap is bad for the environment, however.
Can Items Get Stolen Out Of My Checked Bag? 
Despite you locking your checked bag, it is very possible that thieves can steal out of your checked bag, which is why you should never pack valuables in your checked bag.
Anything very expensive like laptops or certain jewellery we suggest taking in your carry on.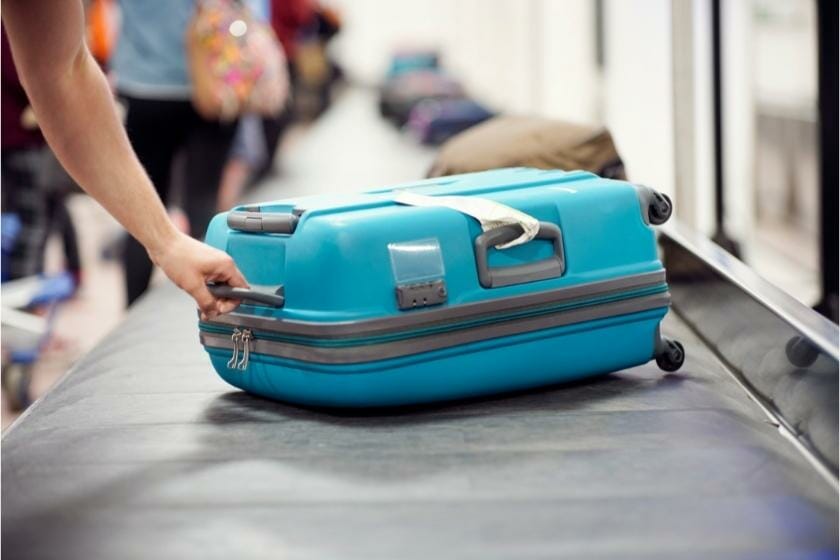 Important Checked Luggage Do's/Don'ts
So an important thing for your checked luggage is to make sure that it's kept locked, but are there any other important tips for packing your checked luggage? 
We've listed some great tips below.
Keep your luggage marked - There are so many suitcases which look similar in the world, to avoid someone taking yours by accident or you take the wrong one, but a special marking on your bag like a ribbon.
Don't overpack the bag - Avoid overpacking your bag too much, there's a higher risk of it bursting open during travel.
Don't pack prohibited items - To avoid your luggage getting delayed or having to have a secondary inspection, check the prohibited items list and avoid packing items like loose lithium-ion batteries.
Don't keep all your valuables and clothes in check - It is possible that items can get stolen from your checked bag, so keep expensive items in your hand luggage as well as a few spare pairs of clothes in case your bag gets lost.
Pack liquids well - Keep liquids in separate pouches and secure them with tapes on their lids to stop them from exploding in your bag.
Avoid small flight connections - The smaller your flight connection then the less chance your bag will make it to the next flight, book slightly longer connections to ensure that your bag gets to your destination even if there's a small delay.
Should I Lock My Carry On Luggage? 
If you are carrying valuables in your carry on or you planning to stow it above your head rather than under your seat then you should make sure that you are locking your hand luggage properly. 
You never know what can happen to your hand luggage while you're sleeping on the plane, especially if it's got valuables packed inside. Do be aware that you might have to open your hand luggage for security inspection.
Frequently Asked Questions About Zip Ties On Luggage
What should I do if something gets stolen from my luggage?
If something gets stolen from your checked luggage first report it to the checked airline, check the lost and found, file a claim with both TSA and the airline then contact your insurance if still not found.
What does a TSA approved lock mean? 
A TSA approved lock will likely have a red dot at the end, this can be opened by a certain master key and allow security staff to get into your bag without breaking the lock.
Can an airline open my checked luggage?
Yes, an airline can open your checked luggage if you have packed any prohibited items or they set off the alarm and need a manual inspection, TSA will typically leave a note on your bag to say they have opened it.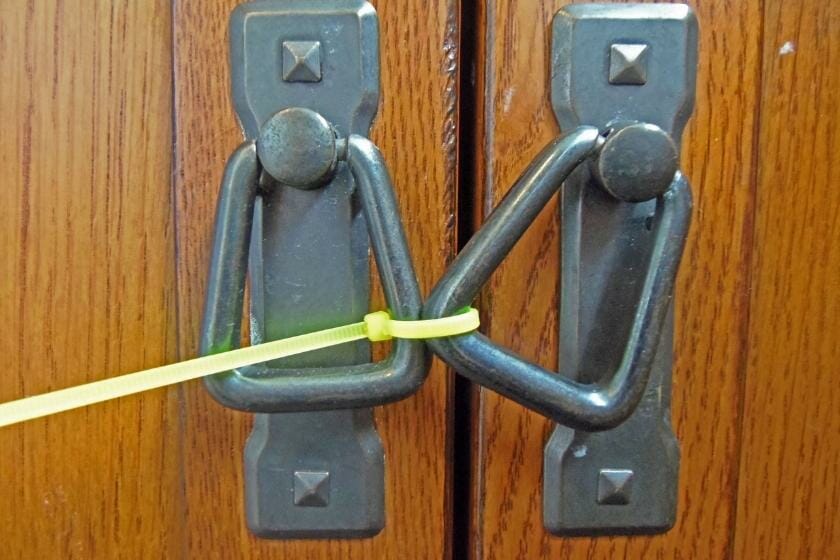 Last Words
To conclude, you can put a zip tie on your luggage for extra security when flying, although TSA might have to open the tie if they need to give your bag a secondary inspection when flying. 
Putting a lock or zip tie on your bag is important to keep it protected from opportunistic thieves when flying, we would also suggest locking your bag when storing it in baggage storage too.