Product

Top Rated

Great Value

Title

19" TSA Checkpoint Friendly Wheeled Backpack

Wheeled Backpacks,Coofit Trolley Backpack

Karabar Aragon Super Lightweight

5 Cities Cabin Trolley Backpack

Top Rated

Product

Title

19" TSA Checkpoint Friendly Wheeled Backpack

Product

Title

Wheeled Backpacks,Coofit Trolley Backpack

Great Value

Product

Product

Title

Karabar Aragon Super Lightweight

Product

Title

5 Cities Cabin Trolley Backpack
Top 5 Wheeled Backpacks/Rucksacks/Daypack
Packing Luggage the Smart Way
One of the great things about modern life is the convenience of international travel. But, funnily enough, one of the hassles of modern life is the inconvenience of international travel, too.
The world has never been more connected, but flying is full of more hard work than ever.
Whether you're flying for business or pleasure, for a long or short trip, it's important to get yourself a bag to keep your belongings safe, and not be a burden to haul along. It should look and feel solid and maximise available space.
Is there such a bag? We think there is, and we've narrowed it down to five.
The Best Choice for Wheeled Backpacks in 2018
20" Removable Hand Trolley Luggage by Jinyujian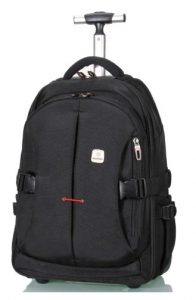 The Jinyujian is an entry-level offering that is a neat, professional looking bag with some simple features, such as:
Large space
High quality materials
Can be worn on back or wheeled
Noiseless wheels
This bag is 40.6 litres, made of water-repellant nylon and includes a padded sleeve designed to accommodate laptops 14" in size. However, it tapers at the top, and won't max out your airline baggage allowance. The lack of rigid bodyform means your laptop would be vulnerable to taking on all the stress and cracking.
von Rein in his online review calls it:
"A mixed bag. When did these designers last travel? Before the invention of plastic toiletry bags, one presumes. No thought given to airport security at all. Particularly the main compartment is a packing challenge on account of the 'spine' which is the telescopic handle."
The Jinyujian may be hard to love if you can't compromise on storage space.

Coofit Trolley Backpack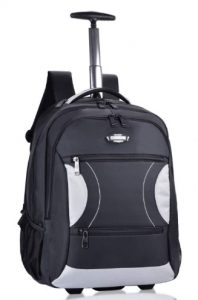 The Coofit is a competitive choice, packed full of features including:
Waterproof nylon covering sturdy, polished metal frame
Large suitcase with multiple pockets
Can be worn on back or wheeled
Multi-compartment design
Anti-scratch panel
The Coofit is 45 litres, and can fit a 15.6in laptop in its metal frame and waterproof nylon fabric. Its plentiful pockets mean it can carry most of your belonging, and it's easy to switch between wheeled and backpack.
Online, reviewer gingerjedi said:
"Well packaged and first use went well, would recommend as it takes all worry about acceptable size for all planes."
Coofit's bag is great for the space-conscious, and looks professional, too.

Kipling Clas Dallin Wheeled Schoolbag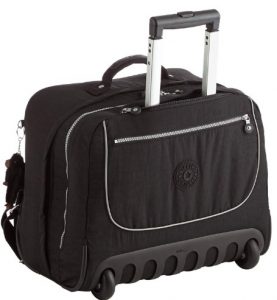 With this bag you can choose between 22 different colours, but also:
Padded handles and straps
Double zippered compartments
Multistage wheel handle
Water repellant crinkle nylon
This bag is very solidly built. The padded handles, straps and back make it comfortable to use and the water-resistant nylon helps protect your belongings. The wheel handle can be extended to multiple lengths and the bottom boasts plastic studs for protection. The only drawback is the high price.
Online reviewer 'shazzyp' was full of praise for this bag:
"This was quite an expensive purchase but so far is worth every penny! I use it for my work files and laptop, and have used it for an overnight trip to London, where it held a change of clothes and toiletries with room to spare. It was great on the tube to use it as a backpack."
A solid vote for the Kipling, if you can afford it.

Karabar Aragon Super Lightweight Business Travel Bag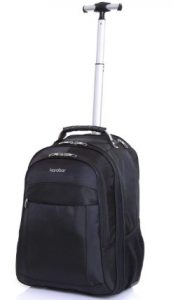 The Karabar Aragon is competitively placed with some good features:
Padded compartment for laptop
Fully lined interior
Airline luggage restrictions compliant
10 years warranty
The bag is 35 litres, specifically compliant with airline regulations, and can fit a 16in laptop in its padded compartment. It has an additional pocket and pleasant lined interior. The manufacturers are confident enough in their product to offer a ten-year warranty, but there are design issues.
Amazon reviewer 'Smiley' really like this bag:
"The bag is very smart and roomy and the handle pops up and down very easily which is great if you need to lift it up some stairs. The only downside for me is that in order to convert to a rucksack you unzip a flap at the back and fasten it to a Velcro strip at the base of the bag which then means you can't wheel it as it catches on the floor. I would prefer a different mechanism so that you could easily pop on your back then take it off and wheel very quickly and easily when you need. Overall very happy with purchase."
The Karabar Aragon's ten year warrant is a clear sign of confidence in the product, but the slight hassle with converting from wheels to backpack may deter potential buyers.

5 Cities Cabin Trolley Backpack Hand Luggage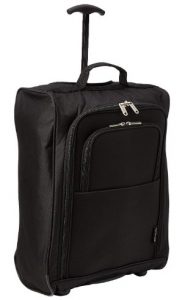 The 5 Cities bag manages to maximise space, minimise weight, at a competitive price and good build quality:
Fully zipped main compartment
Rigid black frame and two wheeled case
Fabric exterior
Large capacity, light weight
This bag is remarkably light at just 1.65kg, and quite roomy at 42 litres. The back pocket is able to fold back and over the wheels to prevent dirt from the wheels transferring to your clothes when carried.
Online reviewer 'Andrew' summed up his view:
"Neat design. When wheeled, the pull up handle comes up in two stages and is easily long enough. Wheels run well. For the price it is excellent."
The 5 Cities bag must be the bag of choice for those of us wanting to pack as much as possible and still not break a sweat carrying it around the world. The 5 Cities features most of the perks that the other bags offered.