Product

Top Rated

Great Value

Title

AmazonBasics 127cm (50") Lightweight Tripod

Manfrotto PIXI Mini Tripod

Travel Camera Tripod Stand

Material

Technopolymer and Aluminium

Top Rated

Product

Title

AmazonBasics 127cm (50") Lightweight Tripod

Product

Title

Manfrotto PIXI Mini Tripod

Material

Technopolymer and Aluminium

Great Value

Product

Title

Travel Camera Tripod Stand
Top 3 Travel Tripods
Picture the scene…
Amateur photography is having a bit of a revival of late, with the popularity of social media and the need for people to find themselves creative hobbies. It can be a great way for you to express yourself, and taking the time to set up the perfect shot can take work but lead to a deeply satisfying result.
One of the challenges of photography is finding a good, reliable tripod for setting up those perfect shots.
Tripods are essential kit for serious photographers. They free your hands to lay the scene for the shot, and they are necessary when slow-speed exposures are being made, or when lenses of extreme focal length are used. But there's no shortage of different kinds to choose from, with varying perks and drawbacks. It's time to look at a handful of choices.
The Best Choice for Travel Tripods in 2018
AmazonBasics Lightweight Tripod
A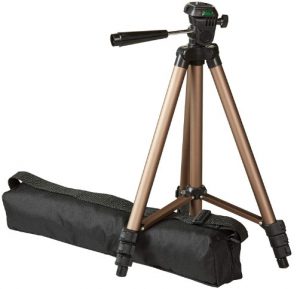 mazon's own tripod is cheap and cheerful:
Lightweight yet sturdy
Easily adjustable height
Quick-release plate for fast transitions
This basic model is pretty lightweight at just 0.57kg, and stands tall at 127cm, adjustable to lower levels. The camera can be swiveled in all three dimensions.
The quick-release plate makes it very easy to attach your camera for a shot then quickly grab it for other tasks, but is incompatible with common systems, such as Manfrotto, and the dimensions are non-standard. The individually-adjustable level-lock legs make it usable on uneven terrain.
User markmagedotcom concurred in his online review:
"While this seemed to be a sturdy tripod at first glance, it suffers from a lot of fatigue after a few weeks of (very light, at that) use: two locks on the legs are weakening and let the legs slip in while in use with a very light load of only 2 kgs (that's only a fraction of the max load specified! Same goes for the rubber feet which tend to fall off or get entangled. Use with care, and even then it may still be tricky!"
The AmazonBasics tripod is the tallest tripod in this selection and is quite cheap, but seems not built to last. It might be a good choice as a stop-gap while you search for a more permanent solution.

Manfrotto PIXI Mini Tripod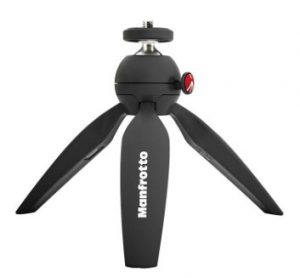 This tripod is small but perfectly formed and suitable for plenty of cameras and purposes:
Designed for compact system cameras
Comfortable
handgrip to capture photos
Push-button locking mechanism
Lightweight and intuitive
The Manfrotto PIXI is a clever little device that is offered in a wide range of configurations to choose from. The base model works for simple cameras, the Evo for entry-level DSLRs with optional backpack, the Pixi Pano 360 for traditional cameras.
There's also a configuration with LEDs for colour experimentation, and a form to accommodate smartphones. As you might guess, these all come at varying price points.
The design is striking, smooth and futuristic. It weighs just 190g, but is only 13cm high. If you perch it on a high level, then you'll get fine shots, but otherwise your options may be limited.
User Josh McLove agreed in his online review:
"Small, sturdy and effective! that is what this mini tripod is…both light weight and easy to assemble…it's an inexpensive little gadget but it's super durable, firm, easy to grip and effective."
While small, the Manfrotto PIXI is widely adaptable to many mainstream cameras, and comes with a shopping list of different features to choose from.

Travel Camera Tripod Stand with 3-Way Head by Zakitane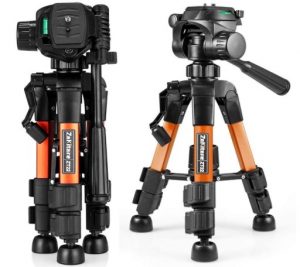 Zakitane's tripod is an excellent product, extensively configurable and reassuringly sturdy:
Universal tripod
Lightweight and compact
Adjustable precision design
High quality aluminium ABS build
This tripod looks imposing and satisfyingly rugged. Yet, it weighs only 0.76kg, making it easy to move around without tiring yourself out.  It can extend to 56cm.
The legs are each individually adjustable with simply snap-release locks, so it can be made stable on inclines easily. It also comes with a carrying bag. This tripod is perfect for macro shooting. It includes a quick-release armplate that fits most cameras.
Tommy Odisho comments on his online review:
"I was abit unsure Weither to go for this or not as there is such a big option with mini tripods. It came wayyy before schedule, well wrapped, its very well made, feels solid and can take alot of weight. Its very sturdy and has loads of little adjustments you can make to have it as safe as it can possibly can. One very happy customer."
This Zakitane tripod will please many amateur and semi-pro photographers. It can work on lots of different terrain, and the individually adjustable legs are an innovative idea.
This feature will be invaluable for photographers seeking to set up their favourite shots. The tripod's height is a fair compromise between too short or too tall. Overall, the Zakitane is a great choice of tripod, and comes highly recommended.