Product

Top Rated

Great Value

Title

ECOdept Microfibre Travel Towel

MountFlow Microfibre Towel

SYOURSELF Microfiber Sports & Travel Towel

Top Rated

Product

Title

ECOdept Microfibre Travel Towel

Product

Title

MountFlow Microfibre Towel

Great Value

Product

Title

SYOURSELF Microfiber Sports & Travel Towel
Top 3 Travel Towels in Microfibre
Who really knows where his towel is?
Microfibre towels are a clever form of towel made of very fine synthetic fibres thinner than hair. They dry quickly and are less prone to going stale if not dried immediately, like ordinary towels tend to do. In addition, they are smaller in size and mass than regular towels.
This means microfiber towels are great for taking with you on your travels.
With their small size and ability to maintain relative freshness, microfiber towels are a convenient item to take with you to the swimming pool or on a backpack holiday. Naturally, there are lots to choose from, so let's check out three notable ones.
The Best Choice for Microfibre Travel Towels in 2018
ECOdept Microfibre Travel Towel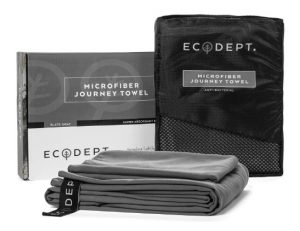 This towel is great for taking with you on travel or gym excursions:
Ultra absorbent, quick-drying microfibre
Space-saving
Super soft and lightweight fabric
Good for all lifestyles and hair types
This towel boasts special microfibres that not only allow it to absorb moisture very quickly, but also lets it dry surprisingly quickly – four times faster than a regular towel. Like many microfibre towels, it's compact when folded – it weighs 230g and is packed into a small waterproof bag. Spread out, it measures 1.07m2.
It's soft on the skin, and incorporates antibacterial microfibre to prevent odour and the spread of germs. It also is good for all kinds of hair types, long or curly, and won't leave your hair feeling frizzy. It also comes in a choice of four colours.
Jenny McGregor says that the towel:
"is soft and dries you brilliantly. I have had travel towels that simply refuse to dry out and then get smelly – not the Ecodept one, which dried really quickly, even between dives."
The ECOdept towel does its job well, is quick drying and comfortable to use.

Mountflow Microfibre Towel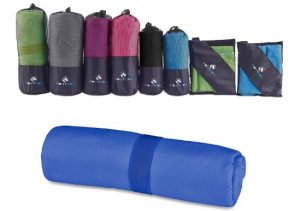 The Mountflow towel range is a popular choice where things get interesting:
Extra light
Large but compact
Rapid drying, smell-free
Smooth feeling
Choice of three sizes
The towel comes in three sizes: 0.32m2, 0.7 m2, and 1.28 m2, allowing you to choose the ideal size for the purpose you have in mind. The largest size weighs just 220g, which is surprisingly light for its size. Rolled up, the largest towel is smaller than a pint glass, so it's no trouble to cram into your rucksack that's already bursting at the seams.
It dries in minutes, and once it's dry, you can put it into its mesh bag which allows the bag to vent, limiting germ spread. It's also smooth on your skin, so it's comfortable whether being used to dry yourself or to sit on at yoga over your mat. You also get a choice of six colours to peruse.
Jenny Farenden wrote in an online review:
"Excellent towel…It is super light but highly absorbent so very, very handy…You can basically use it anywhere as it is easy to carry, easy to wash, easy to use. Nice carrier bag keeps it in place and compact…I would definitely recommend these."
The option for different sizes and colours gives the Mountflow considerable appeal, and its mesh bag helps it to dry on the go.

SYOURSELF Microfiber Sports & Travel Towel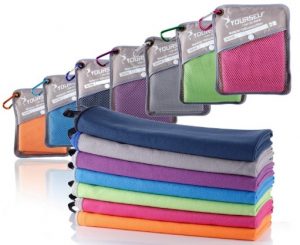 The SYOURSELF towel is a generously featured product that is our top choice:
100% microfibre, fast drying and soft
four sizes
applicable to many uses
easy to clean and easy to carry
The SYOURSELF microfibre towel comes in four sizes: a double pack of two 0.32m2 towels, 0.5m2, 1.16m2, and 148m2. These towels are highly absorbent, holding four times their weight in water, but drying ten times faster than an ordinary towel. They are smooth and gentle on your skin.
These towels are easy to clean in your washing machine or by hand and can be tumble dried. They're useful for gym and travel, but SYOURSELF also suggest it be taken with you when golfing, fishing, or even to picnics.
The towels comes with a free breathable mesh bag and hanging snap carabiner loop so it's easy to hang up to dry virtually anywhere. Finally, there are seven colours to choose from.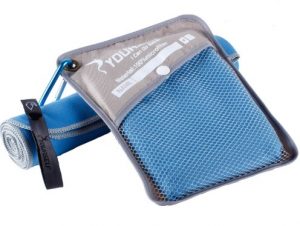 Amazon reviewer 'Leah' was full of praise for this towel range:
"You can feel and see that the towel is drying up. Once it's in my gym bag it doesn't get any of my other stuff wet…We took the towel on our holiday to Greece and they were perfect. Light to carry and bright enough to see it from a distance when you looking for your spot at the beach."
The SYOURSELF comes highly recommended as a great range of towels that have plenty of choice for different situations, and a variety of colours. The small option is a generous package in itself, but the largest option is the largest of all the towels presented here. Its combination of rapid drying and hygiene make it a great microfibre travel towel.