Product
Top Rated
Most Lightweight
Settings
Two heat and two speed settings
Weight
330g (Dryer) / 11g (nozzle)
Warranty
2 years manufacturer's guarantee
Top Rated
Product
Warranty
2 years manufacturer's guarantee
Most Lightweight
Product
Settings
Two heat and two speed settings
Weight
330g (Dryer) / 11g (nozzle)
An In-Depth Review of the Top Three Travel Hair Dryers
Last Updated on
How You Can Make An Informed Decision On Travel Hair Dryers
With all of the photo opportunities in 2018, especially the ever-popular selfie, no one wants to be caught with bad hair days while on vacation or traveling abroad.
It only takes a few minutes to read the pros of selecting the right traveling hair dryer for you to look your best on the go.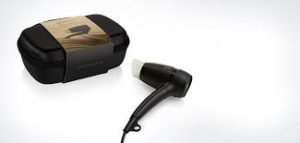 To help you decide the best traveling hair dryer for you, it's important to understand a few essential hair dryer terms so you don't get lost in the make/model jargon.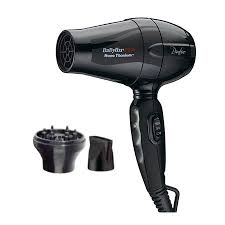 The differences between a DC and an AC motor are as follows. DC Motor Hair Dryers – smaller/lighter motor, faster rpm's – 5000/6000, are a little noisier than the AC motor, air flow is not as powerful as AC motor but still does a great job in drying the hair quickly. AC Motor Hair Dryers – larger/heavier motor, slower rpm's – 1500/2000, a little more durable- motor, less noisy, extra powerful airflow for faster drying
The w in all of the terms listed below stand for watts and the higher the wattage, the hotter and faster the blow dryer will operate.
Most professional hairdressers caution against using extremely high heat settings, as they are probably not necessary for the DYIer. A blow dryer that falls within the range of 1300 to 1875 watts range is great for anyone or any hair type for general use.
The Top Three Picks For A Travel Hair Dryer In 2018
There are many portable travel hair dryers on the market to choose from but here are my top three picks to help you decide what can be the perfect traveling hair dryer for you.
#3 Remington D3010 2000W Power Dry Hair Dryer Review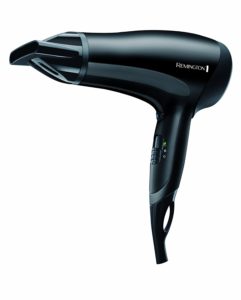 This light weight, powerful mid-size dryer offers fast efficient styling and with its 2000W of power and its Ceramic Ionic grille, this clever little dryer will deliver beautiful looking hair every day in whatever style you want to create. This hair dryer provides the following features:
New Eco setting
Removable Ceramic Ionic grille
Three heat and two speed settings
Product Dimensions: H 26.6 cm x W 8.6 cm x L 18.7 cm and weighs in at 0.53KG DC MOTOR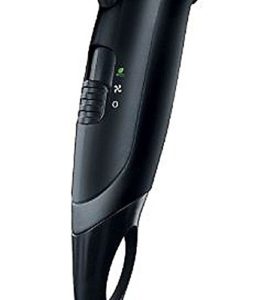 This travel hair dryer has three heat settings and two speed settings, which is perfect for creating super-smooth styles. You can be kind to the environment as well as your hair with the New Eco setting. By using this cool new feature, you can save energy while you dry in addition to saving money. It also comes with a cool shot button to help set styles.
The ceramic ionic grille delivers even heat and provides anti-static properties. The grill is removable and easy to clean.
While this hair dryer is fairly mid sized it should be noted that it cannot be folded and has a three-pin plug.
The Remington D3010 comes with a two-year guarantee and if you register your product with them within 28 days of purchase, you will receive one free year of extended guarantee.
This capable hairdryer is effective, compact and cost effective!
#2 BaByliss Nano Travel Dryer, 1200 W – Pink Review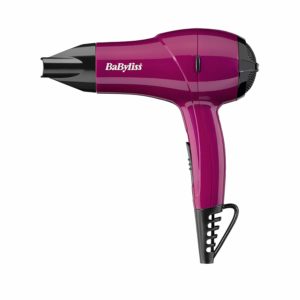 Get your hair styling needs accomplished on the go with this stylish, yet powerful travel hair dryer for high performance and fast results. If you are in the category of getting professional results but want to do so with a cute, pink colored dryer, than this is the one for you! Yes, I understand the desire to have a pink hair styling tool.
In addition to choosing fashion colors, in this case Pink or Purple, the BaByliss Nano Travel Dryer offers the following features:
Two heat and two speed settings
Concentrator nozzle
Removable rear filter
Lightweight and compact design
Switches voltages
The cord measures 1.8 metres, weights 0.34 KG and 18.7 cm in size. DC Motor
The BaByliss Nano dryer has two heat settings and two speed settings for simple and effective styling of your hair. This product also comes with a concentrator nozzle. The concentrator nozzle is ideal for more precise styling and allows you to direct the airflow exactly where you want it for more control and sleeker results that are perfect for achieving straighter styles.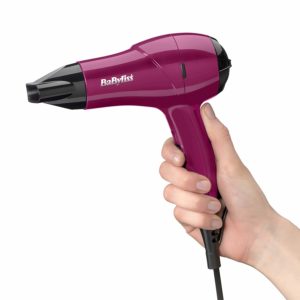 One of the best features of this hair dryer is that is has a removable rear filter. This allows you to clean any hair or debris away to keep your dryer in tiptop condition.
Its lightweight and compact design make for easy handling and storage when travelling and can easily be stored in a carry on bag. As its mini in size, it's easy to store away at home or for tidy storage use the cord-hanging loop.
For your international travels, this hair dryer has the added convenience of being able to switch voltages; thus eliminating the need for a bulky adaptor. It does have a UK plug.
This hair dryer is reasonably priced and comes with a three-year guarantee that is included with purchase.
#1 ghd Flight Nocturne Travel Hairdryer Review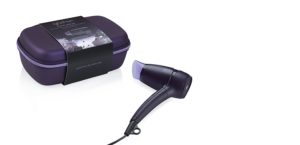 Have a good hair day no matter where you are in the world with the ghd Flight Nocturne Travel Hairdryer. ghd have harnessed their hair-styling expertise into a handy and lightweight travel hair dryer with amazing features like:
Two variable heat settings and a powerful airflow temperature of 65c
Ergonomic design suitable for both left and right-handed users
Foldable handle
Dimensions are D 26cm x H 16cm x W 10cm with the cord measuring 1.8 metres and weighing just under 16oz. AC Motor
Protective travel case
The advanced technology of this ghd model locks in moisture for softer, shinier results that last longer with fewer frizzes. Plus, with 2 variable heat settings to choose from and a powerful airflow temperature of 65°C, you can be sure of a salon-quality finish, no matter your hair length or type.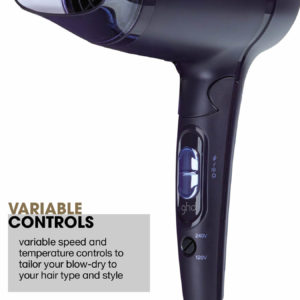 The  ghd Flight has an ergonomic design that makes it easy to hold for both left and right-handed users. What's more, the generous power cable offers total flexibility allowing you to dry your hair with ease wherever, whenever.
Other impressive design features include a removable nozzle for precision drying, a protective travel case and a foldable handle for easy packing.
Get salon looking results from anywhere in the world for an affordable price, which also includes a two-year guarantee. As this travel hair dryer has an AC motor, they're generally more expensive than DC hairdryers. This is because of the larger, more powerful motor, but they also have a longer life.
Getting organized and prepared for traveling is key to having a stress free trip and packing the right hair dryer is no exception.
Even though many hotels provide hair dryers, often times they are low quality, some may not work at all or depending on the type of hair you have, potentially damaging to your hair. With travel options expanding it can also be a practical idea to pack a traveling hair dryer as many rentals may not have standard hair styling tools available.
All of the hair dryers listed above have the added benefit of being lightweight, making them perfect for people who suffer from painful joints. Larger dryers tend to be difficult to hold up in the air for prolonged periods of time and many people opt to buy travel hair dryers for home use as well.
The best place to buy any of these styling tools is on Amazon for their competitive prices and quick delivery. Amazon is also an easy and safe way to purchase products.
Purchase your favorite one here today!