Last Updated on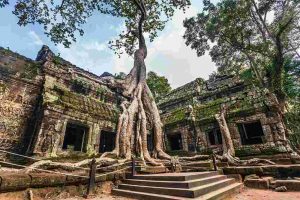 Any seasoned traveller will know the first thing you need to decide is a location since there is no point planning a beach holiday to Norway.
The second and next important question that you should ask yourself is when do I go?
Travellers often pair Vietnam and Cambodia therefore, here we will offer you some detailed information about when to visit Vietnam and Cambodia, taking into consideration weather, budget and event calendar.
Overview
In the broadest sense, the best time to visit Vietnam and Cambodia is from November to April. This is because temperatures and humidity fall across central and northern Vietnam and rainfall becomes less frequent in both Vietnam and Cambodia.
Seasons in Vietnam and Cambodia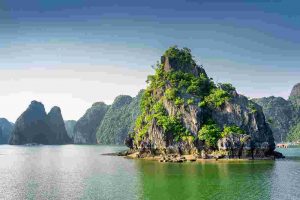 Speaking of seasons, Cambodia and Vietnam are often visited in conjunction with each other because the seasons are so similar. Both countries experience two main seasons, wet and dry, but they can still be visited and enjoyed all year round.
As you might expect, the dry season, from November to April, is when the cost of travelling to Vietnam and Cambodia tends to rise. This is because of the lower rainfall. The cost of travelling is particularly high during natural celebrations for example during the week-long Vietnamese Tet Festival in late January or early February.
If you're on a budget or travelling during this period try to book travel arrangements as early as possible. For a quieter and cheaper visit to Vietnam and Cambodia, travel between May and early October. Lower prices can still be enjoyed during the wet season because until like western countries the wet season just means short and sharp showers with plenty of sunshine.
The Dry Season Highlights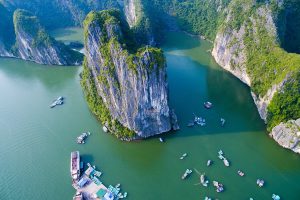 This time of year experiences the least rainfall, particularly in March and April. Temperatures are usually pleasant too, in the low to high 20s (Celsius), though cooler in the north between December and February, and into the 30s in April.
Please note that some people get caught out in October and November because this period can see flooding in Central Vietnam, so take care if you plan to travel during this time.
Handy tip: Although it may be colder, Vietnam's Halong Bay is atmospheric from December to February, when mists often cover its thousands of limestone islands.
The Monsoon Season Highlights
Ok, we know no-one likes the wet season, but in Vietnam and Cambodia, there will still be plenty of sunshine (weirdly, probably more than in the dry season), particularly in the mornings. You can expect temperatures to be hot and humid (as much as 38 degrees Celsius in May), and the brief afternoon showers of rain can actually be very refreshing. In the far south, it often rains heavily overnight. Bring an umbrella!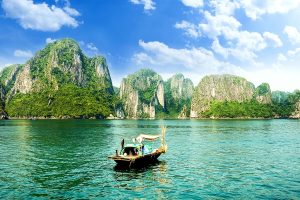 If you're after a bit of lush greenery then the monsoon season is often referred to as "the green season", because scenery is a lush green at this time of year, particularly the rice paddies. Despite this, there are fewer tourists around, meaning you can enjoy the tourist sites in relative peace and quiet.
In particular, if you plan to discover the ancient ruins of Angkor in Cambodia then it will definitely be less crowded, and their moats will be full, which makes for some amazing photo opportunities.
Please note that if you're planning a trip to Cambodia's Battambang, avoid going in September and October, when heavy rain can result in delays on unpaved roads.
The monsoon season is a great time to visit Vietnam's famous Halong Bay, as the clear blue skies give you a fantastic view of the aforementioned islands. Hoi An is another awesome wet season destination, as it largely escapes the summer downpours between February and July. To get far away from the summer heat, try heading inland to Dalat, a mountainous area with cooler, more pleasant temperatures all year round.
Whatever you decide, you will enjoy any trip to these wonderful countries.
Essential Tips for your Visit to Vietnam or Cambodia:
• Do not go to Vietnam during the Tet holidays because many of the museums and restaurants will be closed and the temples will be very busy.
• Make sure that you do a 3-day cruise (2 nights) on Ha Long Bay. This takes you to the much quieter parts of the bay and you have time for kayaking.
• Take cleaning wipes, a sheet sleeping bag, black out mask and earplugs for the overnight train between Hanoi and Hue. Not essential but does aid sleep!
• Take tons of pictures but ask permission.