Product

Top Rated

Great Value

Title

Aizbo 7 Set Waterproof Packing Cubes

Top Rated

Product

Product

Title

Aizbo 7 Set Waterproof Packing Cubes

Great Value

Product
Top 3 Packing Cubes for Travel
Storage the Smart Way
Clutter, it's a first-world problem. It's tough to decide how to store your precious possessions, both in the house and on the move. But there's a solution – packing cubes!
Packing cubes help you to organise your possessions and make them easier to find in your luggage.
They're zippered fabric containers of varying sizes applicable to all kinds of uses. For travelling, you can have one for shirts, another for trousers, one for toiletries, underwear, shoes, and so on.
And when you need a fresh shirt, just grab the relevant bag rather than digging everything out of your bag to find it and ruining your hitherto precision packing scheme.
Such a great idea! And there are plenty of selections to choose from. Where to start? Let's check out three.
The Best Choice for Packing Cubes in 2018
Aizbo 7 Set Waterproof Packing Cubes Travel Luggage Organisers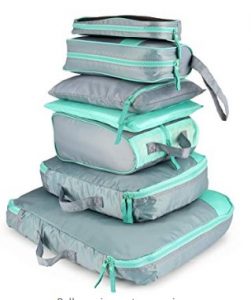 The Aizbo packing cubes are a humble bundle that will surprise you in its usefulness:
Keeps your luggage organised
Dimensions
High quality waterproof coating fabric
Double zipper pulls, sturdy handle, breathable mesh design
This is a selection of seven packing cubes. It includes two pouches for clothing, two for underwear, one for shoes, one for digital accessories, and one for toiletries. The bags are designed to protect your clothes from disfiguration from dusting or wrinkling, as well as from damage.
The seven bags have a combined total volume of 30 litres, and boxed weighs 358g. You could fit a week's worth of clothing in them for one person, or if you're packing for two, perhaps three to five days' worth. The shoe storage is reasonably roomy, allowing three pairs of shoes, or perhaps two pairs, plus a pair of sandals and a pair of flip-flops, for example.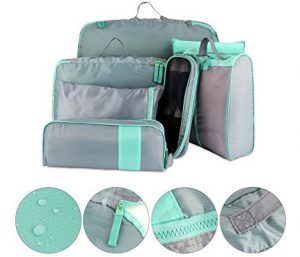 The high quality suitcase storage bag is made from waterproof plastic. The cubes are wipe-proof, waterproof and a really easy-dry material, so when you return from your trip, you can throw the bags into the washing machine alongside your laundry without fear of damage. They dry very quickly, too.
There's double zipper pulls, making opening and closing quite convenient, plus a rugged handle, and the material is semi-transparent so you can see the contents easily. It seems the zips may have a tendency to break.
Miss A reviewed these cubes very positively online:
"The material is super lightweight but when I give the stitching and zips a good pull it feels very durable and secure…light and feminine."
These cubes are simple, but do their job well. They'll fit in your luggage and make your life a lot easier.

Gonex Packing Cubes Travel Luggage Organizers Mesh for Packing Suitcase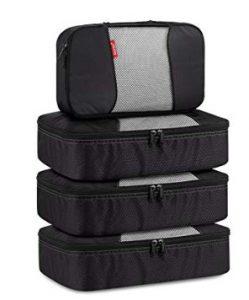 The Gonex cubes have six different colour options to choose from, alongside being an overall higher quality product. Features include:
Set includes three medium and one small bags
Super lightweight and durable nylon material
Double zipper for simple opening and closing
Webbing handle
100% guarantee
This set has four bags. Three of them are for shirts, blouses and trousers, and a fourth is for underwear, although of course you can stick whatever you wish in them. They have a combined total volume of 28.5 litres.
The bags are made of a sophisticated material called RipStop, which is a durable nylon arranged in a honeycomb matrix, making these bags quite tough while still being lightweight at only 330g.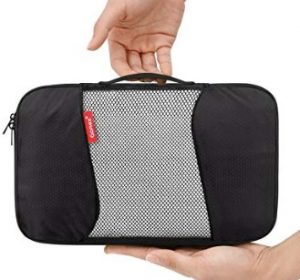 Mandy said in her online review:
"Very happy with the quality of the product. Zips are robust and material sturdy with quality mesh. Would recommend these. You might wish to have at least 1 large cube for the larger items but having said that They fit loads in."
There may only be four Gonex packing cubes in the set but they are fairly sizeable and are made of tougher material, and there's potential for making a personal statement with the colour options.

G4Free Packing Cubes Value Set for Travel – 6pcs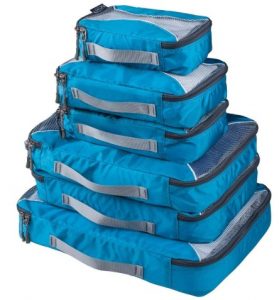 Finally, the G4Free is the leader of the pack. Features include:
Six piece set
Durable, lightweight high quality nylon fabric
Fits snugly in the dimensions of a holiday travel bag
Prevents mingling of dirty and clean clothes
The six cubes have a combined total volume of 36 litres, making them the most spacious choice here, although they're also the heaviest at 599g. The units are again made of RipStop, a tough anti-tear material. There's also a choice of six colours to customise your selection.
Amazon reviewer 'PZ' was full of praise for these units:
"They're so practical, make everything so much easier to access and great for compressing items too if you roll then pack then zip up as you go along."
The G4Free packing cubes get a big thumbs-up, and are our recommended choice of packing cubes. The selection of colours adds a little fun and they have the largest capacity and are very durable, meaning they'll be with you for a long time.