Product
Top Rated
Most Lightweight
Great Value
Title
Duronic Luggage Scale LS1008
FREETOO Portable Digital Travel Suitcase Scales
WanEway Digital LCD Handheld Luggage Weight Scale
Top Rated
Product
Title
Duronic Luggage Scale LS1008
Most Lightweight
Product
Title
FREETOO Portable Digital Travel Suitcase Scales
Great Value
Product
Title
WanEway Digital LCD Handheld Luggage Weight Scale
Top 3 Suitcase Weighers
Last Updated on
Are you a regular traveller? Or are you about to fly for the first time? Maybe you have you got the holiday of a lifetime coming up this summer? If so, there is something you need to be aware of.
It is now a known fact that airlines are becoming increasingly strict on baggage weight. What started out as a last minute bargain holiday can quickly turn into a heavy drain on your bank account if your luggage is overweight, and you are hit with extra baggage fees. Airlines are charging huge prices per extra kilo and this can quickly add up.
The ever-increasing stringency is making it all the more important to weigh your baggage before travelling. The easiest way to do this is to purchase your own luggage scales and save yourself excessive costs at the airport.
Here's the good news: as demand is increasing, there are more and more luggage scales becoming available on the market. They are available to buy online and in-store from a wide range of retailers.
Have a look at the top selection of luggage scales and when you find the one for you, fear no more! You can look forward to your trip without unnecessary worry.
Duronic Luggage Scale LS1008 Portable Review – Our Number 1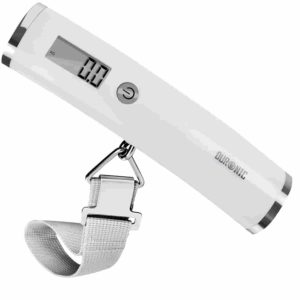 If you're looking for a product that is high quality and easy to use, then look no further. The Duronic LS1008 Portable Luggage Scale (CHECK PRICE!) is just that!
With its carefully designed straps, this luggage scale will allow you to weigh even the heaviest bags, safely holding up to 50KG weight.
This product boasts excellent reliability and functionality. It has a range of effective, professional features listed here:
The Tare Function allows you to read the net weight of your luggage without confusion.
Easy-to-read LCD display with backlight means you can weigh your luggage at night too, so no need to worry if you leave it last minute as the screen lights up in darkness.
The Lock Weight function makes weighing your luggage even easier by locking the results to the screen once recorded.
Strong, durable straps that will hold bags up to 50KG in weight.
Preparing for a holiday can be stressful, but the auto power off function will ensure that no energy is wasted if you forget to switch the scales off.
Low battery indicator will give you plenty of notice to ensure your scale is ready to use whenever you need it.
This product is fit for purpose and provides a hassle-free customer experience. Weighing your luggage has never been easier.
If you are looking for a quick and effortless way to avoid outrageous excess baggage fees at the airport, then the Duronic luggage scales are a must have travel accessory for you.
Summary
Features: Tare function – Easy to read LCD with backlighting – Lock weight function – Straps hold up to 50KG – Auto power off – Low battery indicator
Pricing: Mid-range.
FREETOO Portable Digital Travel Suitcase Scales Review – Number 2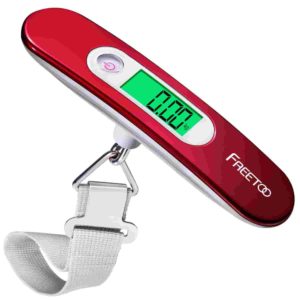 Are you looking for a high quality luggage scale with a modern, stylish design? If so, then the FREETOO digital luggage scale might be the product for you.
With its light-weight and compact design, this product is perfect for use at home or on the go. It promises accurate results for a reasonable price and here are some of its most impressive features and functions:
Safely holds bags weighing up to 50KG.
Tailor the product to your needs and choose from four different units of measurement (lb, g, ounce, kg).
Auto-lock and tare function makes the experience easy and hassle-free.
At only 90g, the scales are light weight and compact so you can carry this device wherever you go – there's no harm in double checking at the airport!
Includes auto-off, overload and low battery warnings which will allow you to get the most from this device.
Nobody wants to pay excessive baggage fees or face the embarrassment of re-packing luggage at the check-in desk. The FREETOO luggage scale is an essential accessory for any traveller. At only 90g in weight, you can put your mind at ease and take this away with you to make sure your return trip is without stress too.
This product effectively does the job that it sets out to. It is certainly fit for purpose and makes weighing your luggage a quick and easy job.
Summary
Features: Holds weight up to 50KG – Four units of measurement – Auto-lock and tare functions – Weighs only 90g – Auto-off, overload, and low battery warnings.
Pricing: Mid-range.
WanEway Digital LCD Handheld Luggage Weight Scale Thermometer Review – Number 3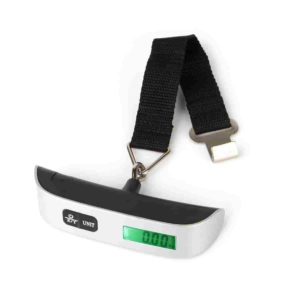 Are you looking for a product that will accurately weigh your luggage but without breaking the bank? This Digital LCD luggage scale from WanEway is the perfect budget buy – but the cheap price does not mean you have to compromise on results!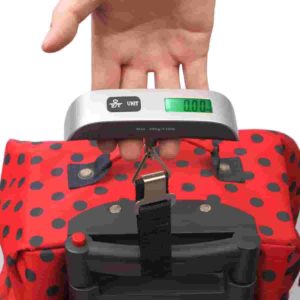 This product does exactly what it says on the packaging. Some of the product's best features include:
Boasts a strong, sturdy handle for easy weighing.
Automatic switch-off will save energy so you don't have to worry if you forget.
LCD screen for easy reading and clear results.
The WanEway Luggage Scale is the perfect choice for budget-conscious travellers, but the low price does not mean low performance. The LCD screen makes for easy reading and this product will ensure that you are not hit with hefty fines at the check-in desk. What are you waiting for? Buy the WanEway digital luggage scale today.
Summary
Features: Strong handle – automatic switch-off – LCD screen.
Pricing: Budget.
Verdict
Although airlines are becoming stricter about luggage weight, there is no need to hike your travel costs and be hit by their excess baggage fees.
It's clear that investing in a personal luggage scale is a must for any traveller. By accurately weighing your suitcases at home, you'll save yourself a lot of hassle and unnecessary expense at the airport.
If you're looking for a budget item, the WanEway digital luggage scale will certainly not break the bank. It does what it says on the packaging. It's cheap, easy to use and effective.
However, if you don't mind paying a little extra for a top quality product then you need to buy the Duronic Luggage Scale LS1008 Portable, ergonomically designed with durability in mind. This product is perfect for any traveller and will ensure that weighing your luggage is a quick, easy part of your travel preparations.
Do not waste another minute worrying about excessive baggage fees and buy the Duronic Luggage Scale today.