| | | | | | |
| --- | --- | --- | --- | --- | --- |
| | Samsonite | 104 litre capacity – Soft Shell – 4 Spinner Wheels – TSA Lock – Front Storage Compartment | Mid-range | | Learn More |
| | American Tourister | 83 litre capacity – Hard Shell – 4 Spinner Wheels – TSA Lock | Mid-range | | Learn More |
| | Aerolite | 68 litre capacity – Soft Shell – 2 Wheels – TSA Lock | Affordable | | Learn More |
| | Karabar Evora | 100 litre capacity – Hard Shell – 4 Spinner Wheels | Affordable | | Learn More |
| | Revelations | 89 litre capacity – Soft Shell – 2 Wheels – Number Lock – Front Storage Compartments | Affordable | | Learn More |
Top Suitcases That Are Lightweight For Travelling In 2017 – 2018
When travelling, the right suitcase makes a big difference. A great case makes boarding and disembarking all the more easier, offering stress-free protection for your items. When undergoing international trips, this is even more essential, so buying the right case is a very important decision.
To this end, to help you make the best choice, here are 5 of the best lightweight suitcases for international travel on today's market.
Samsonite Suitcase Base Hits Spinner – Our Number 1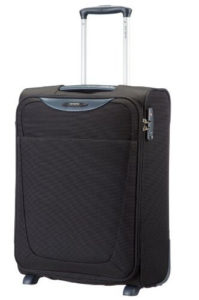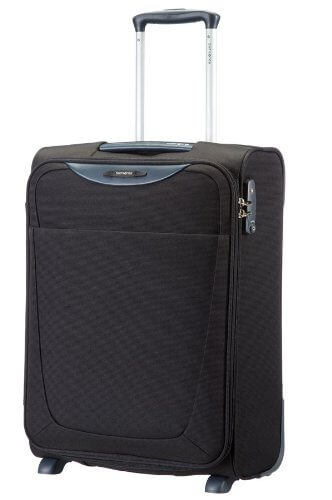 The Base Hits Spinner 77/28 is a robust, flexible option ideal for travelling through busy airports and cities. As part of the spinner range, it offers a wide amount of space with simple yet practical features. Here's a look at some of its more unique offerings:
Thanks to a storage capacity of 104 litres, this case will hold plenty. It manages to do this without being overtly large, as its dimensions are only 77 x 45 x 32 cm.
The 4 spinner wheels make this case highly manoeuvrable. While there are handles, allowing for easy lifting and carrying, the wheels allow you to simply and smoothly slide the case along the floor.
If you do need to pick it up, an unpacked weight of 3.5 kg is acceptable. It will weight more when loaded, but it doesn't add too much on its own – great for lifting it into cabins or cargo holds.
For added personality, the case also comes in a variety of colours.
Combine this with easy access zippers, a TSA lock and a telescopic handle, the Samsonite Suitcase Base Hits Spinner has everything it needs to play the part. Easy to use and even easier to carry, this case is all about offering a worry-free method of travelling.
Summary
Features: 104 litre capacity – Soft Shell – 4 Spinner Wheels – TSA Lock – Front Storage Compartment
Pricing: Mid-range
American Tourister – Number 2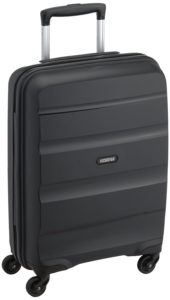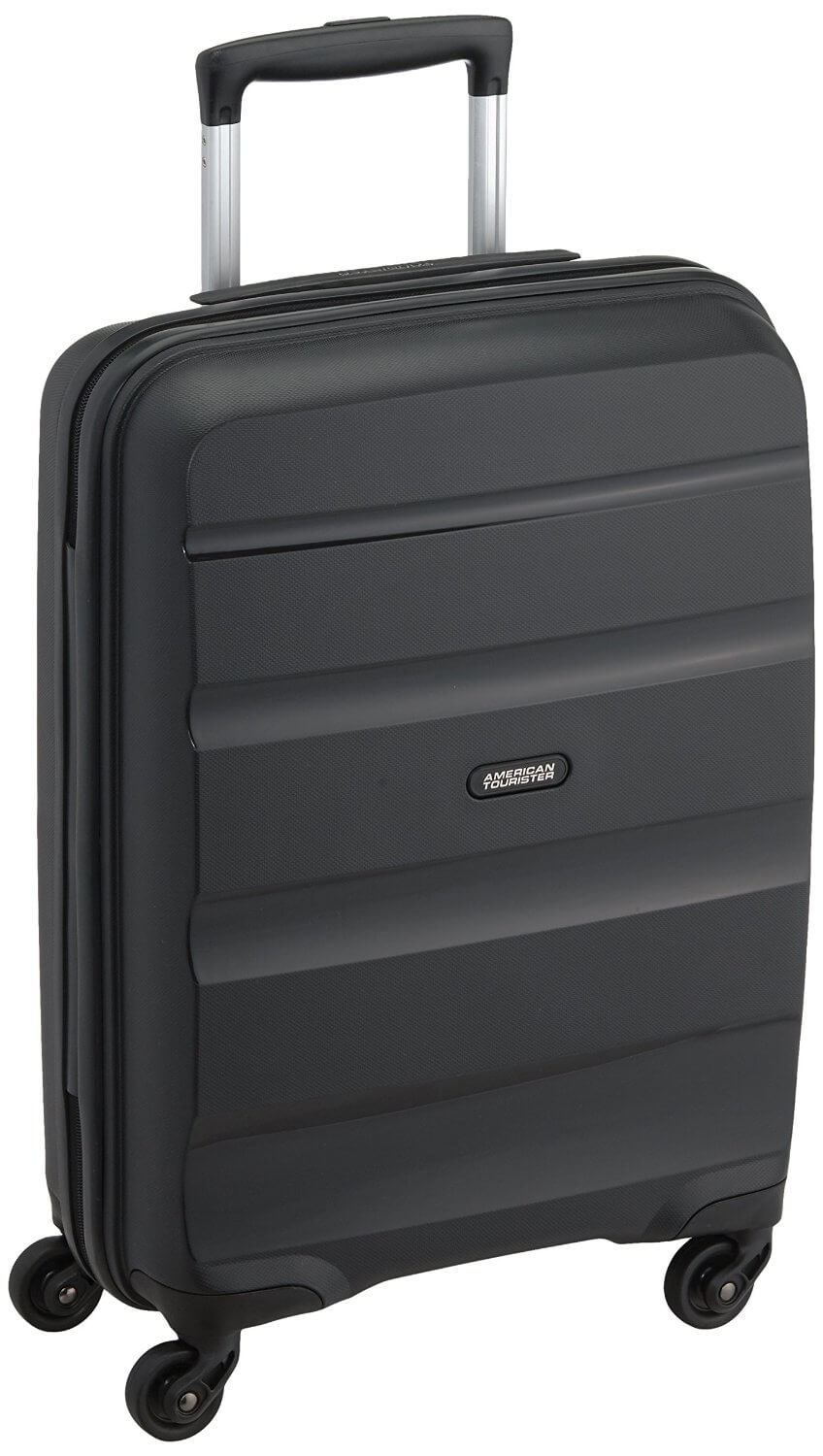 The American Tourister Suitcase Bon Air Spinner is a hard shell case, offering durability and protection for your personal items. Despite this, the Bon Air remains a lightweight option that's easy to deal with when travelling long distances. Here's a run down of its best features:
With it's 83 litre capacity, this case can fit all of your vital essentials inside its protective hard shell casing.
For added manoeuvrability, this case features 4 spinner wheels on the base, allowing for effective turning and smooth gliding. This removes the need to push the weight of a full load, as you can simply use the telescopic handle.
With dimensions of 75 x 54 x 29 cm, this case is a reasonable size for the capacity it holds and the strength it offers.
Even though it has a hard shell, the case doesn't feel any heavier, only weighing in at 4.2 kg.
If you care about your items, the added hard shell protection is the Bon Air Spinner's most unique feature. Combined with a great ease of access and transportation, this is a practical and stress-free solution for any traveller.
Summary
Features: 83 litre capacity – Hard Shell – 4 Spinner Wheels – TSA Lock
Pricing: Mid-Range
Aerolite – Number 3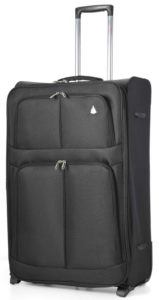 The most unique aspect to the Aerolite Super Lightweight World is that it offers an unrivalled amount of space for the weight offered. As the name might suggest, if you're looking for an item that allows you to get past the weight restrictions set by many airlines, the Aerolite is an ideal choice. Let's look at some of its other features:
With a 68 litre storage capacity, you can fit plenty inside this bag. It also has a number of additional compartments – such as on the front – to better separate and organise your items.
The case has dimensions of 66x41x25 cm, making it a decent sized fit in a variety of situations, including the size restrictions of many global airlines.
This is one of the lightest cases around, with an unpacked weight of just 2.4 kg. There should be no problem lifting this case up to fit into an air plane cabin.
Combined with 2 wheels and a telescopic handle, this is an ideal budget choice that offers plenty of practical features. Designed to offer as much space as possible within a lightweight frame, this is a great option for travellers looking to bring a lot with them, but still feel as if they packed lightly.
Summary
Features: 68 litre capacity – Soft Shell – 2 Wheels – TSA Lock
Pricing: Affordable
Karabar Evora – Number 4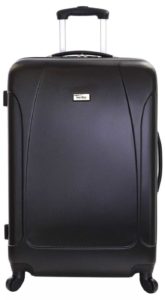 The Karabar Evora XL represents an affordable, budget solution for many travellers. The design is simple, but features many of the simple comforts that make long journeys easier. Let's take a closer look at some of this case's best features:
With a storage capacity of 100 litres, this case can hold quite a lot. It can often be the only bag or case you need on a long, international flight.
This case is a little bigger than most, with dimensions of 76 x 51 x 30 cm, but this allows it to offer a decent amount of storage, as well as its hard shell protection.
At 4.4 kg, this is one of the heavier cases, but it has a full set spinner wheels and a retractable handle to support it. The wheels ensure you don't need to lift this case when fully loaded, allowing it to smoothly move along flat surfaces.
The case also comes in three different colours, so you can choose something a little more unique.
Ultimately, the Karabar Evora XL focuses on offering plenty of size and sheer practicality. It's various handles and wheels ensure it can be held in a variety of ways, while its hard shell ensures your items don't get damaged on long trips.
Summary
Features: 100 litre capacity – Hard Shell – 4 Spinner Wheels
Pricing: Affordable
Revelations Alex Case – Number 5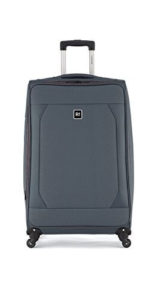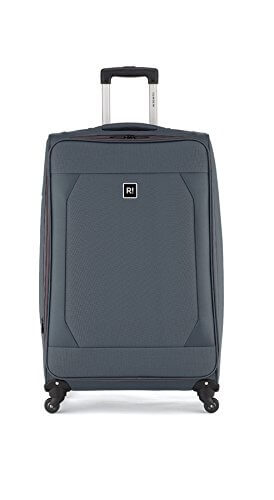 The Alex Case is designed to be a soft shell suitcase that can pack everything you need. Offering a simplistic, budget solution, this item is great for travellers looking for an easy, one-case answer to their packing.
With 89 litres of storage, there is very little that this case can't pack. Combined with additional pockets and compartments, you can always ensure easy access to everything you need.
This case comes in at a reasonable size, as its dimensions are 66 x 45 x 27 cm.
The case also weights 3.5 kg when unloaded, making it easy to pick up and carry.
A telescopic handle, as well as 2 wheels, makes this case easy to push or pull behind you when travelling through busy airports.
In short, this case is an ideal product for budget travellers looking to fit their belongings into one soft shell case. It's internal compartments make it easy to separate various items, so you can always keep your travel documents separate from your clothing, for instance.
Summary
Features: 89 litre capacity – Soft Shell – 2 Wheels – Number Lock – Front Storage Compartments
Pricing: Affordable
Verdict
In summary, it's clear to see why the Base Hits 77 Spinner earns the top position on this list. With plenty of storage, and practical features such as spinner wheels and handles, this modest piece of luggage offers pure, practical comfort. When you're travelling on long flights or international journeys, this is exactly the kind of case you need.