Product
Top Rated
Great Value
Most Affordable
Material
Cotton effect 600D polyester
Top Rated
Product
Great Value
Product
Material
Cotton effect 600D polyester
Most Affordable
Product
Cabin Luggage Reviews
Last Updated on
If you have taken a trip overseas on a plane before, you will know that airlines have restrictions on the size of bag you can take into the cabin. Many people especially those travelling for a long period of time, will want to take a bag for items they want to keep with them which do not need to be checked in.
There are certain sizes of case that are just the right size to meet the regulations. This article features three of the top cabin sized suitcases that you can get on the market. It will list the best features and give an overview of each product. For your cosmetics and toiletries, you may want to have a read of our best mens wash bag article.
Samsonite Suitcase Base Hits 55/20 Review – Our Number 1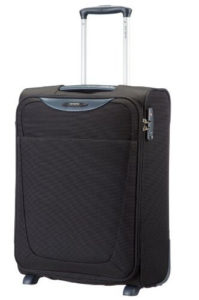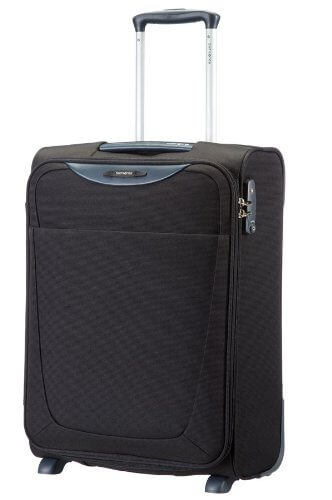 Samsonite have been around for a long time and they have successfully built a reputation as a high quality manufacturer of luggage and bags. They usually have strong material and robust zippers that are hard wearing. Let us take a look at some of the other features of this product.
The suitcase has the following dimensions Height 55cm, Length 40cm and Width 20cm. This is just the right size for baggage that is to be stored in the cabin of the plane. It means you won't need to worry about what size bag to take because once the case is full, you know that it's the right size.
It has a polyester material for the outside of the case. This is hard wearing and water resistant, but also lightweight so it won't take up too much of your weight allowance.
The Base Hits can hold a maximum of 39 litres in volume. This is a lot to take in the cabin and so should be enough to accommodate everything you need. As well as the inside of the case, there is also an outside pocket in the lid. This can be used for items you need to get hold of quickly.
There are two wheels fitted to the rear edges of the case. They are designed to keep the case more stable than other bags with wheels closer together. They are made from a tough plastic that can cope with a fully loaded case being pulled over uneven ground.
The strong zipper that is sewn into the case is made from hard wearing plastic. I won't easily pop open even when the case is packed. This will give you confidence in the product and its security.
The Samsonite Suitcase Base Hits 55/20 is a very nice example of a small but well-made case.  It has plenty of space for all your essential items, as well as additional pockets for things you need access to. The material is strong, easy to wipe down and keep clean.

Marseille Trolley Bag Review – Number 2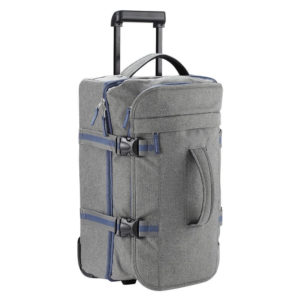 The Marseille trolley bag is one of those deceiving products that has more to offer than you might think at first glance. It has a big capacity that falls within the limit for cabin baggage, but it is also easy to move around and carry. Let us see what other features this bag has.
It has a big top section to the bag. This is ideal for keeping the items you might need access to in a hurry. It is also conveniently placed for that reason. There would be no rummaging through the bag to find toiletries etc. with this product.
The main compartment is also very spacious. It has enough room to accommodate all the things you would want to carry on board. There are internal straps that help to hold everything in place during transit. Because they are elasticated, they will pull everything into place.
The back of the bag is protected with a PU waterproof backing. This means that your belongings will be safe even if you are outside in the rain.
It has rigid sides to the bag to help keep its shape. This is a good feature because it will protect your items from getting squashed or damaged. Even with these features, the overall weight of the bag remains very light.
The bag's dimensions are fully compliant with the cabin requirements. It has an overall size of 55cm high, 35cm wide and 20cm deep. This means you will always know that this bag is safe to take with you on board.
The Marseille trolley bag is a great product that can hold all the things you need to take into the cabin with you. It is well-made and easy to transport thanks to its integrated handle that can be retracted to save space.

Cabin Max Backpack Review – Number 3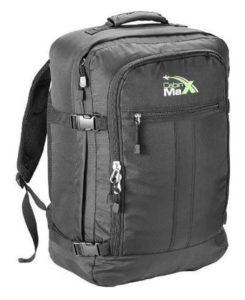 The Cabin Max Backpack is a very clever bag that can carry your personal belongings with you into the cabin area. It is designed to be the perfect size to meet the current regulations on baggage size. Let us see some of the features this bag has to offer.
The dimensions of this bag are the maximum size allowed for carry-on baggage. The measurements are 55cm high, 40cm wide and 20cm deep. It is a great way to make sure that you will always be within the size limits.
With a generous 44 litre capacity, you can fit in anything you need to take on the plane with you. It is also incredibly light, weighing only 660 grams so it won't use too much of the weight allowance either.
It has three zipped compartments in the main area and two internal compartments that also have zips. This means you can keep certain things separate for easy unpacking.
The shoulder straps can be adjusted to fit most people, it is also a lot easier than having to pull a trolley behind you.
The Cabin Max Backpack has a lot of space in a very small area. This together with the shoulder straps and separate compartments makes it a very good choice.

Verdict
The top spot on the list goes to the Samsonite Suitcase Base Hits 55/20. It has a strong design and secure zips that will be very comforting while travelling. It also has sturdy wheels and a retractable handle for easy transporting.

Product
Top Rated
Great Value
Most Affordable
Material
Cotton effect 600D polyester
Top Rated
Product
Great Value
Product
Material
Cotton effect 600D polyester
Most Affordable
Product