Last Updated on
The Best Escorted Tours You Can Take in Japan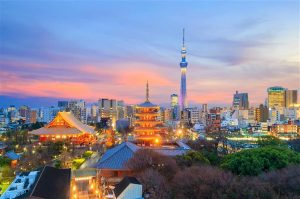 When it comes to planning a trip to a foreign country it is hard to know where to start. Japan has so much to offer from its amazing natural beauty to its modern, bustling cities.
These tours take away all the hard work of scaling out an extensive trip across Japan by setting up daily itineraries, so all you have to decide is when.
Japan Express: Osaka to Tokyo
If an in-depth cultural escape is just what you wished for then look no further. The Japan Express: Osaka to Tokyo is one of the most popular escorted tours, where you can see the many faces of Japan. This 9 day tour package includes a one night stay in an incredible mountain monastery with expert guides, and all-inclusive travel by train and boat.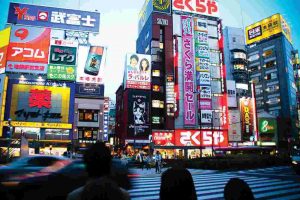 During your journey you will visit the sacred Island of Miyajima and see the famous Torii gate, take a walk in the geisha district of Goin, soak in the natural hot springs of Hakone, and savour the region's culinary delicacies.
The tour begins in Osaka and ends in Tokyo with beautiful views of Mount Fuji throughout, providing a valuable representation of the Japanese culture from the monks of Koyasan to the high rollers of Tokyo.
Japan: Hike, Bike, and Kayak
However, if a little more action is what you bargained for then pack your bags for the Japan: Hike, Bike, and Kayak Tour! Starting in Tokyo, this 12 day adventure to Osaka includes hotel accommodation, knowledgeable guides, meals, and transport.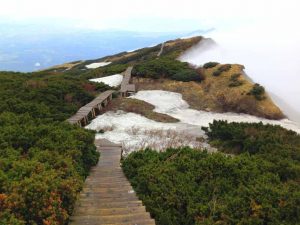 This tour supplies you with an experience of Japan in an active way! With walks through the tranquil towns along the Nakasendo trail, a bike ride along the stunning Kamo river, and kayaking across the beautiful bay at Ise Shima, you will experience culture and nature without all the hustle and bustle of Japan's inner cities.
Snow Monkeys
Japan has a diverse ecosystem, from spider crabs to giant crows! However, one native primate in particular seems to grab all the attention. Snow monkeys, the Japanese Macaque is the only species of monkey to live in the snow. So if you are a regular David Attenborough then this tour is for you.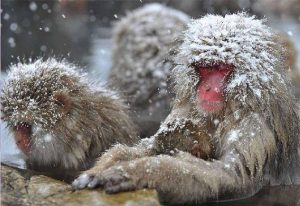 Japan: Snow Monkeys is a 5 day tour throughout Japan where you can catch a sight of the wild Japanese Macaque taking a leisurely soak in an onsen (Japanese hot spring) completely surrounded by snowy cliffs. In addition, you can take a trip to the historical town of Obuse to experience the famous Edo period, you can even learn the art of snow shoeing as you take a hike in Togakushi.
Set amongst beautiful forests, this tour includes enjoying local cuisine, hotel accommodation, and transport. With your specialist guide you can truly take a walk on the wild side.
Japan with Mt Fuji 2019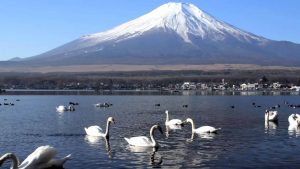 This urban-meets-rural trip is a great way to appreciate Japan's historical culture, whilst experiencing the dazzling lights, shops, and sights of our modern-day Tokyo. During this four-day tour you will discover the Imperial Palace, the primary residence of the Emperor of Japan, the Ueno district which was once a black market selling American goods after World War One.
The third day ends in Ginza with a stop for shopping at your own leisure. As for Mount Fuji, the tour departs for the Five Lakes District where the UNESCO-listed Mount Fuji towers over the surrounding landscapes at 3,776 metres.
You can even take a ride on the Kachikachiyama Ropeway for spectacular views of the mountain and its surrounding lake. Included in this package tour is accommodation, luxury coach rides, and buffet breakfasts.
Highlights of Japan
Sightseeing, accommodation, local cuisine, transport… if all of this is ticking your travel boxes then this may be the tour for you. The Highlights of Japan Tour takes small groups from Tokyo to Kyoto, where you can see first-hand the most populous metropolitan area in the world, Tokyo!
However, once you scratch the neon surface, a city bursting with history and tradition is revealed. From boat trips along the Sumida river, or a visit to the Meiji shrine and Shinjuku area, where the latest electronic gadgets feature in the dazzling store fronts, you can be sure to get a diversified tour throughout Japan.
Another highlight of this tour is the trip on the famed bullet train to Kanazawa where you will travel at speeds of up to 300 kilometers per hour. Kanazawa was the 4th largest city in Japan up until 150 years ago, the city has spurned industrialisation and holds strongly to its charming back streets, delicate tea shops, and the beautiful cherry blossoms of Kenrokoen Gardens.
The city also boasts traditional samurai districts as it was once under rule by the Maeda Clan, one of the most powerful families in Japan. An early morning train will take you to Hiroshima, where the first atomic bomb hit during World War 2.
The city has risen from the ashes and now serves as a reminder of the nuclear holocaust. So if you really can't decide between history or modernization then this tour is perfect for you.