Product
Top Rated
Great Value
Most Lightweight
Dimensions
55x35x20cm (Including Wheels and Carry Handle), 47x35x20cm (Body)
H 43.2 cm x L 26.7 cm x W14 cm
Warranty
30 years warranty for case, wheels, handles and zippers
5 Year Warranty for Peace of Mind
Material
German polycarbonate hard shell carry on with Italian leather outer pocket
Power Bank
Removable 10,000 mAh battery
Top Rated
Product
Warranty
30 years warranty for case, wheels, handles and zippers
Material
German polycarbonate hard shell carry on with Italian leather outer pocket
Power Bank
Removable 10,000 mAh battery
Great Value
Product
Dimensions
55x35x20cm (Including Wheels and Carry Handle), 47x35x20cm (Body)
Warranty
5 Year Warranty for Peace of Mind
Most Lightweight
Product
Dimensions
H 43.2 cm x L 26.7 cm x W14 cm
Top 3 Carry On Luggage With USB Chargers
There is nothing worse than lugging your luggage through a foreign city, getting lost and, when you try to google directions, finding that your phone has died! People used to have to rely on airport chargers and coffee shops if they wanted to charge their phone in the past, but now the future is here and people can charge their phones from their suitcase!
If you would like to find out more about Smart suitcases read on for our guide to the top 3.
Horizn Studios Carry-On Suitcase Review – Our Number 1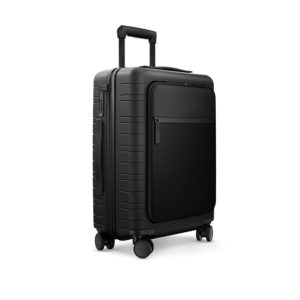 This innovative suitcase (CHECK PRICE!) comes with an inbuilt removable battery which can actually be used to charge your phone!
The Horizn Studios suitcase comes with a 2 in 1 Micro USB and Lightning charger cable and a removable charger. It features a removable 10,000 mAh battery which is able to charge mobile devices up to six times. The charger can be easily removed with just a click of a button.
This suitcase meets the carry-on requirements for most airlines, so you can avoid any unnecessary hold-ups at the airport. The suitcase measures at L40 XH55 X W20. It weighs 3.4kg
This suitcase comes with a free laundry bag which you can use to keep all your dirty clothes separate and ready to be washed. The Hroizn Studios suitcase also comes with a leather luggage tag to ensure the suitcase can be returned if lost.
The Horizn Studios suitcase is made out of tough yet lightweight polycarbonate material. The inner lining is made out of Nylon.
This suitcase has a hard-shell design which means it is stronger and more durable than a material design. The suitcase also it contains a 15-inch outer pocket for your laptop so you can avoid carrying a separate laptop bag.
This is a spinner suitcase which means it comes with four 360 spinning wheels so it can be manoeuvred in any direction and it will glide alongside you with you having to pull it behind.
This suitcase comes with a TSA approved lock for stress free travel through the States. It also includes space saving inner compartments which you can use to separate your belongings so you can find things more easily.
 Summary
Features: Mobile charging – Micro USB & Lightning Charger Included – Cabin Approved – Comes With Laundry Bag – Hardshell suitcase – Spinner Suitcase -TSA Lock – Inner Compartments.
Pricing: High-end.
Aerolite Smart Suitcase Review- Number 2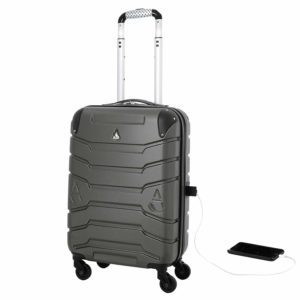 This Smart Suitcase is a great choice for a cabin bag and it has everything you need for a stress free journey to your destination.
This suitcase comes with an in-built USB charging port so you can connect your own power pack and charge your phone from the suitcase.
This is a spinner suitcase comes with four 360 degree wheels and it can be moved alongside you with no need to push or pull it. Spinner suitcases are a good choice for people who suffer from back pain or simply don't want to have to put too much effort into moving their luggage around.
The Aerolite suitcase also comes with a retractable handle so you can adjust it to suit your height and share the suitcase with multiple users.
This suitcase has a hard shell made out of strong ABS material, but it's still fairly lightweight and shouldn't be too much hassle to store when not in use.
This suitcase has been approved for carry-on use by Ryanair, easyJet, Jet2 and many more airlines. It is 55x35x20 cm including the wheels and handle, but it is only 47x3520cm with just the body so it should be easy to store with the handle pushed down. It has a capacity of 33L.
The Aeorlite suitcase comes with a five-year warranty so you can get it replaced if you experience any manufactural issues.
Summary
Features: USB Charging Port – Spinner Suitcase – Hard Shell -ABS Material – Retractable Handle – Approved By Major Airlines – Five Year Warranty.
Pricing: Affordable/Mid-Range.
Hozee Laptop Backpacks Review – Number 3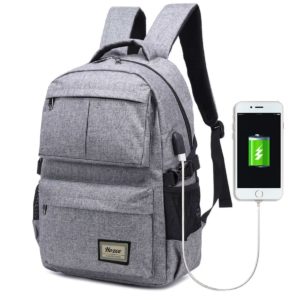 This versatile bag has a large capacity and is a great choice for the budget, light packing traveller. Read on to find out more!
This backpack has a capacity of 10.5W x 5.5D x17H and it can fit a 15.6-inch laptop. The bag is lightweight and only weighs 0.7KG when empty.
The Hozee backpack contains two small inner pockets, one main laptop pocket, two side pockets and two exterior pockets so you have a place to store all your essentials and find them easily and quickly.
This bag is waterproof as it is made out of quality nylon fabric. It is also tear resistant, scratch resistant and the zipper is smooth and easy.
The Hozee backpack features an external USB with a built-in charging cable which allows you to charge your phone without having to open the bag. Simply put your power bank into the backpack, connect the internal USB cable, insert your charging cable, connect your device and charge away! This bag does not come with a power bank.
This backpack comes with ergonomic S-shaped padded shoulder straps which are comfortable and will balance the weight of the bag so it's comfortable to carry. The shoulder straps are also wide and adjustable so you can adjust it to suit your individual body.
This is a unisex backpack which is a great choice for travelling, work, school, shopping, camping, hiking and more.
Summary
Features: Large Capacity – Lightweight – Waterproof – External USB – Ergonomic Adjustable Straps – Unisex.
Pricing: Affordable
Verdict
These are all examples of good carry-on luggage, but we would especially recommend the Horizn Studios carry on suitcase. This futuristic suitcase comes with a battery which is able to charge mobile devices up to six times, it meet most airline requirements so you can avoid paying extra at the airport, it comes with handry freebies including the washing bag, it is a hard shell spinner suitcase so it is easy to manoeuvre and durable, and it is TSA approved for easy travel within the USA.