5 Cities – The Perfect Cabin Laptop Bag for the Frequent Traveller
Last Updated on
5 Cities luggage is well-known for being high-quality, durable, and incredibly practical. The one product from their range that we really wanted to try out so that we could review it was their cabin laptop bag. We had heard plenty of good things about this brand and this particular bag, so we really wanted to see if it would deliver. We have to say that for the price range, we were very impressed. Please read on below for our honest, unbiased 5 Cities cabin bag review.
Features: 600D Polyester Material – 22L Capacity – Dimensions: 43.5 x 36 x 20 cm – Padded Laptop Compartment – 1 Large Front Pocket – Inside Pockets – 2.37Kg Weight – Retractable Push Button Handle – Double Roller Wheels – Flapped Front Pocket – Approved By Major Airlines – Adjustable Shoulder Strap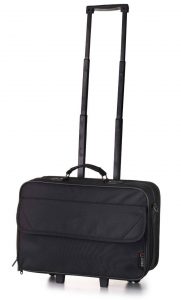 Pros:
Very lightweight, even when it is packed to capacity.
Padded laptop compartment for extra protection.
Retractable push button handle for easy movement.
Inside pockets for smaller items.
Adjustable shoulder strap if you would prefer to carry it.
Cons:
The laptop bag tends to topple over so needs to be propped up if you are not moving.
The retractable handle could do with being a little longer for taller people.

Our Review of the 5 Cities Cabin Laptop Bag
Having heard really good things about 5 Cities as a brand, we were really eager to try this cabin laptop bag. Traveling frequently for business, you need a premium quality bag for your laptop and other belongings and this seemed like a good fit overall, especially given how affordable it is in comparison to some of the bigger brands on the market.
First, let's talk about the overall design of this laptop bag. The outer material is made from polyester. Initially, we were a little concerned that this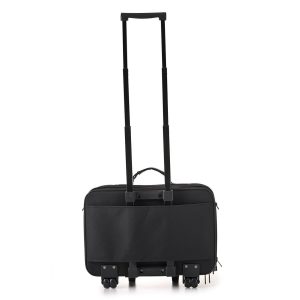 might not be ideal for frequent use as polyester can sometimes be a bit prone to tears and damage, but this wasn't the case with this 5 Cities laptop bag, the polyester material is really tough and we had no problems with it during our use.
One the inside of the bag, you will find 1 large front pocket for your laptop. The pocket itself is padded, so there is plenty of extra protection for the laptop which is great. The material that lines the bag itself feels fairly durable and is nice to look at too. There are several smaller pockets on the inside which we found ideal for storing stationary and leads, and a flapped front pocket which was ideal for an A4 notebook.
If you prefer to carry your laptop bag, then there are adjustable shoulder straps that you can use. One thing that we really liked about this 5 Cities laptop bag is how lightweight it is. Even when being carried with the shoulder straps, we found it really light even though we had packed it to capacity. On that note, the capacity of the bag itself is 22L, which we found more than sufficient to store everything that we needed for a couple of days business trip.

When using the retractable push button handle, there is one issue that we noticed. Whilst the handle is perfectly sufficient for somebody of fairly average height, if you are a little taller then you might find that the handle is a little too short for you. We would imagine that this might make carrying the laptop bag by the retractable handle a little uncomfortable.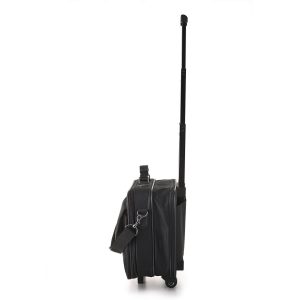 The other issue that we noticed is with the stability of the bag itself when using the wheels and retractable handle. We noticed that when the bag is stationary, it has a tendency to topple over. This wouldn't be so much of an issue if the bag simply contained clothing, but considering laptops are expensive pieces of equipment; this is definitely something to be wary of. It simply means leaning the bag against something when you are stationary to prevent it from toppling over.
Overall, we were actually really impressed with this laptop bag from 5 Cities. It is certainly not a high-end bag and it isn't designed to be stylish. However, it seems very practical, it has plenty of pockets and the padding helps you to make sure that your laptop stays safe when you are traveling. Given the low price tag attached with this one, you can't really go wrong. We'd definitely recommend it if you have to travel on a regular basis for business.