| | | | | | |
| --- | --- | --- | --- | --- | --- |
| | The Samsonite Cosmolite Spinner 4, 69cm | 92 litres – 69.1 x 46 x 29 cm – 2.55kg | Mid-Range | | Learn More |
| | The Samsonite Cosmolite Spinner 4, 55cm | 44 litre – 40 x 55 x 20 cm – 1.8kg | Mid-Range | | Learn More |
| | The Samsonite Trolley S'Cure | 100.5 litre – 75 x 52 x 31 cm – 4.5kg | Affordable | | Learn More |
What Is The Best Lightweight Luggage To Buy?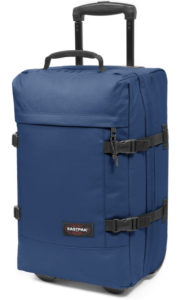 Is the question which has led you to this site. In this site I will review the best lightweight luggage available on the market today. Whether its cabin luggage or check in luggage, from suite cases to smaller toiletry bags; I will give you accurate reviews of each of them!
Bags used to be very heavy and quite awkward to move and carry around with you. You don't want something that is uncomfortably heavy to start with, after you put your items inside the bag, it will become even more heavy. Besides being difficult to then carry around, the weight of it will start to add up. You are only allowed to take a certain allocated weight depending on the airline you travel with, if it goes beyond this – they will either charge you a hefty premium or ask you to unload your bag until it meets the correct weight.
Now you can get luggage which is light weight and very easy to move around. With high quality wheels and a light, yet very strong frame, the bag – regardless of whether it is cabin luggage or check in luggage will be easy to carry around and light to lift. Less weight of the bag means you can add more weight on the things that matter! Your things! Follow this link to find the best cabin luggage.
Price Range.
The first thing most people will look at when it comes to buying a suitcase is the cheapest. Let me tell you, and I speak from experience, if you buy cheap – you will buy twice. It's the sad truth that the cheaper bags will not last you more than a few trips. Buying a suitcase isn't as expensive as you would think, sure there are some models out there which are certainly at the higher end but the price for these is very justifiable. If you are on a budget, which I can well understand, I would recommend for you to opt for a mid-range, affordable bag. This will not cost you an arm and a leg and it will last a good distance longer than a cheap bag.
The more expensive bags will have a higher quality zip, be made of higher quality material and have very well made tyres and handles. Even some mid range bags will still give you high-end but you will have to shop for these bargains!
How Many Wheels To Go For?
No Wheels.
Bags without wheels will always be lighter than bags with wheels. A good quality bag with decent wheels will add some weight to the bag which, depending on your journey, may not be necessary. If you are just staying overnight or for a weekend, then a duffel bag or for the ladies, a tote bag may prove to be more than sufficient. It is small, light so you can carry and will fit tidily in the overhead compartment of a plane. If you are travelling by train or bus, then one of these bags is perfect as with suitcases (even the ones with wheels) can be difficult to move around and especially on uneven surfaces.
You can even get duffels and totes which have wheels on today, of course this would add a little more weight to the bag, but it would make for transporting through long distances between terminals and gates quite a bit easier if you were to wheel them around instead of carrying them. With addition to the wheels on these, they are also more expensive than the ones without wheels.
Two Wheels.
Two wheels are the most popular when it comes to suitcases, briefcases, laptop bags, totes and even duffels. Most bags with wheels will have two wheels – this is the more popular choice. These are great because they can also stand stationary in buses and trains without rolling around as they have the stops. When you are ready to go, simply tip it back and wheel it away and you're good. Even the heaviest loads in a suitcase can be moved around very easily on two wheels and you will feel like you aren't carrying a major load. Something else you should bear in mind for the two wheelers is when you pack; you should distribute your good evenly. If you end up with more weight on one side of the bag than the other, you will find it may tip on its own even stationary.
Four Wheels.
These four wheeled bags were around a long time back and are recently now starting to come back into fashion. Four wheeled bags, also known as spinners, are ideal for easily moving your luggage around – even easier to walk around with a four wheeled bag than it is a two wheeled bag. Really – they are extremely easy to move around, and will feel almost effortless! The downside to four wheeled bags are the fact that they will move around on trains and buses as there is nothing on the bag to stop it and keep it stationary. They are also not great for surfaces which are not smooth. In both cases the two wheelers have my vote.
Hard Or Soft Bags?
You will find there are good options for both alternatives. There are good and bad hard shells just like there are good and bad soft shells. Whatever your preference, hard or soft; you want to make sure the bag is light. With airline weight restrictions as they are, and they aren't getting any more lenient; you don't want to face the premium fees if your bag is over weight. You also don't want to end up losing some of your things just to lighten the load. Keeping this in mind, you want to go for a strong material which is also very light. When looking for both strong and light – it will be slightly more expensive than having one of these, but in the long run; you will benefit from it and it will be much less hassle!
Traditionally soft shell bags have been lighter than hard shell bags, but with today's technology and the materials available, you can have hard shell which is very strong at the same time as being quite light. With added locks, handles and wheels – its features like this that are necessary but also add weight to the bag! Good quality bags will of course have good quality locks and good quality wheels as well as retractable handles.
Durability.
Whatever bag you decide to go for, you want it to last a fair few years. The durability of the bag is one of the most important aspects when you make the decision looking for a bag so you want to make sure it is one that you are 100% happy with.
For overnight bags, cotton or apparel bags are great and will withstand the test of time to an extent and they also look good. They do need a little more looking after and care than the other materials as they are prone to tear easily and any dirt will clearly show depending on the colour. If you go for a polyester-blended nylon or a canvas, this will be more durable and strong, it will withstand tearing to a higher degree and it is the general better option for overall ruggedness.
The the longer haul bags, the suitcases, the hard shells are almost always going to be more durable than the soft shells. A ballistic nylon or even something like the Cordura are both great when it comes to being a durable soft material, they are tough and sturdy. A polyester-blended nylon in this scenario will also be a good alternative to a hard shell.
When looking at hard shells, look at materials like the ABS or poly-carbonate. Both very strong materials and they are also very light. poly-carbonate is generally completely made from the base colour, since there isn't an underlying colour, any scratches to the suitcase will not be see clearly. Some say this is scratch resistant. Since ABS is painted; the base colour will differ from the outer colour, so any scratches etc. will stand out. On the whole, both very good materials!
Compartments Within The Bag.
Having an inner mesh pocket/compartment in a suitcase is quite important. This is where most people would keep photocopies of their travel documents, toiletries and things like that. For carry on luggage, it is more important to have small pockets and compartments as once you are in the plane or even when you are travelling, you want easy access to your things. You dont want to spend 3 minutes in the middle of an airplane isle looking for your iPod when there are people trying to walk past you (we've all seen these people!). Where if you had your iPod neatly seated in the side pocket, it would take less than 10 seconds to grab it! Having neat little zipped pockets on the side of your bag is also a good idea for easy access for things like your camera memory cards, batteries etc.
Handles.
For luggage with wheels, and particularly for the ones with two wheels; there will always be retractable handles. Sometimes these are situated inside of the bag, and sometimes outside. For the ones situated outside of the bag; you want to make sure that the mechanism is mounted properly and will not get damaged in transit.
The extending of the retractable handle should be smooth and fluid. It should lock at the top and there should be a button which you can easily press to unlock to lower the handle shut. This minimises unnecessary stress to the handle extenders.
Quick Links